PR photos reveal telltale details to identify medical supplies of dubious quality imported by Hungary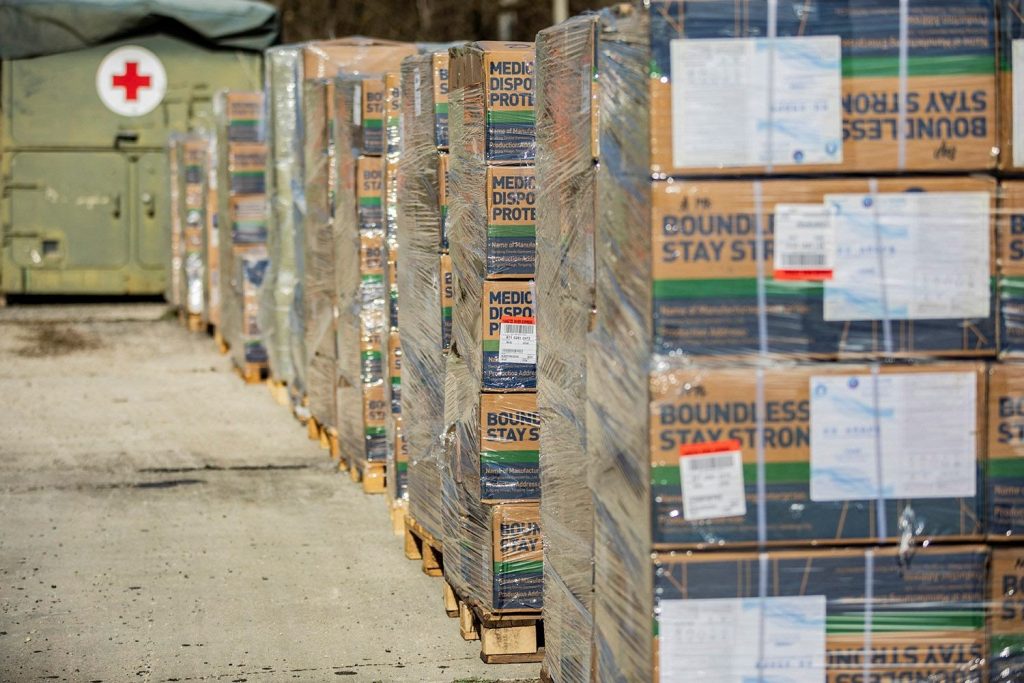 The Hungarian government wouldn't say what sort of equipment and medical supplies it has bought for the defense against coronavirus, so Átlátszó's reporters went and looked for clues hidden in government PR photos. We've found a number of items that don't seem to have the necessary documentation and valid certificates.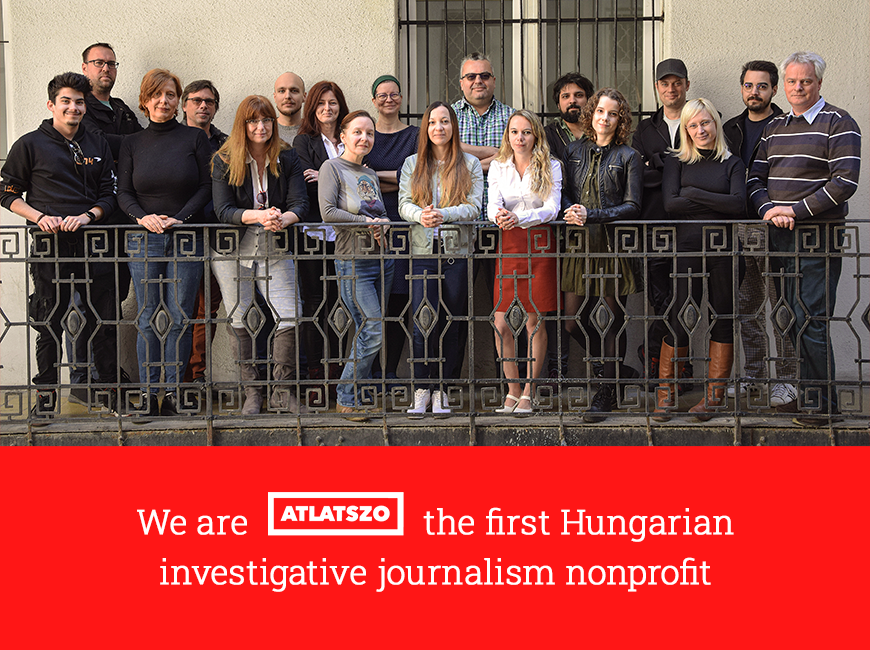 Átlátszó has tried to get detailed information on equipment bought by the Hungarian government during the initial wave of the coronavirus crisis in the spring the old-fashioned way: freedom of information (FOI) requests to the state body acting as buyer in several tenders. But we've been given the runaround by Viktor Orbán's administration for more than two months now.
Nearly four months have passed since the first echelon of Hungarian public procurement processes for COVID-related equipment, and despite our FOI requests, we can't even know whom to ask for the exact types and producers of goods that were identified only as "non-sterile gloves" or "masks certified FFP2" in the publicly available tender documentations in question.
But while we tried to wrangle some information from the government, we've also gone down the hard road and tried to glean information from the only available source left to us: the pictures and reels showing the acquired equipment and its packaging.
Átlátszó's reporters have meticulously checked government PR pictures toting endless rows of boxes of corona goods that had been mainly either bought from or been donated by Chinese entities. The first result of this investigation was finding a bunch of Hungarian companies that apparently had no reason to hang around these early COVID-related procurements.
In less then a week after Orbán's government received extra corona danger powers on 11 March from Parliament, four tenders were awarded for the supply of basic personal protective and medical equipment, COVID tests, ventilators and sanitizer material in amounts to satisfy national needs fully. These contracts were awarded to only three companies, all registered in Hungary: CECZ Közép-Európai Kft., Kromat Műszerforgalmazó Kft. and Florin Vegyipari és Kereskedelmi Kft. CECZ was awarded an extra contract in another week's time for some more goods.
Longtime state interests shaped the Chinese web of connections surrounding a company that won several COVID-related contracts from the Hungarian government, a new investigation by Átlátszó has found. The company in question, CECZ Közép-európai Kft.
Even though in the publicly available tender documentation there was no indication that these companies were to use subcontractors to fulfil their contract, our review of the gov't PR photographs taken of boxes laden with goods on their way to local hospitals turned up packaging bearing the names of as much as four other Hungary-registered companies.
Some of these companies, on paper, have absolutely nothing to do with the trade of medical equipment. After contacting them, we've only received answers from two of them; a manager of one firm outright denied they had anything to do with stuff bought for the Hungarian state. All companies that answered our questions stated that they all paid the cost of airn transfer themselves.
But information that since then came to light seems to cast some of their statements in dubious light. The firm supposedly not included in any dealings with the state , Limitless Medical Kft. was included among the companies that supplied ventilators to the Ministry of Foreign Affairs and Trade (KKM) on a list KKM supplied as answer to a FOI request by a Hungarian news site on 2 July. An answer to another FOI request, dated 3 July also established that KKM paid several biilions of HUF to Wizzair, a Hungary-registered budget airline. It is hardly in question that Wizzair's government-funded air bridge was responsible for bringing to Budapest at least some of the boxes we've seen on pictures taken at the airport of the Hungarian capital.
We've sent several FOI requests regarding some of the already mentioned first wave of Hungarian corona tenders to Semmelweis Egyetem (SE). SE, the topmost Hungarian higher education institution in health was designated to handle these procurements. We were interested in what were the producers and exact product makes of items provided that, in the original tender documentation were vaguely described only such as "FFP2 certified masks".
SE replied that they weren't responsible for this information and we should ask the state healthcare supply center, or ÁEEK. But then our FOI requests sent to ÁEEK came back with the answer that they aren't handling such data and we should ask SE. Essentially, the state refuses to answer while the general public is caught in a loop of catch-22.
The second result of our investigation was that we were able to identify the producer and the exact type of a number of coronavirus-related equipment that the government apparently bought for medical personnel and other first responders.
We don't know what sort of papers the sellers attached to the shipments sent to Hungary, but we've scoured the internet for certificates that accompanied these items elsewhere and in the cases of several products, we've only managed to find what we call 'grey' certificates.
Our previous investigation into FFP2 masks marketed for the Hungarian public in webshops turned up what apparently are serious holes in the control exercised by Hungarian authorities over the import of personal protective equipment (PPE).
There can be serious faults with masks marketed as FFP2 in Hungarian webshops, that are accompanied by questionable certificate paperwork. It is rather the exception to find a face mask advertised as up to this standard and having certainly the right documentation, Átlátszó has found while checking out the virtual inventories of available products.
We've found several items that were apparently imported with seemingly misleading documentation that looks like it would confer the "CE mark" (a mandatory green light for import of different products, including FFP2 masks for the European market) upon the items in question, but in fact bears no real legal significance.
An international investigation of OCCRP into the background of the market for these 'grey' certificates turned up information that, according to independent testing, quality problems plague about half of PPE that are accompanied by such certificates.
We've found the following items that were apparently supplied to Hungarian healthcare workers:
Dandong Devote Garment Co., Ltd. — Medical disposable protective suit
Boxes containing Dandong's overalls are all over pictures published on "Koronavírus tájékoztató oldal", the Hungarian government's main coronavirus information page on Facebook. They are featured in two photo albums dated 3 April, titled respectively "Protective equipment have arrived to the police and and the military" and "Protective equipment continues to arrive at hospitals", both in Budapest and in the countryside.
Dandong's US representative, on their website, prominently displays a package of various certificates pertaining to their products. In place of a CE certificate, the package includes a 'grey' one. The issuer, China-based OCT Technology Testing is included on the blacklist of ESF, an organisation including legit actors in the certification business, which lists regular issuers of suspicious certificates..
Guangdong Owgels Science & Technology Co., Ltd. — Surgical Mask
These surgical masks, branded Owgels also show up on pictures of the government coronavirus Facebook page in an album dated 3 April, supposedly showing equipment meant for hospitals.
EU regulations regarding surgical masks differ from those for FFP2 face masks, since the former are categorised as medical devices of the least critical class. Because of this, manufacturers are required only to submit a document they themselves can draw up, to earn the CE mark. But these documents, which have to be titled Declaration of Conformity, also need to fulfil a number of requirements, such as identifying an EU-based representative of the manufacturer.
The only document we've found to be accompanying Owgels's mask fails many of these requirements. Its issuer, Chinese CTB is also featured on the EFS blacklist. Also, when we checked its number against CTB's database we've got no hit for the document.
It's hardly a coincidence that the same item also shows up on covidcare.hu, a webshop run by a company that belongs to the same group as CECZ, which has won contracts to supply more than 7 million surgical masks for the Hungarian government.
Though covidcare.hu says the "manufacturer has all the necessary kicenses and certifications needed to export the product", it only displays CTB's grey certificate on the product page.
Shandong Huien Medical devices Co. Ltd – Medical Surgical Mask
These boxes pop up in a photo album dated 28 April, displaying equipment transferred to "more than 100 places, including hospitals".
Their situation resembles that of the Owgels masks. They qualify as medical equipment, but instead of the necessary document fulfilling EU requirements there's only a grey certificate for their product online.
Issuer CELAB is included on EFS's blacklist.
We also were only able to find substandard documentation wo other types of masks were donated to the municipality of Kaposvár by China National Machinery Import & Export Corp., which is building a solar power plant in town. Fidesz politician and Kaposvár mayor Károly Szita assured us that they received proper certificates from the Chinese company, but ignored our request to see the documents.
We've also reviewed photos of face masks that were provided to workers at a Budapest hospital to healthcare workers, thanks to independent MP János Bencsik who was able to access them.
Of the five types of masks, all supposedly FFP2, three did not display all needed markings that are needed for such a mask to be imported in the EU as FFP2.
When we formerly looked at masks marketed as FFP2 on the public market, we've found that authorities were blind to the grey certificate problem, and in some cases we found seriously substandard items that passed the government checks.
Among the one and a half dozen items sold in webshops we've reviewed, we identified three products with serious problems. One mask, marketed as FFP2 was shown to let through more than 53 percent of particles in the air, as opposed to the maximum 5 percent specified by the standards for FFP2.
An importer of FFP2 masks we've found to be potentially inadequate, speaking on condition of anonimity, related to us that even though he asked for he received zero help from several Hungarian authorities in understanding or verifying the certificates he was shown before he made the deals.
Especially disheartening is that Hungarian customs seemingly didn't find any problems with masks crossing the border until the summer. They surely have shied away from uploading masks into Rapex — the publicly available rapid warning system on problematic goods already in the EU —, since the coronavirus outbreak, until the last week of June, when they warned about 6 masks in one batch, with the common problem being a lack of adequate CE certificate for the items.
National surgeon general Cecília Müller, who was one of the public talking faces on state measures against the COVID-19 pandemic, has alluded several times to a lack of rigorous checking processes for PPE and medical equipment both in the general sense, and in the terms of tools bought for the state.
On 10 April, answering a question at the regularly broadcasted press conference of the Operational Group, a superteam of representatives of different state bodiers involved in the defense against the virus, she basically admitted customs doesn't really check certificates: "When PPE are labelled CE, it means they can be brought into the European Union and they can freely be sold in the EU. These products were certified, and so they can be used".
Thanks to a special allowance made by the EU at the outset of the pandemic crisis, legally all governments in the union, including Orbán's, are allowed to import necessary equipment even without the CE marking, as long as they are only used by medical personnel and other workers in the front line. But this legal exemption does not extend to the moral obligation to extensively check all potentially problematic equipment before they are handed out to doctors. This can hardly happen, if the authorities are unable to at least identify those goods that arrive without proper papers.
When Müller was asked on 29 March whether any extra testing of COVID-tests and masks produced in China and procured by the state had happened already, she replied "quality of PPE is outstandingly important, therefore shipments arriving in the country are being checked".
An answer on behalf of the minister in charge of health in response to a formal question submitted to the government by independent MP János Bencsik on whether Hungarian authorities are submitting imported PPE to any checks also didn't mention any surplus checks.
In a response to a FOI request regarding ventilators, KKM has revealed that about 1500 of the items that already arrived didn't display the CE mark. In this answer, KKM reiterated the contents of the special EU allowance, but didn't elaborate whether the authorities actually employed any testings in laboratory settings.
Many coronavirus test kits that were imported from China by the Hungarian government are of dubious quality. While the pro-government media called this "fake news", a study conducted by the experts of Semmelweis University showed that two tests used by the National Emergency Service are unfit for medical use.
The original, more detailed Hungarian version of this piece was written by Márton Sarkadi Nagy for Átlátszó, and can be found here. English edition and text also by Márton Sarkadi Nagy. Cover photo:  Boxes of protective equipment, source: Koronavírus tájékoztató oldal / Facebook