The frontline of a new political elite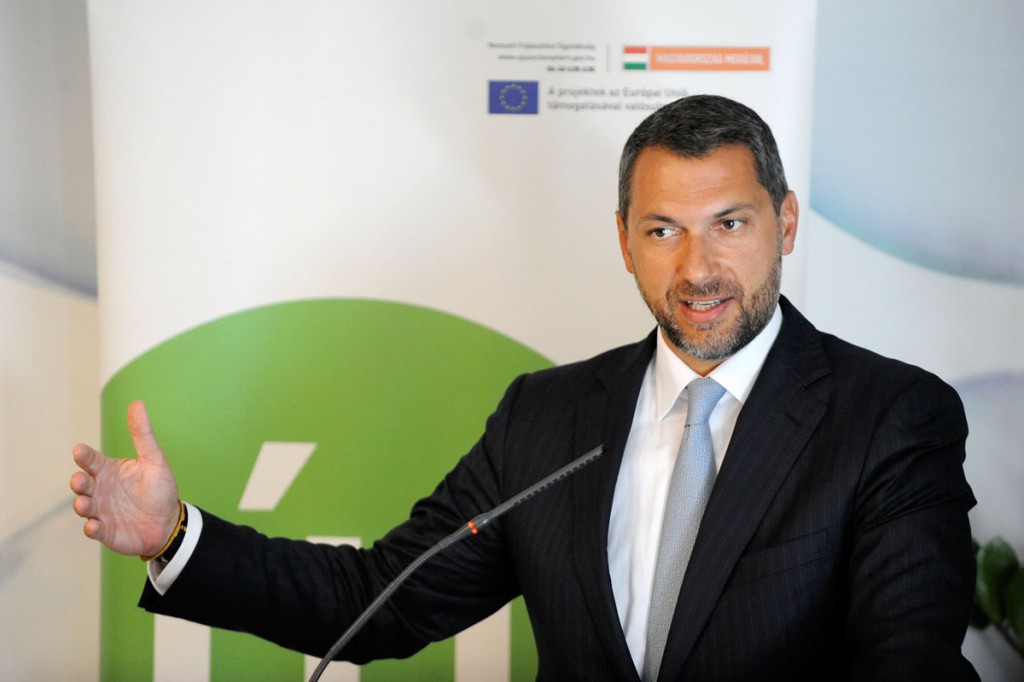 It is common knowledge that having the right friends in the right places, with the right loyalties and the right timing can propel people to professional heights that may otherwise have been inconceivable. Add a little genuine talent and you meet the likes of András Giró-Szász, who came from a modest middle-class background, worked hard, and is currently one of the top minds behind government communications. He is also one of the flag bearers of a new generation in Hungary's ruling elite.
András Giró-Szász is state secretary in charge of government communications. Before that, he was government spokesman and before that a political analyst and consultant working within Hungary's ruling right wing circles. He was well positioned among a political class that had all but cemented its power base since 2010, though some cracks in the government machinery have been showing recently.
Giró-Szász came into the picture through Századvég, an intellectual workshop that transformed into a business cluster and became a major beneficiary from its ties to the government, as reported by Atlatszo.hu on several occasions.
Those that remember the early days of Hungary's democracy have an almost romanticised recollection of Századvég, a hub of intellectuals without political bias, where many of the people holding prominent roles in Hungarian public life today studied and conducted research.
The Századvég foundation was led by law professor István Stumpf, a teacher to many Fidesz loyalists, who also became minister in charge of the chancellery upon Viktor Orbán's somewhat unexpected election victory in 1998. It was Stumpf's team of experts that came up with the strategy that led to success. Many of the people we interviewed mark this as the watershed moment after which scientific values were slowly being outweighed by political gains and Századvég started on the path that took it to where it is today.
Stumpf became minister in charge of the chancellery, second in command to Orbán, but it is a widely held belief that his personal ideas were instrumental in shaping policy at that time. Fidesz went on to lose two consecutive elections and exactly what contributed to this is debatable, but Stumpf was nonetheless ousted from Orbán's immediate circle. He currently serves as a member of Hungary's Constitutional Court, although people familiar with the inside dealings of Fidesz say this is merely compensation. The move yet again marks Orbán's habit of controlling people in his camp that are proving too influential, as is the case with the current media war against former ally Lajos Simicska.
Stumpf was also the one to discover András Giró-Szász. The man from a modest background who could easily pass as a gentleman from the best parts of Budapest, is reluctant to give much away of his personal history. The only certainty is that both his parents worked in education, beyond that, there are only rumors.
Giró-Szász already had many remarkable achievements from his studies; he undertook doctoral studies in political sciences and history, and he is considered one of the top authorities on all matters related to the Spanish political system. If that wasn't enough, he also increased his standing in the Századvég family by marrying Krisztina Serfőző, who provided entry to the wealthy elite and the world of business. Although the marriage ended in divorce, the ties are still in existence as evidenced by numerous business ventures.
Giró-Szász also managed to set up his own consultancy firm in 2006. Strategopolis operated with the blessing of Stumpf and quickly racked up a successful portfolio. Giró-Szász is still involved with the firm, even if his government position means he doesn't currently hold any formal position. By that time he also had public recognition as a political analyst, delivering mostly right-leaning analyses of political events in topical television and radio programs.
The only snag in what is otherwise a textbook description of a dream career came in 2006, when contrary to expectations the Fidesz party lost a second time to the socialist-liberal side. During that time, it was widely believed that factions within Fidesz were orchestrating a coup d'état against Orbán, who was quickly becoming toxic to the political night's return to power. Giró-Szász was apparently close to the putsch-makers, although his role was never clarified or confirmed. Now that he has returned to prominent government positions following the 2010 election win, Orbán has apparently forgiven him.
His rapid emergence to the forefront of Fidesz media efforts came around the same time as many in the current wave, widely considered to be a new generation who have the prospect of tearing the political side in two. He managed to find cooperation opportunities with the prime minister's mysterious consultant Árpád Habony although his close associates claim his longest-running and most consistent relations are with the current chancellery minister and "friend to civil society" János Lázár.
The old guard has left Fidesz. Though Orbán remains at the top, all others have left willingly or been ousted, either because they disagreed with the glamorous lifestyles pursued by Habony or his close associate Fidesz parliamentary group leader Antal Rogán (with little regard to transparency while flaunting clothes and cars worth several fortunes) or simply because Orbán's dislike of a particular individual had grown too strong.
The new generation is clearly the Rogán-Habony axis while the other side is represented by Lázár, and the best minds in his camp include people such as András Giró-Szász. With his skills and his vitality at the age of 45, he still has places to go and mountains he is more than ready to climb.