Atlatszo.hu unravels intricate web behind suspicious Budapest real estate sellout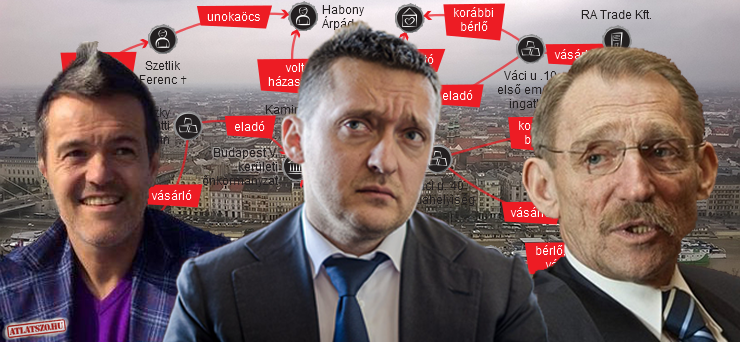 The prestigious fifth district in central Budapest has a habit of selling valuable real estate for rock-bottom prices, to seemingly handpicked buyers. Atlatszo.hu investigations have found ties to the prime minister's top advisor, the police minister, and has also mapped out an intricate web of business interests dating back to mob activities from the 1990s.
There has recently been plenty of media attention focused on the activities of the fifth district, and more precisely on the management of its property portfolio.
Over the past years, the local government has sold dozens of real estate assets to tenants at a 30% discount. Until 2014, the mayor of the district was Antal Rogán, currently parliamentary group leader for the governing Fidesz party, and one of the most prominent political figures in Hungary.
Giving tenants in municipal real estate a purchase option and discounts is by no means rare. However, the way these rules were followed under Rogán's watch prompted criminal charges from a local opposition MP, for fraud to the value of HUF 10 billion (€32 million). Standard practice was that assets were sold well below market price, they were then operated as lucrative businesses or resold with a hefty markup, the gap between the fair price and the discount value.
The most valuable assets in question went to László Rack, whose life makes for an interesting story. In the 90s, he co-founded a business with Sándor Pintér, former police chief who is currently serving as police minister in Orbán's government. He similarly served during the first Fidesz government between 1998 and 2002. The company in question, Preventív-Security Zrt had a run of good fortune when it came to winning state contracts, and over the past few years, has had various relations with people close to law enforcement.
What Atlatszo.hu found in 60-year-old Rack's background clearly didn't predestine him to be so closely associated with law enforcement. At one time, he was involved in the trade of computers, prior to the Hungary's democratic transition, when strict trade regulations were enforced and the import of many western European products was considered as smuggling. Rack's name popped up in an investigation, although his exact role was never specified.
One of our sources, however, recounted a more serious affair that likewise involved computer smugglers, who aided the illegal transport of Italian gold via Austria then exported the value in cash. The scheme was of such proportions that it affected the forint-schilling exchange rate. The extent of the operation was clear from a coordinated raid launched simultaneously at 53 different locations which clearly showed that the group was tipped off by a police source as it yielded no results. When people suspected of being involved were apprehended, László Fekete, at the time deputy governor of the National Bank of Hungary, is said to have made a quick call to make the problem disappear.
More recently, Rack managed to purchase a valuable property in Budapest where he was already a tenant, as well as another building that had previously been rented out by the ex-wife of Árpád Habony, Prime Minister Viktor Orbán's top advisor.The details of the deals show that the municipal government interpreted the relevant laws very loosely. The sales were initiated by the tenants, whereas taking advantage of a purchase option would necessitate the involvement of a third, outside party, which wasn't the case.
The other recurring name in the matter is that of Ferenc Szetlik together with his family members. Although Szetlik died in the second half of the 1990s, his widow and his children are still actively involved in the operation of the business network he established during his life. Szetlik built his fortune by acquiring a spot of land that was later to become a Chinese market. The area, which attracted plenty of buyers with its cheap prices was also rife with illegal practices, the products were typically smuggled and were usually sold completely untaxed. As such, it also caught the attention of people known for their involvement in the criminal underworld, although accounts differ as to who did what when trying to assume control of the marketplace.
Szetlik came into his fortune through his involvement in the privatization wave after the fall of communism. During his work he had ties to Márta Tocsik, a lawyer involved in a number of high profile frauds. He was also in the same business as László Fekete, the man who reportedly helped with the quick release of the gold smugglers. His family relations are no less interesting – he is the uncle of Árpád Habony.
Even well after Szetlik's death, his widow Marianne Pápa frequently popped up in the executive board of companies created by her late husband. Her role became even more curious when prominent representative of the Fidesz party, Máté Kocsis, referred to her as the "spouse" of László Portik, a renowned mobster charged with criminal activity including murder, currently undergoing trial. This was denied by Pápa as well as Rogán, who said his fellow part member was "talking nonsense."
The original articles in Hungarian were published on
14th January 2015, and
Vote for Atlatszo.hu at Freedom of Expression Awards 2015!

Join the 4000 and donate to Atlatszo.hu to keep independent journalism strong in Hungary!