Prime minister Orban's son-in-law bought a luxury holiday villa near Lake Balaton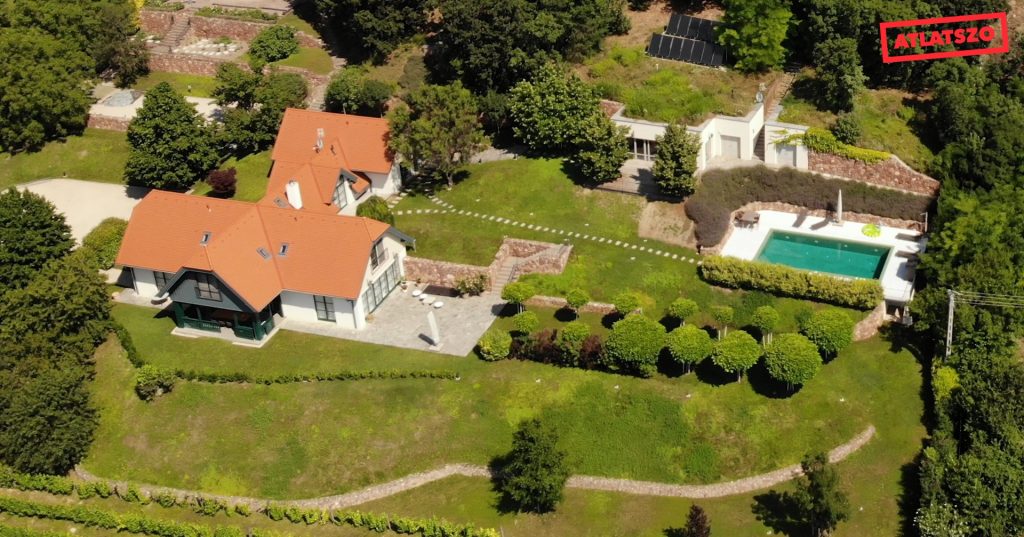 István Tiborcz, who is prime minister Viktor Orbán' son-in-law, bought two plots of land in the spring near Lake Balaton. The two adjacent plots cover 9500 square meters and both are officially classified as agricultural areas outside the town borders. According to official documents, the two plots have only agricultural structures built on them. It does not even have a street name or number, only a land registry reference. However, from our drone footage, it becomes clear that the greenery and the high fence are hiding a huge luxury villa.
Felsőörs is a picturesque village north of Lake Balaton. It is a little more than an hour's drive from Budapest. The are has been a vineyard ever since the ancient Romans lived here. The village is about four kilometers from the lake, but it is right next to Balatonalmádi, a popular spot with several beaches.
This is where István Tiborcz bought two adjacent plots of land in March 2019, which turned out to be a luxury holiday home. The two plots of land are officially registered as agricultural areas no longer under cultivation.
The so-called Elios scandal has put István Tiborcz, the Hungarian prime minister's son-in-law in the centre of public attention in the past few weeks. The controversies and corruption accusations connected to the street light modernisation programs put Tiborcz into the limelight, but independent media has been covering this story for years.
The new properties of Tiborcz cannot be seen from the main road; the only way to get to them is to take a turn from the main road into a narrow dead-end street. You won't be able to do that, though: even though the street leading up to the Tiborcz property is public land, it is shut off by a huge gate.
The property lies in a way that it is impossible to see what is inside if you only try to look from the street. Trees, shrubbery and a high fence keep the buildings hidden.
According to the land registry, there are only agricultural structures on the property. However, from our drone footage, it becomes clear that there is a luxury villa, a smaller holiday home, a vineyard and a swimming pool on the property.
Considering real estate prices in the area we estimate that the holiday home owned by Tiborcz is worth hundreds of millions of Hungarian forints – several hundreds of thousands of euros.
See our video from the area:
Tiborcz István egyhektáros, úszómedencés birtokot vett a Balatonnál from atlatszo.hu on Vimeo.
Written by Katalin Erdélyi; video by Gergely Pápai
English summary by Anita Kőműves. You can read the original, Hungarian language story here.