Drone video: see the castles and hotels owned by the prime minister's son-in-law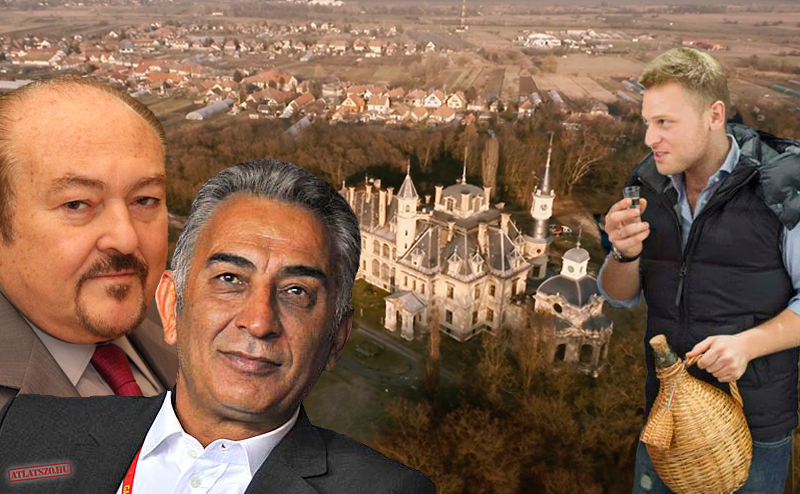 István Tiborcz, the Hungarian prime minister's son-in-law became internationally known when his company Elios was involved in a scandal. It was revealed by the European Anti-Fraud Office (OLAF) that Elios was involved in stealing EU funds through street light renovation projects. Tiborcz then sold his stake in the company and went on to work in real estate. Atlatszo reporters equipped with a drone drove more than seven hundred kilometers to show you the properties Tiborcz owns.
Tiborcz was only 23 when he founded a company working with public lights. In a few years the company's income reached billions of Hungarian forints. Soon after it became public that he was dating Viktor Orban's eldest daughter, Ráhel.
Atlatszo has been covering Tiborcz's story from the beginning and recently summarized how the young man came to be one of the most successful businessmen in the country.
When the street light projects became too scandalous, he switched to real estate. This process, however, has been non-transparent.. For years he kept it a secret that he was one of the owners of the real estate development company BDPST Zrt.
In the end, Tiborcz himself admitted to news site origo.hu in an interview that he was one of the owners.
BDPST Zrt. acquired several pieces of valuable real estate since its foundation and Atlatszo drove around Hungary to show you the most important buildings. You can see our video here:
We visited the following places:
Club Aliga / Aliga Beach
This is one of the most valuable pieces of real estate around Lake Balaton and was one of the favorite vacations spots of former communist leader János Kádár. It was announced in the summer that 74.99 percent of the company that owns the place was sold to a company called Appennin Nyrt. owned by Lőrinc Mészáros. BDPST Zrt now has a stake in Appennin, which means that Tiborcz is also an owner.
Hotel Hullám (left), Hotel Helikon (down)
It was revealed at the beginning of this year by now-defunct weekly Heti Válasz that two major hotels in Keszthely are currently owned by BDPST. The latest company information, though, shows that Tiborcz's company sold its stake in the hotels since then.
Budapest – Orbánhegy – Hangya street 30.
Heti Válasz also reported that a BDPST subsidiary called  Bellevue Development bought a piece of land in the posh Buda hills in September, 2017. At the time the land had only an old house on it, but when we went there we saw a half-finished villa.
Budapest – Andrássy Avenue
One floor in an Andrassy avenue palace is owned by BDPS subsidiary called Downtown Development.
Budapest – Kelenhegyi road – villa
This location seems to be a nest for government oligarchs. Direkt36 recently reported that Tiborcz's companies moved to this villa. The company that owns the building is called CD Hungary and its owners are well-known names in Orban's business circle: István Garancsi, Zsolt Hernádi and Sándor Csányi.
Budapest, Mahart house
This property is co-owned by Tiborcz's BDPST and a company called Bár-Co Kft. The latter is owned by film and media magnate Andy Vajna.
Tura Castle
The castle was bought by a BDPST subsidiary called TRA Real Estates. The company has just announced that it will spend 4.5 billion forints to renovate the castle.
Rátkai Club
Atlatszo previously reported that BDPST co-owns the building called Rátkai Club as well. The other owner is Adnan Polat's company HBRE. Polat is a Turkish oligarch who has a close relationship with Turkish president Recep Tayyip Erdogan. Polat is also responsible for the communication between the Turkish and the Hungarian governments and the bilateral business relations. Moreover, Polat runs the Hungarian trade house in Turkey. Tibrocz sold his stake in this building, leaving Polat the sole owner.
Former Postabank headquarters
This building was also owned by a company co-owned by the companies of Polat and Tiborcz. Later, they sold it to a company connected to Ghaith Pharaon, a Saudi businessman who was wanted by the FBI and died in 2017.
Written and created by Babett Oroszi
Cameraman: Gergely Pápai
English version by Anita Kőműves, editing by Clare Humphreys
You can read the original, Hungarian version here.
Company information was provided by Opten.
Cover montage by Áron Halász