Central bank happy to pay more for a friendly bid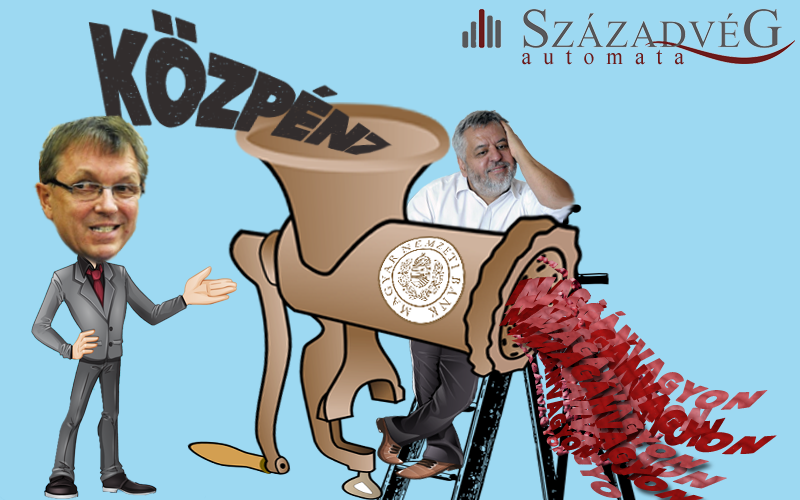 The National Bank of Hungary has been forced through a lawsuit by Transparency International to release the details of a tender for advisory services, won by the think-tank closely associated with the government. The material reveals that even though there was a cheaper offer at better quality, Szazadveg couldn't lose and cashed in accordingly.
A lawsuit forced the National Bank of Hungary (MNB) to release the details of a contract it signed with Szazadveg for advisory and PR activities. Transparency International filed the case seeing that there were several strange circumstances surrounding the arrangement.
Szazadveg was contracted for HUF 1.8 billion (€5.8 million) for a period of three years.
The government earlier made several controversial efforts to create the legal basis for the MNB to cover up the details of its questionable dealings. However, as these effort were killed off in court, the MNB is also held to release more details.
As such, it released the documentation submitted in its bid by Szazadveg advising on eHealth issues. As it seems, the documents raised questions in terms of quality. But the main aspect in terms of evaluating the bids was the price. The competing Kopint-Tarki think-tank submitted a bid that was ultimately HUF 200 million (€645,000) cheaper than Szazadveg's offer. The eventual evaluation was tilted in Szazadveg's favor based on the points attributed to the actual documentation.
We naturally wanted to learn the details of the lucrative contract but we were rejected by the MNB. We then turned to the data authority, but in the meantime, Transparency International sued the central bank, and won the case.
It is clear that Szazadveg does not work cheap. The signed contract includes provisions for telephone consultations and executive summaries, each for millions of forints or several thousand euros.
It is unclear how many of these various reports and memos Szazadveg has prepared under the scope of the contract. It would be very surprising if they didn't fully utilize the budget they were approved overall.
Your support matters
Atlatszo.hu is financed by nonpartisan and non-governmental sources;
we do not accept money from state institutions, political parties and affiliates.
We rely on support from readers. Donate here.