Not only Mészáros but also his family members are enriching themselves from public tenders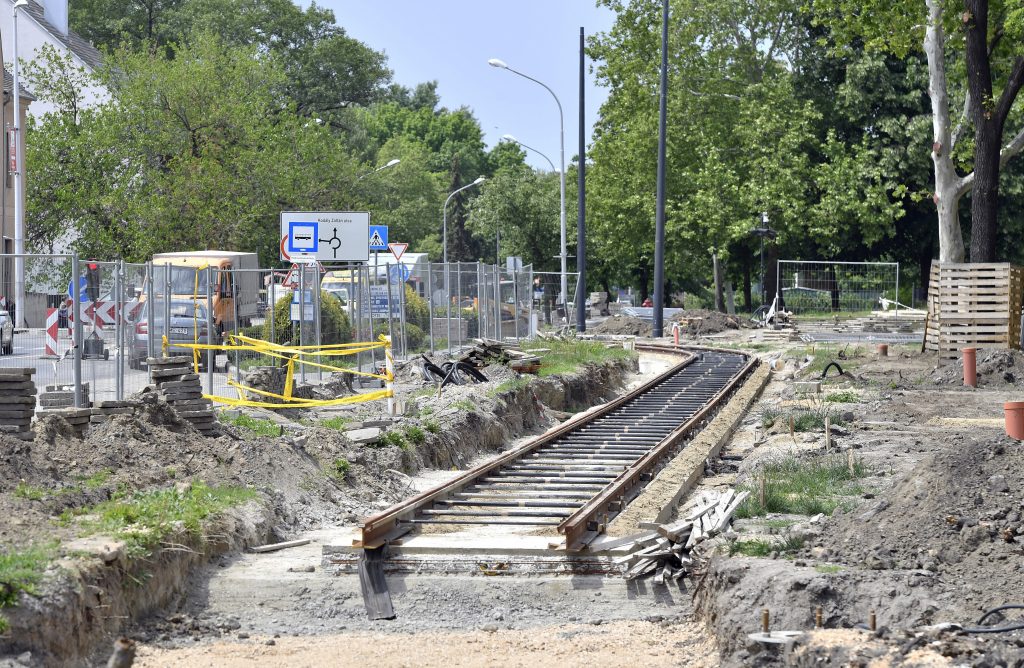 It is not only Viktor Orban's good friend, Lőrinc Mészáros who is getting richer every day by winning taxpayer-funded public tenders. The entire Mészáros family is apparently talented enough to win a series of public tenders. A company owned by his son-in-law, Zsolt Homlok, won a chunk of a rural railway project while his brother is getting lucky with supplying equipment and clothing for infrastructure projects.
The construction of the 'tram-train' project that will connect Szeged and Hódmezővásárhely started in April 2018 and is expected to be finished in 2021. The project will make use of existing railway and tram lines to connect the inner areas of the two towns so that commuters can travel between the two without changing cars.
The entire project is estimated to cost more than 71 billion Hungarian forints. It was announced in the EU public tenders journal that Homlok Építő Zrt., a construction company owned by Zsolt Homlok, will be one of the contractors: the company is going to build a service hall for the tram-train cars in Szeged. The company will be paid 3.27 billion HUF for the job.
Zsolt Homlok is the son-in-law of Lőrinc Mészáros, who is considered the richest man in Hungary by Forbes.
The railway for the tram-train project is being planned and constructed by Swietelsky Vasúttechnika Kft., however, Hungarian portal Mfor.hu reported that one of its subcontractors for this job is R-Kord Kft, a company owned by Lőrinc Mészáros.
János Mészáros, a favored supplier of the national road maintenance company
Mészáros's brother, János Mészáros is also winning more and more public tenders. One of the companies owned by János Mészáros, Pegazus Trade Kft. has won four public tenders this year already from the national road maintenance company. All these tenders were announced by the state-owned road maintenance company called Magyar Közút Nonprofit Zrt.
Corruption watchdog K-Monitor reported that the state-owned company is buying industrial clothing items worth 115 million Hungarian forints from Pegazus Trade Kft. This was announced on June 21 in the official public tenders' database.
This is already the fourth time Pegazus Trade Kft. has won a public tender this year announced by Magyar Közút Nonprofit Zrt. In May Pegazus won another tender for industrial clothing, worth 105 million HUF. Before that, in April, Pegazus won a contract for supplying summer-winter adapters for 460 million HUF.
In January Pegazus sold 34 pieces of asphalt compressor machines to Magyar Közút Nonprofit Zrt. for 567 million HUF.
Pegazus was founded in 1992 and was bought by János Mészáros in 2011. It embarked on its amazing success story in 2016.
In 2013 its turnover was only 40 million HUF and in 2014 it was 69 million. In 2015, the turnover was 188 million HUF. Suddenly, in 2016 its turnover jumped up to a billion HUF which grew to 2.3 billion HUF in the next year. There was a drop last year, the 2018 turnover was 'only' 1.3 billion HUF.
János Mészáros had nothing to complain about, though: Pegazus made a profit of 204.5 million and the owner took 150 million of that as a dividend.
His other companies were successful as well: Herceghalom Interat Kft made a profit of 187.5 million HUF while Agro-Felcsút made a profit of 238.5 million last year.
All three of the companies are winning lucrative public tenders from Magyar Közút Nonprofit Zrt.
Lőrinc Mészáros became the richest person in Hungary in 2018. The former gas pipe fitter and Viktor Orban's childhood friend from his home village is increasing his wealth miraculously. However, his riches might have more to do with EU funds and taxpayer money than magic. His companies won the most taxpayer-funded public tenders last year.
Written by Brigitta Csikász and Eszter Katus
English summary by Anita Kőműves. You can read the original, Hungarian-language stories here and here. Company information was provided by Opten Kft.
Cover image: the construction of the tram-train near Hódmezővásárhely in May 2019. Photo: MTI / Zoltán Máthé.