Official concerns raised about the operation of Parliamentary Guard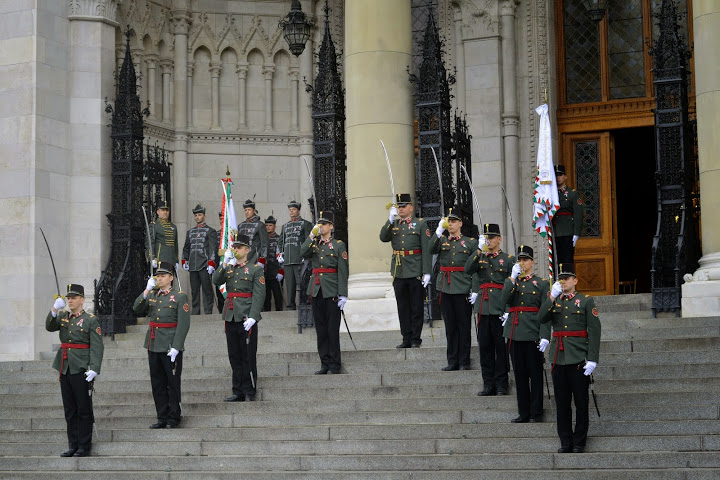 When a member of the Parliamentary Guard, an outfit formed to oversee security in the building that houses Hungary's lawmaking, raised concerns about the operation of the group, he was fired for strange formal reasons. The person in question filed a complaint, but his former employer has asserted that his objections are motivated by spite because his job was terminated.
A member of a special law enforcement organization is locked in a battle with his former employer, saying he was fired in response to exposing certain 'irregularities' at his job. The man who spoke to Atlatszo.hu, upon the condition we keep his anonymity, used to be a member of the Parliamentary Guard.
"The Parliamentary Guard will not only maintain, but also protect and defend the prestige and dignity of Parliament. It will protect individuals and buildings, perform ceremonial tasks, implement protocols, and ensure compliance with fire regulations and law-and-order rules, doing so at a high standard with the maximum preparedness and professionalism," reads the organization's missions statement on Parliament's website.
The Parliamentary Guard has 349 members, who were selected by means of an application process from a total of 1,186 applicants. The person in question, just like many of his peers, became a guard from a background in police work.
He worked in overseeing legal and disciplinary matters. That is, until his superiors called a reorganization of the guard and announced that there are so few disciplinary cases that it makes no sense to employ a person for such matters. His qualifications would have easily allowed him to assume other duties within the organization, but he was offered no alternative.
The man challenged the decision in court, saying he was unfairly dismissed and that the actual reason behind his termination was that he has exposed a number of irregularities in how the guard operated, which he also raised with his superiors. Among others, he reported cases where people without the necessary qualifications were hired to certain positions, as well as the misuse of guard property, such as one member using a service vehicle to help a relative move.
The charges go further, saying the guard operated in violation of the law. His own termination is suspect, since there is a ministry ruling that outfits such as the guard are required to have someone overseeing disciplinary cases. He also claims knowledge of instances where official documents used in the organization's administration system were backdated to meet deadlines.
Authorities investigated the accusations, but found nothing wrong, so the inquiry was closed.
The fired guard filed a complaint against the ruling, no decision has been reached yet. Atlatszo.hu asked parliament's administrative department for comment. The response is that the only reason the story went so far is because the guard in question is bitter about his dismissal, which is why he is making unsubstantiated accusations.