Atlatszo.hu's enquiries lead to arrest warrant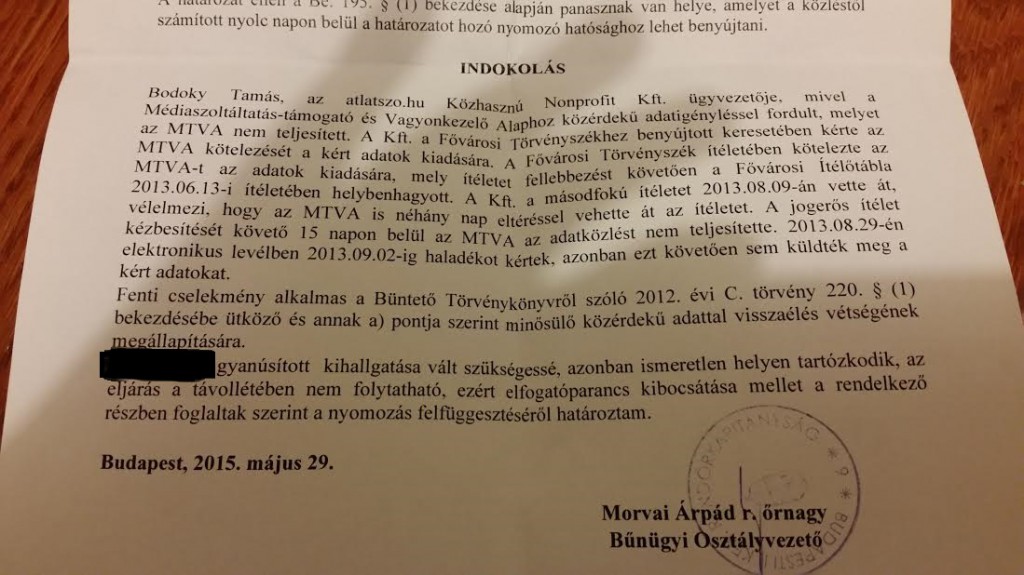 The refusal of the MTVA foundation, the organisation responsible for Hungary's public media, to comply with a freedom of information request from Atlatszo.hu, led to the courts issuing an arrest warrant. While the person in question proved to be elusive to the authorities, he actually answered his phone first time when we called.
Two years ago Atlatszo.hu filed criminal charges after the foundation operating Hungary's public media refused to comply with a court ruling to publish the contents of certain public procurement contracts.
We pursued charges after the foundation, MTVA, stonewalled us and refused to disclose the necessary information, even though it was instructed by the court to do so.
Hungary's penal code clearly states that individuals who refuse to comply with a validated freedom of information request can receive up to two years in prison, as this type of obstruction is classed as a criminal offense. Although the data was eventually released a crime had nevertheless been committed by that time.
There was no clear reason why the ruling did not name the leaders of MTVA as those responsible and therefore culpable. An individual from lower down the hierarchy was named, and it is this person who is now to be held accountable for MTVA failing to observe the law. The clear impression being given is that the person is being put forward as a scapegoat, and as such Atlatszo has decided not to name the individual.
The case also highlights some serious failings in how the authorities handled the matter. The police issued the arrest warrant claiming they were unable to locate the person suspected in the case. However, when we tried to call him, we got an immediate response, as well as a promise that he would be in touch with the police to testify and aid the investigation in any way he could.