Hungary donated coronavirus vaccines and ventilators worth HUF 19 billion abroad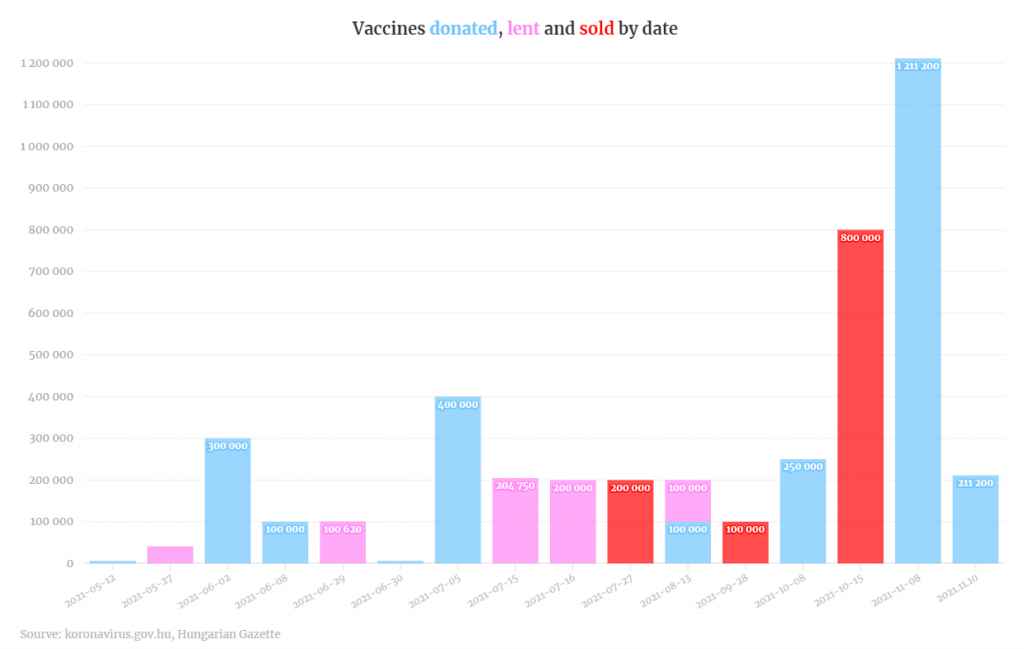 Since the beginning of the coronavirus pandemic, we have seen several articles about significant amounts of vaccines or ventilators being given to other countries. Atlatszo have compiled a list of exactly how many such transactions have taken place up to November, and for how much money. The data shows that the Hungarian government has given more than 4 million doses to other countries. At the same time, the majority of the ventilators that have been purchased for 300 billion HUF are in storage without being used, but the government is also giving them away for free: so far, it has gifted 11.7 billion forints worth of machines abroad.
In Hungary, the share of people vaccinated against COVID-19 is currently around 62%, which is good if we look at the neighbouring countries, but compared to the vaccination rate of other European countries the situation is less promising. Especially if we consider the fact that in April, Hungary was consistently in the top 5 countries in terms of vaccination rate , only to slip from the podium in the summer, when the pace of vaccination in our country steadily slowed down, while in other countries it accelerated. Since May (when 5.5 million people in Hungary received at least one vaccine), there have been only half a million new vaccinees, meaning that the typical daily number of administered first doses has been 4-5000 in the past few weeks.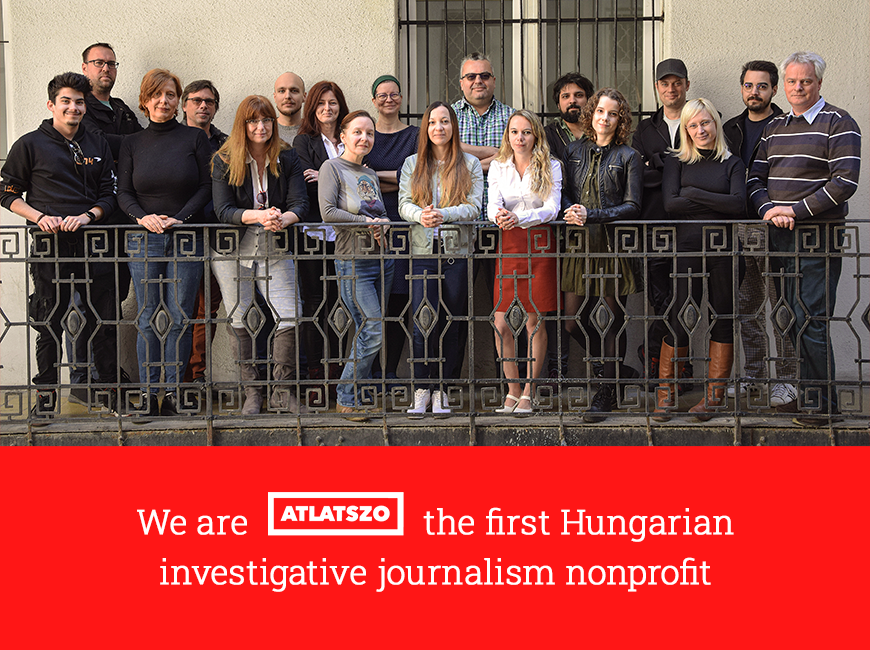 So far, the European Medicines Agency (EMA) has approved only four vaccines: Pfizer/BioNTech, Moderna, AstraZeneca, and Johnson & Johnson (Janssen). However, Hungarian authorities decided to purchase and use the Chinese Sinopharm (to WHO later granted emergency use) and the Russian-made Sputnik V, which is yet to be approved in the EU in order to accelerate the pace of inoculation.
Because of the wide range of vaccines available and the declining interest, the country currently has far more coronavirus vaccines than it could use in the near future. Data show that just over half (53%) of the vaccines received by 9 November have been used, with more than 9 million vaccines currently in stock, equivalent to HUF 81 billion. Of this, the Chinese-made Sinopharm vaccine worth 35 billion alone.
Vaccines distributed, administered and not used in Hungary, by vaccine type
We have used the least of Janssen and AstraZeneca, with only 7.4% of available vaccines for single-dose Janssen and 27% of UK-branded vaccine. The data also shows that Sputnik V is almost completely used up. The purchase price of the vaccines, according to official figures is as follows: the cheapest is the UK-Swedish AstraZeneca, with a dose costing just €1.78. This is followed by single-dose Janssen at €8.5, then Pfizer at €15.5. Sputnik V, based on the contract made public by the government, was $19.9, which is approximately €17.18 at current exchange rates, while Moderna costs €19.
By far the most expensive vaccine purchased was Sinopharm, which costs €31.5 per dose, but there were other problems with the circumstances under which Hungarian government obtained this vaccine. As we have written in our story, the government decided to buy Sinopharm vaccines through a broker company called Danubia Pharma, which was at the time legally headquartered in a ploughland in the Hungarian countryside, but had undergone a magical transformation right before the deal.
After the government negotiated directly with the producer, Hungary bought Sinopharm vaccines against coronavirus through a middleman. The broker company has gone through a facelift right before the deal: its headquartes moved from ploughland to Budapest city centre, and changed its owner, who was implicated in shady dealings before.
What is more, nearly a third of the elderly who received the vaccine were given Sinopharm, despite the fact that the manufacturer itself does not recommend its use for people over 60. In the summer, before the government decided to make booster shots available for those who request it, we talked to several people who had not developed sufficient immunity after two doses of Chinese vaccine. There were even some who had tried to obtain new vaccine under the counter due to lack of protocol. From the end of summer, the third vaccine is available to anyone.
15 countries received a total of 4 million vaccines
Népszava reported at the end of August that the government had donated vaccines worth about 4.5 billion forints, most of which were Sinopharm.  We have collected and mapped exactly where the vaccines donated until November went and exactly how much they were worth.
The vaccines sent to other countries can be divided into three groups: in most cases, the government gave away the coronavirus vaccines without any compensation, i.e. free of charge. In total, 12 such occasions are known, including Egypt and Northern Macedonia, and three African countries.
Vaccines donated between May and November 2021
More than 2 million vaccines have been given away, with a total value of €28.5 million, or HUF 10.3 billion. What is more, the government has chosen to donate the most expensive Chinese vaccine, and has given away more than 820,000 doses for free, worth €25.9 million, or HUF 9.3 billion to Montenegro, Bosnia and Herzegovinas, well as to Rwanda and the Gambia. And the latest news is that we have also given some to Turkey, to be distributed to the African countries most in need, in partnership with the Turkic Council.
In four cases, we have seen vaccines that were deemed surplus to requirements in our country being sold at purchase price. Portugal, Slovenia, Thailand and Vietnam have bought a total of 1 million doses of AstraZeneca and 100,000 doses of Janssen, worth €2.63 million (roughly HUF 95 million).
In the third category, there are vaccines that were only loaned by the government. The Czech Republic has received several loans of vaccines, mostly Pfizer (550 million doses) and some single-dose Janssen, but Slovenia has also received AstraZeneca. Some of the vaccines on loan must be returned to Hungary by the end of the year. The loans altogether worth €9.8 million, or HUF 3.5 billion.
Vaccines donated, lent and sold by date
Of the 25.9 million doses of coronavirus vaccines received by Hungary so far, 16.7%, or just over 4 million doses, have been passed on abroad by the government, more than half (55.4%) of which were donated, meaning that no money was paid to the countries receiving them.
AstraZeneca and Pfizer's distribution can be explained by the expiry date: both vaccines have a relatively short shelf life of six months, which expains that stocks of vaccines are being lent to other countries that will expire in the near future, so we can get back ones that can be kept for longer.
The longest expiry dates are Sinopharm and Janssen, both of which have a two-year shelf life.
The government would also get rid of ventilators
Besides giving away vaccines, there were several stories in the media that the government wants to get rid of some of the 16,000 ventilators it acquired during the first wave of the pandemic, which, according to the Ministry of Foreign Affairs, cost HUF 300 billion (nearly HUF 20 million each).
The scandalous purchase of ventilators was covered in detail by Direkt 36 last summer. Eursotat data showed that between March and June, Hungary spent the most of all EU member states on imports of ventilators from China. At that time, Hungary had access to the devices at a price of €1,410/kg, with the second highest unit price (€373/kg) in Slovenia, which faced a government crisis in July over overpriced ventilator purchases.
After several public interest requests, MEP István Ujhelyi from Hungarian opposition party MSZP obtained the exact figures on how many ventilators the Hungarian government purchased during the first wave of the coronavirus epidemic from the Ministry of Foreign Affairs, along with a list of the companies from which we bought the machines.
Last year, Atlatszo reported that Hungarian businessman connected to the Azerbaijani Laundromat also made a fortune in the ventilator business. We have written several articles so far about the oddities surrounding coronavirus defense procurement: that PR photos reveal telltale details to identify medical supplies of dubious quality imported by Hungary, that a Hungarian family played a key role in delivering medical supplies from China or that in spite of EU-wide alert, Hungarian government contracted to purchase millions of faulty masks.
The original plans were to buy far fewer ventilators, and in preparation for the worst-case scenario, Viktor Orbán had originally estimated a capacity of 8,000, but the Foreign Ministry ended up ordering more than 16,000 to ensure the arrival of 10,000. It is not yet known what will happen to the remaining surplus machines. In October last year, Ministry of Foreign Affairs had asked Hungarian diplomatic missions to try to sell the roughly 8,000 ventilators that were "overstocked", but Transparency International learned in February that this initiative had not been successful.
Thus, most of the ventilators purchased for hundreds of billions of euros are still sitting in warehouses, despite the fact that they are not cheap to store. In June, we wrote that more than 13,000 machines were being stored on two sites at a net cost of €15 million a month. Three thousand of these devices are being stored in Hungarian healthcare institutions.
RTL Klub reported at the beginning of May that the Hungarian government had donated a total of 425 ventilators, which, according to the channel's figures, means that the government has given away around HUF 8 billion worth of ventilators to other countries for free. Since then, the donations have continued: by November, the Hungarian government had given a total of 595 machines to other countries, worth HUF 11.7 billion.
Ventilators donated between October 2020 and October 2021
The Czech Republic has received the largest number of ventilators (150), accounting for 25.2% of the total, but over 100 machines have also been given to Serbia and Ukraine.
Most of the machines were sent to Europe, 7 countries in total, with 2 African countries and 5 Asian countries also receiving donations. In five cases, the equipment was provided by the government to NATO, according to a government decree published in the Hungarian Official Gazette.
Translated by Zita Szopkó. The original, Hungarian version of this article was written by Krisztián Szabó and Zita Szopkó, and is available here. 
Support independent investigative journalism in Hungary, become a patron of Atlatszo on Patreon!