Famous 'roma village' proves at EU election that poor people do not simply sell their votes to Orban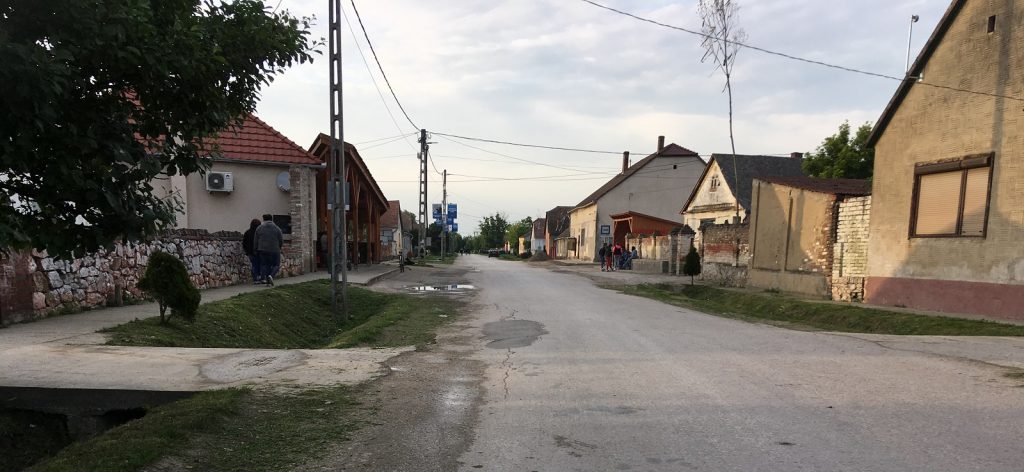 Hungarian media and political scientists provide several different explanations for Fidesz's repeated electoral victories. Among these, there is an overused stereotype in Hungarian media, and it is about allegedly ignorant, rural citizens selling their vote for a bag of potatoes. They simply blame rural areas for the Orban government's victories. However, the approximately 8 million rural citizens reside in various types of settlements and will never vote the same way. We visited one village near the Southern border to see whether the stereotype has any truth to it.
To get a deeper insight into this issue we visited the village of Alsószentmárton in Baranya county, which suffers from numerous handicaps and whose inhabitants belong to the Roma community. We chose this village not only because it lagged behind most other villages in terms of voter turnout with 17,6%, but also because the third most popular party in the elections here was liberal Momentum, just like in larger cities.
This contradicts the popular stereotype that in poor villages, which typically have a high proportion of roma, voters turn out in large numbers because they sell their votes to the governing party.
The 'roma village' that is lagging behind
Alsószentmárton has approximately 1200 residents and it is situated on the southern border of Hungary, about 40 km from the city of Pécs.
In the seventies the village transformed into what came to be known as the first 'gypsy village', attracting the attention of sociologists and ethnographers.
The residents belong to the roma ethnic group called Boyash and speak Hungarian (being bilingual) with some of them identifying as Hungarian. According to the Central Statistical Bureau (KSH), the unemployment rate was over 20 percent in 2018, one of the highest in the country. The villagers typically work in agriculture or find employment in the state workfare program.
Recent years saw an increase in employment by virtue of a new regular bus service allowing the locals to reach the neighboring villages of Bóly and Mohács and take up work in the slaughterhouse or the foundry. However, many of the job opportunities are seasonal.
Independent mayor Laszlo Budai and other locals pointed out that the workers are often laid off and replaced with new ones after 3 months when the state stops subsidizing the position of a newly hired worker. Women are even worse off, as they are not hired for hard physical labor. They live off of social welfare including child support, the amount of which has not changed for 10 years.
The houses in the village are in poor condition and the residents suffer from several health issues resulting in lower-than-average life expectancy. Diabetes and cancer are common. The village has no elementary school, but it has a kindergarten and a high school maintained by the churches.
This is seen by many as the most likely reason for the surprise results of the election: out of 143 valid votes, Fidesz raked in 98 winning the race, DK (Demokratikus Koalíció – Democratic Coalition) came out as second with 22 votes and young, liberal Momentum became third with 19 votes. MSZP-Párbeszéd garnered 4 votes, while other parties got none.
The outcome is surprising for two reasons: first, voter turnout was among the lowest in the country with around 17 percent. Second, Momentum and DK turned out to be unexpectedly popular.
There is chaos in the political arena and 'we've been left behind'
Let's take a closer look at the voter turnout first. In previous European elections the figures were different: in 2009 41 percent of the residents voted, while in 2014 27 percent cast their vote.
Apparently, the likely reasons for the low figure this year must be elsewhere than in tradition. When we visited, shortly after the election, we didn't see any political posters, just a few blue propaganda billboards by the government on the main street advertising social benefits for grandparents helping raise their grandchildren. The message was well-targeted as it is typical for different generations of a family to cohabitate.
Still, the family-friendly measures of the government did not come up often in our conversations with the locals, and the few mentions were not appreciative, either. This is because low-income families cannot take advantage of most of the benefits, such as tax cuts or loans.
'I get it. I can take out a loan if I have three children, but how would I pay back?' asks a mother who has been jobless for years and still has past loans to pay back. She had nothing positive to say about the government.
She mentioned immigration, but in a more understanding tone than usual in government propaganda.
'As for me, they can come here. If I have to leave this place, I also hope to be welcome elsewhere.'
Another woman echoes similar sentiments. 'Let's help them, but I hope there won't be too many of them, we also need space to live' she says, with her husband nodding in agreement.
Soon it becomes evident that many residents are not satisfied with the government. However, they opted not to cast their vote. Instead, many preferred to go to first Communion, an important occasion in a Catholic village, which took place on the same day. Others preferred to take their children to Siklós or elsewhere to have fun on what was also Children's Day, while many went to work on the fields to pick peas.
'When we joined the European Union, we expected that things would change for the better, and we would reach the standards of living of the West, but it hasn't happened' says a middle-aged grandmother shaking her head.
'Brussels,' she repeats the buzzword of government propaganda in a dramatic, yet joking tone 'is far away, and does not affect our lives. The parties here don't care about us. We can't vote on any of them.'
Mayor Laszlo Budai feels the same way when we talk on the phone the next day.
'This is a village of Fidesz voters, but no one bothered to come here to campaign. They did not even ask me to campaign for them' he says with a pinch of disappointment in his voice.
Last year, before the parliamentary election, Csaba Nagy (a Fidesz-KDNP candidate winning his district) visited them.
'This year, no one, we've been left alone. All of them just care about their own personal interests, they don't care about us. The opposition parties are the same, and they can't agree on anything, it is chaotic. If they can't get along with each other, how can they take responsibility for others? Perhaps they would have a chance if they stuck together, but not like this' the mayor says.
He adds that this feeling of abandonment contributed to voters' passivity this year. 'The village has not won any subsidies for a while, but the roads need repair – we've just been sued by a villager who had his car damaged by a pothole. What we get from the state must be spent on the designated tasks, we can't spend them elsewhere, so our options are limited. Maybe Csaba Nagy could help us as the PM of this region, but he has disappeared, too. I hope that the village program will improve our situation a bit.'
While the locals feel that the EU is distant, in reality, the village will receive HUF 217 million by virtue of the Szechenyi 2020 program, and also received a HUF 9 million subsidy for road maintenance machines in 2017. Civilian and ecclesiastical entities received grants in 2017 to further goals such as drug prevention, preparation for higher education, etc.
An EP election with unprecedented support for the opposition
Although voter turnout was low, the results were all the more astonishing. It was predictable that Jobbik or LMP would not get any votes in the village, just like in previous EP elections. In 2014, left-wing MSZP was highly unpopular with 8 votes, too. DK and Momentum, however, were black horses.
In the 2018 parliamentary election Momentum garnered 5 votes in the village (while Fidesz got 385), but DK's true popularity was anybody's guess as they teamed up with MSZP and ran no candidate in the 4th district.
Our conversations with the locals suggest two possible reasons for their success. First, Klára Dobrev, the wife of the widely hated former prime minister Ferenc Gyurcsány, brought up down-to-earth issues in her TV appearances that struck a chord with locals. She mentioned, for example, the ideas of EU-wide family welfare programs and the EU minimum wage. Second, traditionally left-leaning families became hesitant to vote on MSZP and turned to DK, instead.
The success of Momentum can also be attributed to two factors, one being the effect of the local high school. The teachers there are more open to the world because of their education and they are more skilled in using the internet.
The same goes for the students, who stumble upon national news on social media sites and share them with their elders. Many of them came across 444.hu's video that was shot in small and poor villages and shows villagers who are uneducated, with a lack of knowledge about parties and vote for Fidesz in fear of migrants.
'A while ago some people wanted to interview the villagers. They asked me, too, but I turned them down' says a young woman.
'No one wanted to be in video except for a crazy drunkard, who is the laughingstock of the village. Then the video spread and everyone believed that we were all like her in Alsószentmárton. It was totally embarrassing' she complains while covering her face with her palm.
'We were all saddened by this, because we are now different than in the past' she explains.
'We are much more conscious, and it's not like they come here and throw a huge party and then tell us who to vote for.' 
Undoubtedly, personal presence in a village is still important. Momentum was the only party whose activists visited the village and talked to people. They organized events in someone's yard, and explained their agenda. This resulted in third place – like in more developed towns – just 3 votes behind DK.
Opposition parties received a total of 45 votes combined. While government propaganda is in full swing, and very hard to resist, the roma population in one of the poorest villages by the border cast their votes on opposition parties in the EP election in larger numbers than ever.
Written by Eszter Katus
English version by Péter László. You can read the original, Hungarian-language story here.