The police were the 'surprise guests' at Atlatszo's fundraising party at Aurora community center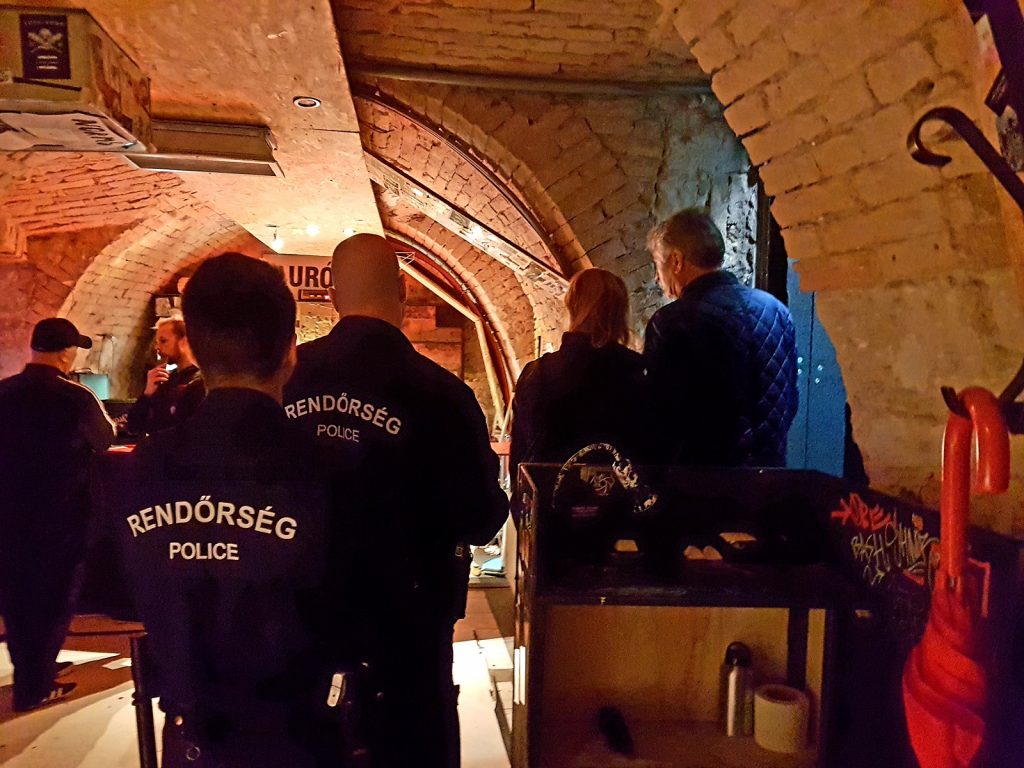 Atlatszo held a fundraising party last Saturday in Auróra, the community center where our office is also located. We presented our work and chatted with our readers, then there was a documentary film screening and concerts in the basement. At about 10 p.m. the police arrived to check whether the bar was closed in the community center that has been under attack from the municipality of Budapest's 8th district for years.
Atlatszo held a fundraising party on Saturday in Auróra. This is a community center, café, concert venue, and bar. On the upper floor, NGOs are renting offices; Atlatszo is one of those tenants.
Saturday afternoon we presented our work and answered questions from our readers who came to meet us. We broadcast the event live on Facebook. After the Q&A there was a documentary film screening, then concerts in the basement.
At 10 p.m. the police arrived. One of the guests posted a photo of it on Instagram.
A bejegyzés megtekintése az Instagramon
Aurora has been under attack from the municipality for years. The 8th districts of Budapest, where Auróra is located, is led by a mayor from the governing Fidesz party and the local council is also dominated by Fidesz.
The municipality has been trying to shut Auróra down for years. Two years ago they tried to shut it down because small amounts of marijuana were found on some of the guests. Last year they tried to close Aurora because two dates mismatched on two official documents (the lease and the founding document).
The district even contacted the owner of the house and offered to buy it so that it can shut the community center down. Read more about Aurora and the attacks against it in this CNN report.
Citing complaints from local citizens the district clerk ordered the Aurora bar called Kioszk to be closed at 10 p.m. every night. The police and the clerk have checked several times since then whether the bar really closes at 10 p.m.
The latest check took place during Atlatszo's fundraising party on Saturday.
Zsuzsa Mekler, a manager of Auróra said that 'the municipality sent people to check on us, the police only accompanied them. They check whether the bar is closed and they write a report on what they see in the house.'
They have done this several times already but never found anything that could have prompted them to start official proceedings.
Some of the guests complained that they felt like 'they were back in the 1980s' when the governing party used the police to harass the people at 'inconvenient-looking' events.
You can read the original, Hungarian-language story here.