Atlatszo's story about the luxury vehicles used by the governing elite awarded Transparency-Soma Prize for investigative journalism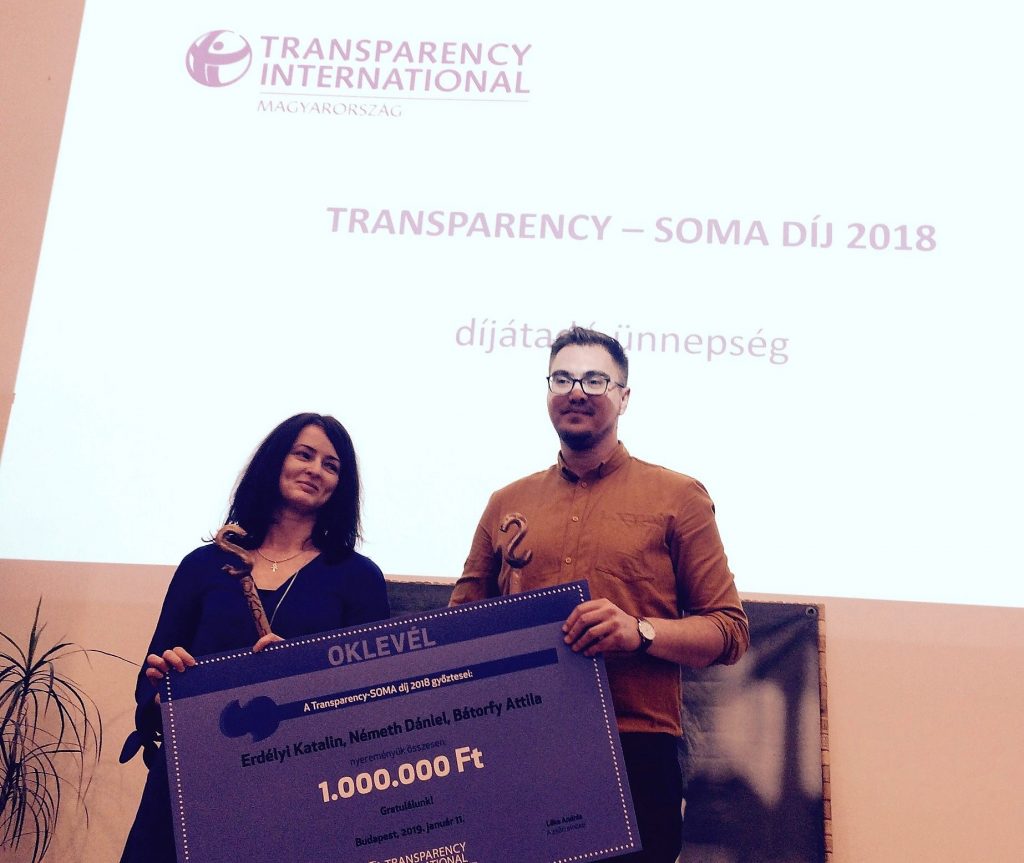 Katalin Erdélyi, Attila Bátorfy, and Dániel Németh were awarded the Transparency-Soma Prize Friday night for their article published by Atlatszo about the luxury vehicles that prime minister Viktor Orban and the governing elite are using. The Soma Prize is the most prestigious award for investigative journalism in Hungary and is awarded by Transparency International Hungary.
This was the 18th time that the Soma Prize was awarded for the best investigative article of the year in Hungary. The prize, which comes with one million Hungarian forints, was awarded to Katalin Erdélyi, Attila Bátorfy, and Dániel Németh on January 11.
The prize was founded in 2001 in memory of József (Soma) Gőbölyös, an investigative journalist who died young. The prize has been awarded by Transparency International since 2016 and it has been called the Transparency-Soma Prize since then.
According to Transparency International, the jury examined the 15 investigative stories presented to them by the following criteria: the quantity of the work put into the investigation; the quality of the work, its relevance, and clarity of writing.
The award-winning investigation followed the paths of two luxury vehicles, a yacht and a private jet for months. The story revealed that members of the Hungarian governing elite were using these luxury vehicles. Atlatszo photographed prime minister Viktor Orban stepping out of the private jet. The story included photos, infographics, videos, and drone footage as well.
Atlatszo has been tracking two luxury vehicles all summer and, in doing so has documented where the leadership of the governing party and their business partners spent their summer vacations.
Since the publication of our first story the project has become a series. We have published several other articles on the same topic since then, covering how Orban used different private jets owned or controlled by businessmen for private trips to soccer matches. We also tracked how Orban used an Airbus owned by the Hungarian military to fly to Milan to attend an opera premiere and we also tracked Orban flying to Brazil in the military's brand new Falcon.
Viktor Orban worked very hard during his years in politics to present himself as an ordinary guy, just someone next door living a simple life. His Facebook page shows pictures of him drinking pálinka, Hungary's favorite home-made spirit and cooking traditional sausages.
The key to all these stories is that these trips are not transparent. When Orban goes on a state visit using any of these planes, the cost of the trip is not shared with the public. When he uses the private jet for private trips, journalists and the public can only guess which billionaire businessman owns the plane and how much these "gifts" to the PM cost.