Atlatszo.hu publishes 2018 annual report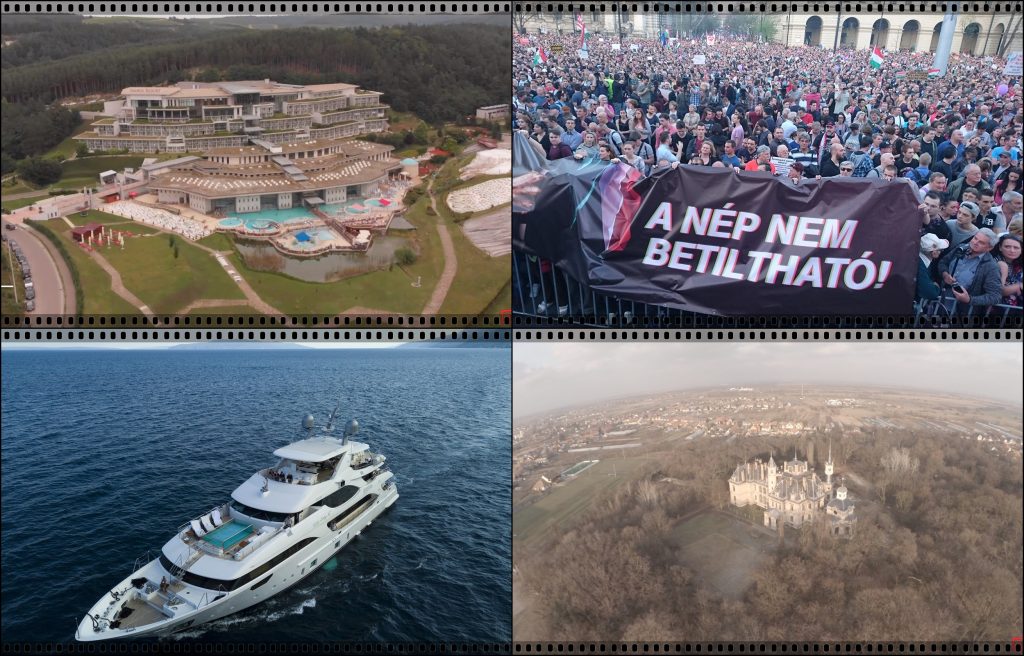 Atlatszo.hu is a watchdog NGO and a center for investigative journalism endeavoring to promote transparency, accountability, and freedom of information in Hungary. Established in 2011, atlatszo.hu – 'atlatszo' means 'transparent' in Hungarian – produces investigative reports, accepts information from whistleblowers, files freedom of information requests and commences freedom of information lawsuits in cases where its requests are refused.
Atlatszo.hu is among the top 10 most popular online news sites of Hungary with a growing readership and a significant impact on the Hungarian public sphere. The site covers political corruption, campaign financing, financial abuse in public procurement procedures, infrastructure projects and EU funding, environmental abuse and human rights violations. It profiles individuals in public life, mainly politicians and businessmen.
In 2018 our websites reached a regular readership of 400,000-900,000 unique page views monthly or 4% of the total Hungarian population (400,000 visitors) at least once a week. Our Facebook page reached more than 96,000 followers by the end of the year.
Atlatszo.hu was quoted, referred to via its publications or was mentioned 3,536 times in 2018 in online, print and electronic sources. It is estimated that news pieces that mention Atlatszo in 2018 reached over 583 million viewers.
Several of our stories were noticed by international media outlets in 2018 as well. Our stories were quoted by, and Atlatszo was mentioned by outlets such as The New York Times, The Washington Post, CNN.com, AFP, Der Spiegel, Der Standard, Politico, NBC News, Buzzfeed, The Daily Beast, OCCRP, and several media outlets in neighboring countries. Atlatszo's staff members were also often quoted by international media, especially in the run-up to the elections.
Katalin Erdélyi, Attila Bátorfy, and Dániel Németh were awarded the Transparency-Soma Prize for their article published by Atlatszo about the luxury vehicles that prime minister Viktor Orban and the governing elite are using. The Soma Prize is the most prestigious award for investigative journalism in Hungary and is awarded by Transparency International Hungary. Atlatszo journalists were also awarded the Prize for Quality Journalism for the same feature.
This story was significant because PM Orban's private jet and military plane flights Viktor Orban worked very hard during his years in politics to present himself as an ordinary guy, just someone next door living a simple life. This image of Orban as the average Hungarian was hurt last year when Atlatszo revealed that Orban has been using a luxury private jet that is available only for the super-rich.
In 2018 Atlatszo continued to expose state capture and corruption in public spending. We also put an emphasis on investigating irregularities, fraud, and corruption with EU funds in Hungary. Atlatszo investigated dozens of cases in recent years, some of which ended up being investigated by the EU's anti-fraud unit OLAF as a consequence.
We also closely followed government propaganda and media spending. In 2018, the Hungarian government continued to ramp up its propaganda efforts and media spending in order to create a government-friendly media landscape. Atlatszo filed dozens of FOI requests to shed light on the tens of millions of euros of taxpayer money spent on government propaganda and subordinated media outlets.
In 2018 Atlatszo recruited local correspondents outside the capital and set up a blog ('Országszerte') dedicated to investigate and report individual cases of the 'local state capture situation' in Hungarian municipalities, uncovering conflicts of interest and cases of wrongdoing.
Our women-only 'Paksi Riot' team investigated the nuclear industry Hungary. Our investigative team was formed together with experts of watchdog NGO Energiaklub to counterbalance the propaganda of the atomic lobby and the lack of official information and offer comprehensive information about the ongoing nuclear projects.
Atlatszo also investigated fraud and irregularities during the 2018 April Parliamentary election which resulted in another two-third majority for the governing Fidesz party.
Funded by a grant from IJ4EU, we also investigated Hungarian football sponsorship in the neighboring countries.
This project was one of Atlatszo's cross-border investigations in 2018. Colleagues from Serbia, Croatia, Slovenia, Ukraine and Slovakia helped us uncover how Hungarian taxpayer funds are financing soccer academies abroad.
The second cross-border project funded by IJ4EU was a story about "cancer treatment tourism" between Hungary and Romania. The two-part series looks at the private cancer treatment centers emerging on the ruins of the public health care in Romania, and how people with less income are using legal loopholes in the healthcare systems of the two countries to access treatment.
Just like in previous years, Sarajevo-based Organized Crime and Corruption Reporting Project (OCCRP) was a very important partner for Atlatszo in 2018. Atlatszo cooperated with OCCRP colleagues in Macedonia and Bosnia to uncover how businessmen close to Hungarian PM Viktor Orban invested in media in Macedonia.
Atlatszo is a founding member of Vsquare.org, an investigative journalism project funded by the National Endowment for Democracy. Atlatszo contributed to Vsquare's projects on Russian influence in the Visegrad region, and to the project exploring China's economic and political relationship with these countries. Atlatszo also contributed two articles to the project that investigated the militarization of patriotism in the V4 countries.
Átlátszó has been experimenting with new tools and directions of journalism from the beginning with the purpose of creating compelling investigative stories which engage the audience better than traditional textual storytelling.
In October 2018 we launched ATLO, our full profile data- and visual journalism team to take this field to a new level. 
As the first dedicated visual journalism board in Hungary, ATLO's main aim is to support investigative journalism, science and digital humanities with compelling graphics, images, and visualizations.
Atlatszo is financed by nonpartisan and non-governmental sources; we do not accept money from Hungarian state institutions, political parties, and affiliates.
Individual donors – more than 3,000 private citizens – have contributed significantly. Crowdfunding is very important to us, we regularly campaign our readership to donate. Micronations and income tax 1 percents offered accounted for more than 60% in the 2018 budget.
You can download the full 2018 Annual Report from here (PDF).