Propaganda media launches new attack against high school student who criticized government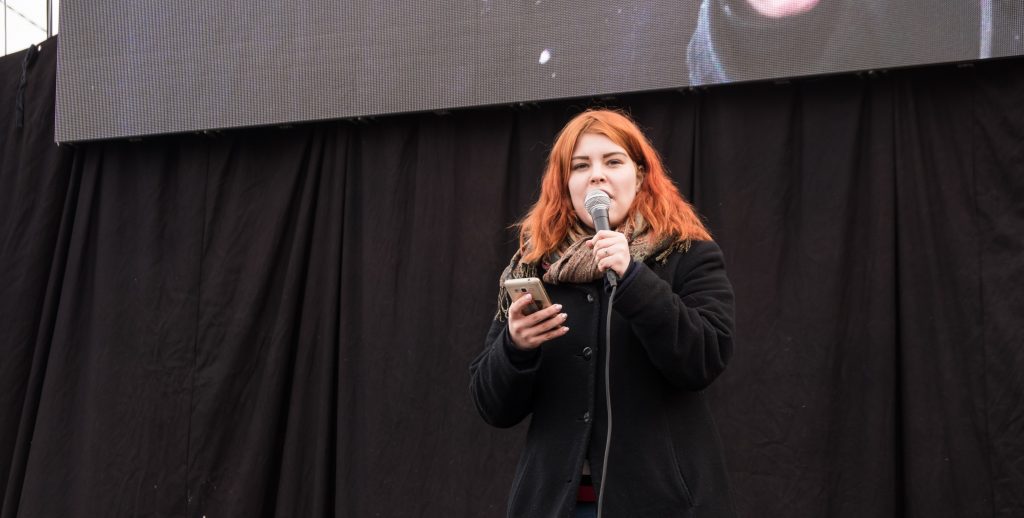 The Hungarian propaganda media launched new attacks against Blanka Nagy, the high school student who spoke out against the government at several protests during the winter. Nagy has already won defamation cases against three pro-government outlets: Lokál, Ripost, and Origo. However, after the lost court case Origo launched another attack, publishing her school reports. Nagy told Atlatszo that she is considering suing Origo again because of these latest stories.
Blanka Nagy became well-known in Hungary last winter after a video of her speech at an anti-government rally went viral. She spoke out against the government and prominent politicians using foul language and her harsh words resonated with many social media users.
About two months after her video became a social media sensation, the propaganda media and pro-government pundits such as Zsolt Bayer launched an attack on her. Pro-government outlets claimed that she was failing many of her subjects in school and that she is missing school too many times. She was also called an untalented wannabe actress and was called a whore by them.
Nagy sued the outlets that were claiming that she was failing school and she has already won against Lokál, Origo and Ripost.
Prime minister Viktor Orban often accuses independent media outlets of being 'fake news.' However, numbers suggest that it is the pro-government propaganda outlets that are willing to lie for political gain.
Her attorney filed copies of her transcript at court to prove that she is not failing – and thus the school transcripts became available for attorneys of Origo. And the outlet decided to publish data from her transcripts, claiming that Nagy almost failed history last term and is on the verge of failing in a few other subjects as well.
'My attorney and I are considering suing the outlet that published my school transcript' Nagy told Atlatszo in an interview. She says that Origo had no right to see the transcripts. She and her attorney did not even think that Origo had the right to see the transcripts when they filed them in court to prove that she was not failing in school and that the propaganda outlets were lying.
'And their latest claims are not true, either' she said. 'I am not failing my history class, contrary to what they say. I have a much better grade than a 2 (rough equivalent to a C-). What they say is simply false. I would be ashamed if it was true because I have a history teach among my ancestors' she said.
'I think all this verbal aggression against me is very strange but I am no longer bothered by it. It only proves that I somehow scared the highest ranks of governing party Fidesz. The fact that Zsolt Bayer himself attacked me and the pro-government media is using false pretexts to try and smear me proves that' she added.
Written by Tamás B. Kovács
English version by Anita Kőműves. You can read the original, Hungarian-language story here.
Cover image: Blanka Nagy speaking at a rally in January 2019. Photo by Márk Tremmel