A case study in Hungarian propaganda: this is how the pro-government media works if something awkward is revealed about PM Orban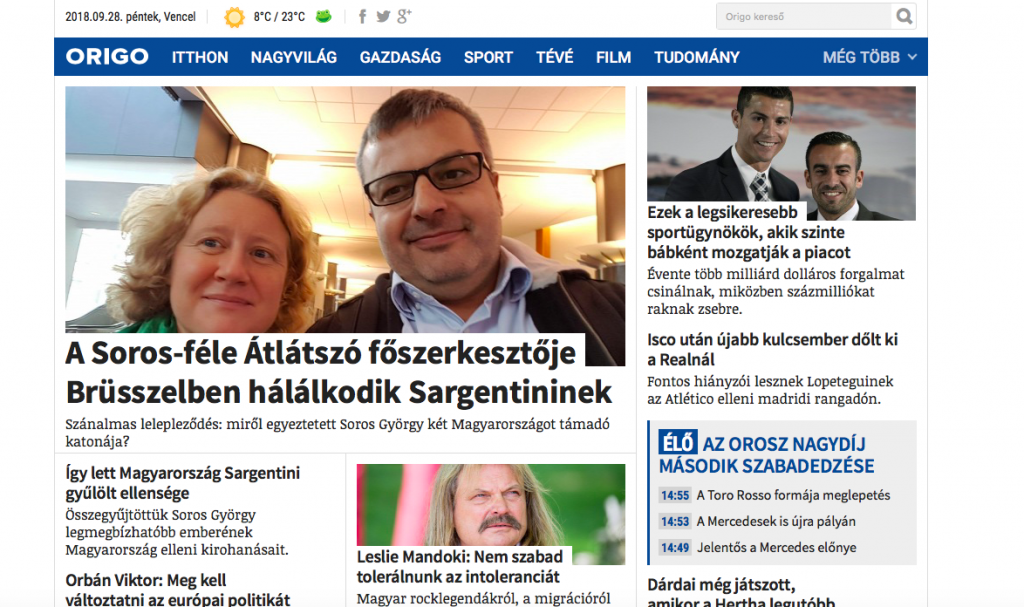 The pro-government media empire in Hungary has a special characteristic: when there is a very important message to push, they work in unison. The same message is spread by every website, newspaper, TV and radio channel; sometimes even headlines are the same. This week brought another example of this close cooperation. The propaganda machine reacted to Atlatszo's story about the private jet and yacht used by the government elite with a unified message. This is a case study of how Orban's propaganda machine works.
The official response came from prime minister Orban's spokesman, Bertalan Havasi. He said that businessman István Garancsi, whose company Market Zrt. is winning public tenders worth billions of Hungarian forints, was the one who invited Orban to Bulgaria on board the private jet OE-LEM.
Soon after that, another message started to be pushed by the propaganda media: stories claiming that Atlatszo was a 'Soros-puppet' that was 'promoting migration.' These stories also asked why Atlatszo was not investigating luxury trips of former prime minister Ferenc Gyurcsány.
These stories lack one thing: any hard evidence that refutes our claims about the private jet and the yacht used by the Hungarian governing elite, including Orban himself.
The ringleader this time was the news site origo.hu. The website published its first story about Atlatszo one and a half days after our first story about the luxury enjoyed by Orban and his people was published.
The headline of this first story was 'George Soros is using drones to have people close to the government watched.' The story said nothing about the yacht or the jet. Origo published another story about Atlatszo a day later, but it was practically the same text with a different headline. A third story followed, questioning why Atlatszo was not writing about similar affairs of opposition politicians.
This was when the coordinated effort started. Origo published the second and the third stories on Wednesday at 11 a. m. By noon, the website of pro-government daily Lokál already published a story, citing origo, titled: 'Opposition media is attacking the government using Soros's money.' Not long after that conservative political analyst and pollster Ágoston Sámuel Mráz was on news channel Hír TV, explaining that our story marks the beginning of the European election campaign.
After that most of the outlets of the propaganda machine ran the same story: 888.hu, the public service channels, Echo TV and TV2 all covered it. All of them were pushing the same content, either citing Origo's story about Soros or quoting what Mráz said at HírTV.
Thursday was also eventful. Public service news channel M1 talked to Mráz and asked him the same question that HírTV had posed. Mráz's answers did not change. Soon after that three pro-government news portals, Origo, Magyari Idők and hirado.hu, ran a story quoting Mráz, with exactly the same headline: 'Pro-migration forces have started a defamatory campaign.'
In the meantime, government and Fidesz officials were trying to answer other questions. Such as why the prime minister used a luxury jet and why his friends and business partners were holidaying on a yacht. The first explanation that the government press team gave was that the flight was a gift from businessman István Garancsi.
However, Hungarian law strictly limits what kind of gifts politicians can accept. Therefore, it was not long before István Hollik, spokesman of the Fidesz caucus, stated that the flight was in fact 'not a gift.' He offered no alternative explanation.
Orban threatened journalists
On Friday Orban himself talked about the case, and his words were a thinly veiled threat to journalists.
'We are not scared. There are countries in Europe, I will not name them, where politicians are scared to represent the opinion of the majority of the people. This is not us, and if we are attacked, everyone can be sure that we will answer with the appropriate weight, and not only because it is in our own interest, even though we are also human beings. We are not just answering the attacks to protect our honor – though that is important as well – but for the sake of the entire country,' Orban said.
'Thus, we need to make it clear that if someone hits us, they can expect an answer: what goes around, comes around,' he said.
'We do not attack anyone, we do not want to force anything on anybody, we do not say bad things about others, we do not smear people, we do not unnecessarily criticize anyone, we do not want to tell people what to do or how to live their lives, what decisions to make. But when someone wants to do this to us we will protect our independence and the Hungarian way of thinking' Orban added.
Atlatszo's editor becomes origo.hu's top story
One more story about Atlatszo was published on Friday. Atlatszo's editor-in-chief Tamás Bodoky and his trip to Brussels became the lead story for origo.hu. The headline read: 'The editor-in-chief of Soros-website Atlatszo is thanking Sargentini in Brussels.'
The propaganda machine was working like a well-oiled machine and within a few hours all of them picked up origo.hu's story about Bodoky. Here is a screenshot of search results from news aggregator hirkereso.hu, all pushing the same content:
The story was based on a photo that Bodoky posted on his public Facebook page the day before. He was in Brussels, attending a conference when he saw Judith Sargentini in the corridor. He greeted her and asked to take a photo with her, which she agreed to. This was the photo he posted.
Origo saw the photo, and wrote a story saying: 'Tamás Bodoky, editor-in-chief of Atlatszo, a website that always lies about being independent, ran to Brussels the other day to say thanks to Judith Sargentini for writing the fake Soros-Sargentini report, and he even posted a photo about this on his Facebook. So, even if you had any doubts that Sargentini is working in the interest of Hungarian Soros-kids or doubted that she is working for the Soros empire, or if you doubted that Atlatszo was watching Hungarians considered enemies by the orders of Soros, then, looking at this picture you will have no more doubts.'
Written by Babett Oroszi
English version by Anita Kőműves, editing by Clare Humphreys
You can read the original, Hungarian language story here.
Cover image: A photo of Judith Sargentini and Tamás Bodoky is the lead story of pro-government website origo.hu