From Tiszakécske to Dubai: László Szíjj's Rise to the Top Business Circles of the Regime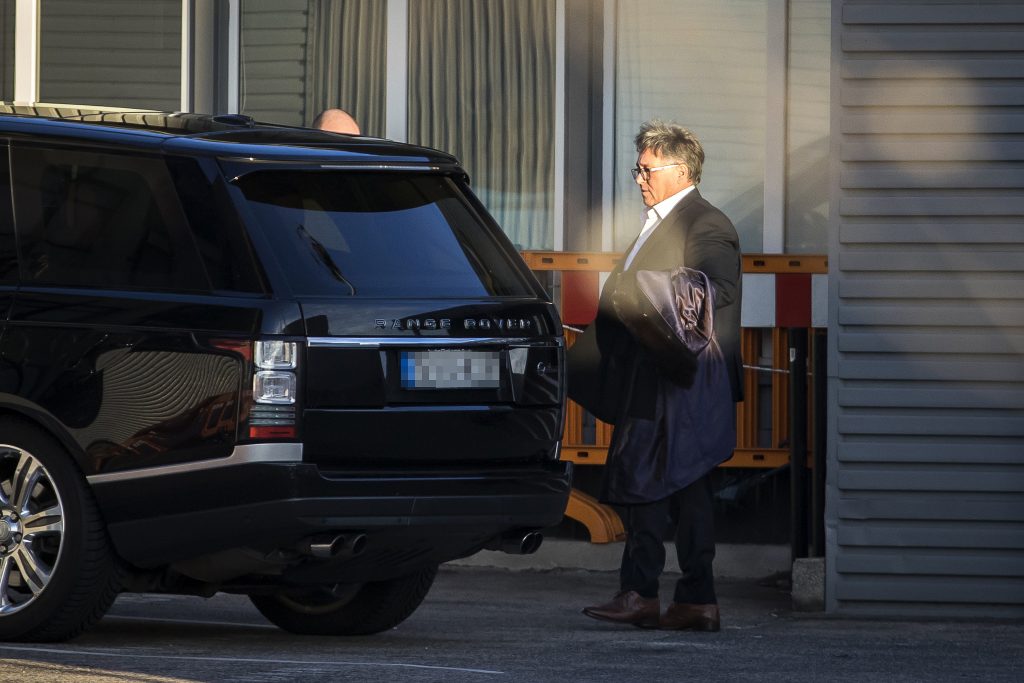 During the past few years, construction magnate László Szíjj achieved phenomenal business success by winning public tenders announced by the state and various city councils. Bagging new possessions like a third of MKB Bank and construction company Közgép, he reinvented himself as one of the most important businessmen close to the Orban government. He also co-founded a Bulgarian construction company with Lőrinc Mészáros, owns an enormous villa on Gellért Hill and was recently spotted on a luxury yacht on the Adriatic sea.
László Szíjj does not talk to the media, he is conspicuously absent from soccer matches and is cautious enough not be seen with politicians in public. His influence, however, is evident from the fact that he managed to purchase 30% of Közgép, the most important company from the empire of Lajos Simicska. Szíjj also bought a third of MKB Bank from the cousin of central bank chief György Matolcsy.
While his name is not as well known as the name of other businessmen favored by the Orban regime, he is, according to Forbes, the ninth wealthiest person in Hungary and he is worth HUF 106.2 billion in total, skyrocketing to this position within only a few years from rank 26 and a meager wealth of HUF 21 billion in 2014. We traced his long career and show you how he got here!
Luxury villa on Gellért hill
Atlatszo reported in 2014 that the trees were cut on the property at 6/B Bérc street to make room for a spacious villa. The construction company commissioned was Mészáros & Mészáros Ltd., a company owned by Lőrinc Mészáros and the client was Tief Terra Ltd., which purchased the 1620 square meter lot at an auction from the municipality of Budapest for a suspiciously low price of HUF 376 million.
Winning public tenders in the Alföld region of Hungary, often in cooperation with Duna Aszfalt, Tief Terra had a Swiss owner at the beginning of the construction, but since early 2016 László Szíjj has been its sole proprietor. As reported by Magyar Narancs in 2018, the villa at Bérc street was eventually completed after a lengthy delay, and now belongs to Mr. Szíjj via his company.
The four-story, cube-shaped building offers a spectacular view of the Buda Castle, the Danube, the Parliament and Saint Stephen's Basilica. Complete with a jacuzzi on the top terrace, the real estate is estimated to be worth about HUF 2 billion.
Getting wealthy from taxpayer-funded projects
László Szíjj was raised in Tiszakécske and became the first democratically elected mayor of the town in 1990. In the same year, he and his childhood friend Károly Varga founded the construction company Vakond Út és Építőipari Ltd., which in turn, established Duna Aszfalt Út és Mélyépítő Ltd. in 1996.
In 2000 Szíjj and Varga became direct proprietors in Duna Aszfalt, which soon started booming. In 2004 the net revenue of the company grew to HUF 351 million, and then to HUF 1.5 billion in 2005, up from the usual HUF 50-100 million in the previous years.
According to the data of the Public Procurement Database, this stellar rise in revenues coincided with the first successful tender applications of Duna Aszfalt. In the next few years, the boom just kept accelerating with the company grossing HUF 3 billion in 2006, HUF 11 billion in 2007, HUF 13 billion in 2008 and HUF 17 billion in 2009.
2010 and 2011 saw revenues of around HUF 18 billion, which was again followed by years of explosive revenue growth: HUF 27.billion in 2012, HUF 53.8 billion in 2013, HUF 86.5 billion in 2014 and HUF 124.5 billion 2015. In 2016 the company raked in HUF 32.4 million and HUF 75.6 billion in revenues.
Concurrently with the increase in revenues, the profits after taxes grew likewise with HUF 18.7 billion net in 2017, HUF 12 billion of which was paid out to Mr. Szíjj in dividends – this time as the sole proprietor of Duna Aszfalt after his co-founder Károly Varga exited the company in 2015.
As we reported earlier based on data of the Public Procurement Database, companies of Mr. Szíjj, including Duna Aszfalt, won a number of tenders – alone or with other partners – worth HUF 606.5 billion net in 2017, and HUF 259.5 billion in 2018.
Doing business with Lőrinc Mészáros
This business marvel would not have been possible without considerable external support. As we reported in 2012, Duna Aszfalt earned the commission – as the sole contender – to renovate parts of the Alcsút Botanical Garden, maintained by Felcsúti Utánpótlás Neveléséért Foundation, with the security of a HUF 5 billion credit line from MFB – the second largest ever granted by MFB (the heftiest loan going to Közgép). The Felcsúti Utánpótlás Neveléséért Foundation is the owner of the Puskás football academy in Felcsút and it is led by Mészáros.
In 2013 Duna Aszfalt started directly competing with Közgép before outcompeting it for good by 2015. While the company spokesperson insisted in Spring 2015 that Duna Aszfalt achieved its success independently, in reality, it was due to the plethora of public tenders that drove the business of the company.
The same year saw numerous significant developments. First, Simicska had a falling out with Viktor Orbán and Közgép's business plummeted as it started having trouble winning public tenders (while, as mentioned above, Duna Aszfalt garnered a record HUF 124.5 million in revenues).
These developments clearly indicated that Szíjj turned into a key figure of the regime by 2015.
Duna Aszfalt had collaborated with Mészáros & Mészáros Ltd. on numerous projects, and the duo launched more joint ventures later that year. They took in Károly Varga, the childhood friend of Szíjj to enter the air conditioning market. They bought equity in Aeroprodukt Plc., CLH Hűtés- és Klímatechnikai Ltd. and CLH Klímaszervíz Ltd. They quit the two CLH companies in 2018, which were purchased by the business partner of the prime minister's son-in-law.
Still in 2015 Mészáros & Mészáros Ltd. and Duna Aszfalt co-founded a company named Visonta Projekt Ltd. (renamed Viresol Ltd. last year). The company was granted EUR 20 million (approx. HUF 6.2 billion) by the government to build a wheat starch factory, which was inaugurated by Viktor Orbán himself this February.
In 2018 Duna Aszfalt obtained equity in Status Power Invest Ltd., an electricity company of Lőrinc Mészáros established a year earlier.
Railway construction company in Bulgaria, road construction in Congo
The two key business people of the Orban regime entered the international business scene in recent years: in 2016 Mészáros & Mészáros Ltd. co-founded with Duna Aszfalt the real estate developer Marlera-Istria Ingatlanfejlesztő Ltd., presumably with a focus on the Croatian market.
Headquartered at the same address in Felcsút as many other Mészáros companies, Marlera-Istria has not yet generated any revenues and had Mészáros sell his stake in May 2018.
In the meantime, in 2017 Duna Aszfalt and the railway construction company of Mészáros, R-Kord Ltd. established Rail-Via International AD in Bulgaria. According to its website, Rail-Via is involved in road, railway and bridge construction and has its eyes set on the Serbia, Albania, Kosovo and Africa as well. It has no references posted on its website, and local sources claimed it has not participated in any projects in Bulgaria.
According to a 2018 report by G7, Duna Aszfalt is involved in a HUF 125 billion road construction project in the Democratic Republic of Congo in Africa.
Yachting on Adria and on a private jet to Dubai
László Szíjj and Lőrinc Mészáros are not only linked by their joint ventures, but also by two luxury vehicles. In August 2018 we made a drone video of Szíjj, Róbert Homolya, the head of the state railway company and Ernő Kovács, appointed government official, enjoying a trip on board Lady Mrd, a luxury yacht worth HUF 7 billion. A month earlier, Lőrinc Mészáros was photographed on the same yacht in Italy.
A Lady Mrd 2018. augusztus 16-án az Adrián Opatija közelében from atlatszo.hu on Vimeo.
 Lady Mrd near Opatija on the Adriatic Sea on August 16, 2018 from atlatszo.hu on Vimeo.
Lady Mrd is registered in Malta, and according to the local registry, is owned by a Maltese company, L&L Charter Ltd., which in turn, is owned by another Maltese company, PKF Fiduciaries International Ltd., a company widely known to be fronting the activities of over 200 offshore companies as a proprietor or director.
In addition, the elite of the regime has access to another enigmatic luxury vehicle, a Bombardier Global 6000 private jet, registered in Austria with the ID "OE-LEM" but parked at Budapest Airport most of the time, and estimated to be worth HUF 17 billion.
It is maintained by an Austrian company, International Jet Management GmbH, while its owner remains unknown. Prime minister Viktor Orbán flew in this jet to Bulgaria to watch his favorite soccer team, Videoton, last July.
Lőrinc Mészáros and his family flew to the Maldives on board the same aircraft this February.
Last October Mészáros and László Szíjj were photographed by hvg.hu and 24.hu at Budapest Airport while they were exiting OE-LEM. The jet makes regular trips Europe-wide. On December 28, the jet flew from Budapest to Sharjah, one of the major cities of the United Arab Emirates 20 km from Dubai, returning to Budapest on January 3.
Soccer, handball, tourism
While the László Szíjj was propelled into the top business circles of the regime, he also kept his strong ties to his home town, which granted him an honorary citizen status in 2017 in honor of his efforts to develop the town.
In 2015 his company re-established the local soccer team that had been shuttered in 1999, now named Duna Aszfalt TVSE, which plays the 2018-2019 season in the second tier of the national championship. Using the TAO grants of Duna Aszfalt, the local sports hall and the arena were renovated, the latter of which cost HUF 500 million according to vice mayor Dr. József Polyák, 70% of which was financed from TAO grants with the remaining 30% financed by the city council.
The vice mayor of Tiszakécske is the other son-in-law of Szíjj, who is CEO of various Szíjj companies and board member in ZÁÉV Plc, owned by Lőrinc Mészáros.
Besides sponsoring soccer in Tiszakécske, Duna Aszfalt also sponsors basketball team of Kecskemét, along with the soccer team of Lőrinc Mészáros, and transferred several hundreds of millions of forints from its TAO-grants to the soccer teams of Kisvárda and Mezőkövesd.
In 2017 Duna Aszfalt became the majority owner of the handball team of Veszprém, whose CEO is Zoltán Csík, often referred to as the general manager of Lőrinc Mészáros, while one of the members of the board is József Vörös, the lawyer of Mészáros.
Szíjj is linked to Mészáros not just through their joint ventures and luxury vehicles but also through sports.
Their most recent fields of collaboration are in media and tourism. In early 2018 Szőke Tisza Invest Ltd., a joint venture of Szíjj and Károly Varga purchased Napfénymédia és Marketing Ltd., the publisher of szegedma.hu, which serves as the propaganda outlet of Fidesz in Szeged. Soon after, Mészáros was forced to sell its stake in Gong FM, a radio broadcasting in the Kecskemét area, and Part FM broadcasting around Balaton, following a decision of the Hungarian Competition Authority.
Coincidentally, the buyer of both radios was Szőke Tisza Invest Ltd. When the enormous new government media holding, KESMA, was set up in November 2018 and the government-friendly media entities voluntarily merged into this holding, Szíjj followed suit and donated his two radios and online news portal.
Szőke Tisza Invest retained Hotel Via in Keszthely, which it purchased in 2015. The hotel is set to be renovated soon after a decision by the Fidesz-led Keszthely city council authorizing new constructions near Lake Balaton.
Text: Katalin Erdélyi – Photos and videos: Dániel Németh
English version by Péter László. You can read the original, Hungarian language story here.
Company information is from the database of Opten Ltd.