The private jet used by Orban flew to Belgrade a day after former Macedonian PM Gruevski announced that he is seeking asylum in Hungary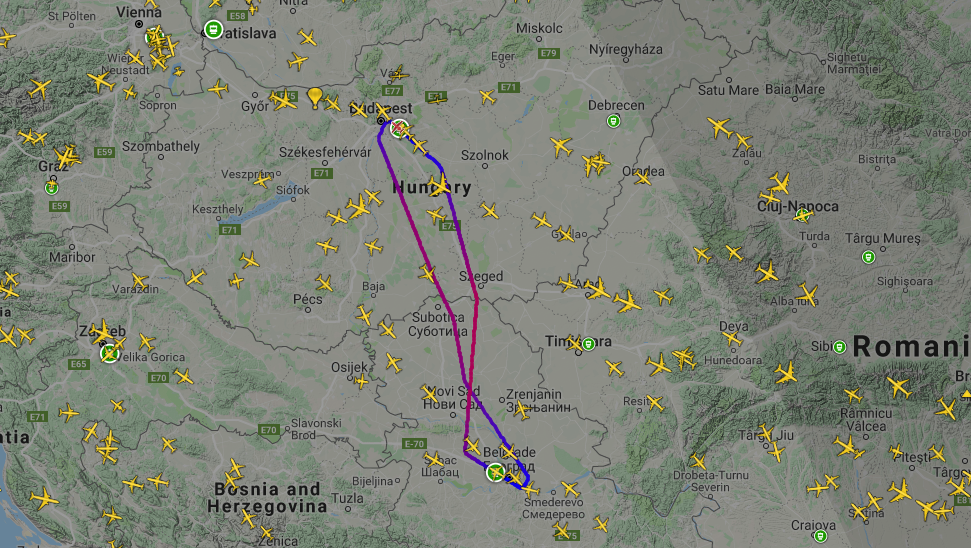 The luxury private jet used by the Hungarian governing and business elite has been idling in Vienna since the end of October. The plane registered as OE-LEM, after weeks of staying in one place, took off from Vienna early in the morning on Tuesday and landed in Budapest. Soon after that it took off again, flew to Belgrade and then returned to Budapest again. The flight to Belgrade happened at a tumultuous time, when Hungary was focused on that specific region: it was only a day before, on Monday, that former Macedonian prime minister Nicola Gruevski announced that he applied for political asylum in Hungary.
Atlatszo revealed in September that the governing elite of Hungary, including prime minister Viktor Orbán, is using a brand new Bombardier Global 6000 luxury private jet worth 53 million euros. We photographed Orban stepping off the plane after he returned from a soccer match in Bulgaria. The ownership of the jet is unclear; it is registered in Austria. However, Atlatszo found several links between the plane and Lőrinc Mészáros, a close friend of Orbán.
Atlatszo has been tracking two luxury vehicles all summer and, in doing so has documented where the leadership of the governing party and their business partners spent their summer vacations.
However, the government is suggesting that the plane is somehow controlled by another businessman, István Garancsi and that it is Garancsi who is inviting Orban along for the flights. When Orban was asked in parliament whether it was legal or appropriate for him to accept flights on a luxury jet, his answer was the following: 'I have been traveling like this in the past thirty years, and I am going to travel this way next week as well.'
The jet spent weeks parked in Vienna before it took off in the early morning hours of November 14, in the middle of the Gruevski-scandal. It was only a few hours after the former Macedonian PM, sentenced to jail in his home country for corruption, announced that he was seeking political asylum in Hungary.
OE-LEM took off from Vienna and landed in Budapest shortly before 6:30 and took off at 8 a.m. again and flew to Belgrade. It landed within thirty minutes. The jet returned to Hungary in the afternoon: it took off at half past three and landed at 4 p.m. It has been standing in Budapest airport since then.
Hungarian diplomats helped Gruevski reach Hungary
It is curious that the jet flew to Belgrade only a few hours after Gruevski announced that he was seeking asylum in Hungary. Hungarian media are wondering how he was allowed to enter the country without a valid passport – it had been confiscated by Macedonian authorities.
The Hungarian government built a fence on its border with Serbia, and anyone who wishes to enter the country and apply for asylum is supposed to wait in line at the border and wait for his or her turn to submit an application in a so-called transit zone. The transit zones are made of containers. The Hungarian Helsinki Committee pointed out that according to the strict immigration rules introduced by the Orban government, Gruevski would have to apply for asylum at the border and wait in a transit zone.
However, Minister of Foreign Affairs and Trade Péter Szijjártó confirmed on November 14 that Hungary is allowing Gruevski to submit his request for asylum in a Budapest office of the immigration authorities. Szijjártó cited 'security reasons' for the special treatment and the fact that Gruevski was prime minister of Macedonia for ten years. However, he did not comment on how Gruevski was able to enter Hungary without a passport.
A day later, on November 15, Minister of Prime Minister's Office Gergely Gulyás admitted at a press conference that Gruevski filed his asylum request at a Hungarian diplomatic post outside the country, and not inside Hungary. He also said that 'the Hungarian state in no way took part in Gruevski's leaving the territory of Macedonia and did not help him in any way to do that.'
A few hours later Albanian police confirmed that Gruevski left Albania in a car with a diplomatic license plate, owned by the Embassy of Hungary in Tirana. Deutsche Welle created a timeline and suggests that Hungarian diplomats helped Gruevski flee.
Written by Katalin Erdélyi
English version by Anita Kőműves. You can read the original, Hungarian language story here.