Private jet owned by OTP Bank identifies itself as Hungarian governmental aircraft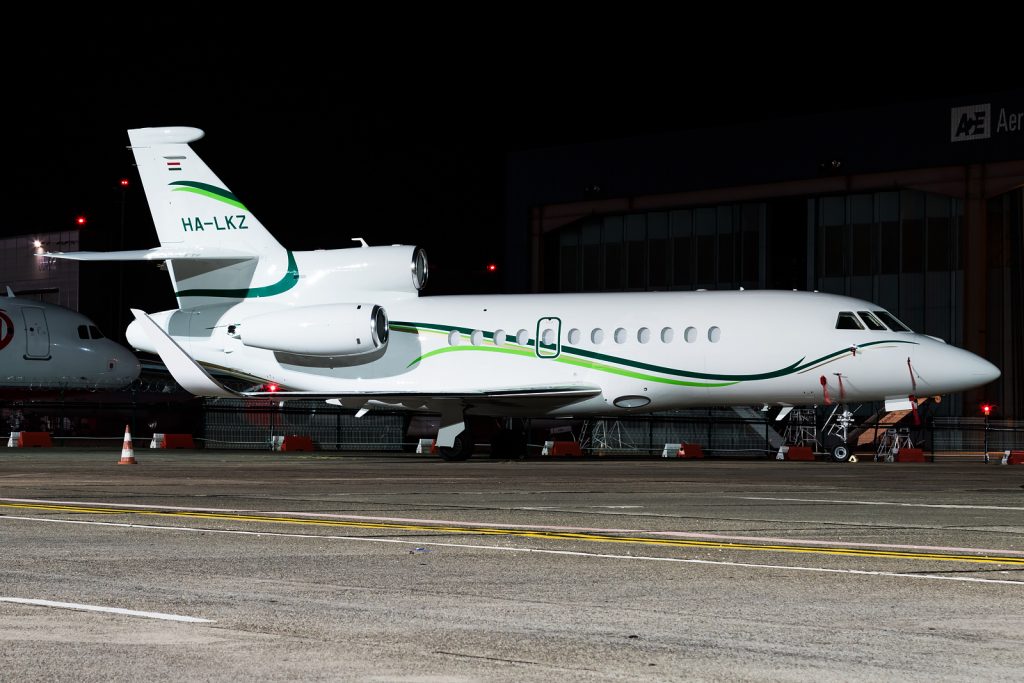 The prime minister has probably flown aboard Hungarian bank OTP's private jet (worth approx. HUF 11 billion) to soccer matches and official meetings several times. There is a video posted to Viktor Orban's Facebook page showing his arrival to Berlin onboard this airplane (registered as HA-LKZ) to meet German Chancellor Angela Merkel. In addition, the jet appeared in a number of places where the prime minister was attending soccer matches concurrently. This is probably more than pure coincidence, as Sándor Csányi's private jet has been flying worldwide with the airline marking 'Government of Hungary' since December 2017.
It has long been widely known that one of the richest Hungarian businessmen, OTP CEO and chief of the Hungarian Football Federation (MLSZ) Sándor Csányi has access to a private jet. Registered as HA-LKZ, the Dassault Falcon 900LX aircraft belongs to OTP-owned Air-Invest Ltd. Its hourly operating cost is HUF 1.1-2.4 million – depending on its destination and the number of hours flown. It can accommodate 12-14 persons in luxury conditions. The list price of this type of aircraft is around HUF 11 billion.
HA-LKZ identifies itself as a government aircraft
The registry available on the official website of the Aviation Authority – last updated on December 1, 2018. – reveals that the private jet bearing the registration number HA-LKZ is owned and operated by Air-Invest Ltd., a subsidiary of OTP Bank. In addition, the previous version of the registry from February 2018 indicated that the aircraft had been registered on December 14, 2017 in Hungary.
According to flight tracking websites, the jet flew on its maiden flight without an official registration number, but it already had the calling code (HKH1) that has been in use ever since.
The most peculiar detail, however, is that the airplane identified its airline as 'Government of Hungary.'
Normally, the airline rubric is either a commercial airline (Ryanair, Wizzair, Qatar Airways, etc.) for regular flights or, in case of private jets, the company operating the aircraft. Accordingly, for HA-LKZ the airline should be identified as Air-Invest Ltd.
Orbán used it at least once, probably several times
We searched for each and every past flight itinerary of HA-LKZ from available flight logs, so we have all the information about its destinations since its registration on December 14, 2017.
On several occasions, these flights overlapped with Viktor Orbán's foreign trips. For example, the private jet of Sándor Csányi flew to Munich on January 5, 2018, while the prime minister happened to be nearby in the cloister of Seeon meeting with delegates of the German party CSU on the second day of the meeting of the party's Bundestag representatives.
On Orban's official Facebook page a video was posted about him flying in HA-LKZ to Berlin:
According to flight tracking websites, HA-LKZ's airline is identified as "Government of Hungary" whenever it flies somewhere –  that is, even when it is flying to the location of a football match Viktor Orban is attending.
On June 6, it flew to Brest to the match of the national team as a government plane:
On July 10 it flew to St. Petersburg identified as a government plane as well:
On September 24, 2018 the plane flew to London tot he FIFA Awards identified as a plane of the 'Government of Hungary', although Orban did not attend the gala. Csányi, the chairman of the Hungarian Football Federation traveled there, as well as a delegation from Felcsút.
The other private jet used by Orban, OE-LEM was also in London at the time.
On October 4, 2018 HA-LKZ flew to London to the Chelsea-Vidi match as a government aircraft, and returned to Budapest the next day:
On October 15 it flew to Tallinn also marked as a government aircraft:
A soccer match between official visits?
On November 29, 2018 Orban attended the summit meeting of the 'Friends of Cohesion.' The official website of the government published a report about this at 11:22 am. Ninety minutes later HA-LKZ took off from Budapest and soon after landed in Bratislava.
The plane was again identified as belonging to the government of Hungary.
In less than an hour, the plane took off again and flew to Minsk, Belarus. It took off from there six hours later and landed in Budapest sometime after 11 pm.
Minsk is 75 kilometers from the town of Barisov that has a soccer team called BATE Borisov. On November 29, the same day that HA-LKZ flew to Minsk, BATE played a European League group match against Vidi.
The cost of Orban's flights is kept secret
The opposition party Democratic Coalition (Demokratikus Koalíció, DK) initiated official proceedings against Orban, claiming that the private jet flights are high-value gifts and Orban is supposed to declare them in his asset declaration.
However, the relevant Parliamentary committee refused DK's request, claiming that
a flight is not a gift if "the destination is a sports event that Hungary participates in".
Hungary did not qualify for the World Cup, even though Orban watched at least two matches on the spot, and on those days HA-LKZ was in the same towns as Orban.
During the World Cup final the other private jet used by the governing elite, OE-LEM was also in Moscow. We asked the prime minister's press chief about what mode of transportation Orban used to get to the locations of these matches, but he did not reply since September.
Orban's trips to soccer matches are kept secret by his press chief and also by the prime minister's office. They refuse to answer any questions about the topic, asked by either reporters or members of Parliament.
If these are official trips and the government is renting the plane from Air-Invest, that means that millions of taxpayer forints are spent on these flights, in secret. If these flights are gifts to Orban, he should declare them in his asset declaration.
In order to learn how much these flights cost, we filed a freedom of information request with the Prime Minister's Office, asking how many times Viktor Orban flew in the plane owned by Air-Invest Ltd., registered as HA-LKZ between January 1, 2018 and December 6, 2018.
Past routes of HA-LKZ visualised
Written by Katalin Erdélyi; Data visualization: Attila Bátorfy
English version by Anita Kőműves and Péter László. You can read the original, Hungarian language version here.