Pro-government research institute publishes scientifically unfounded study to justify media concentration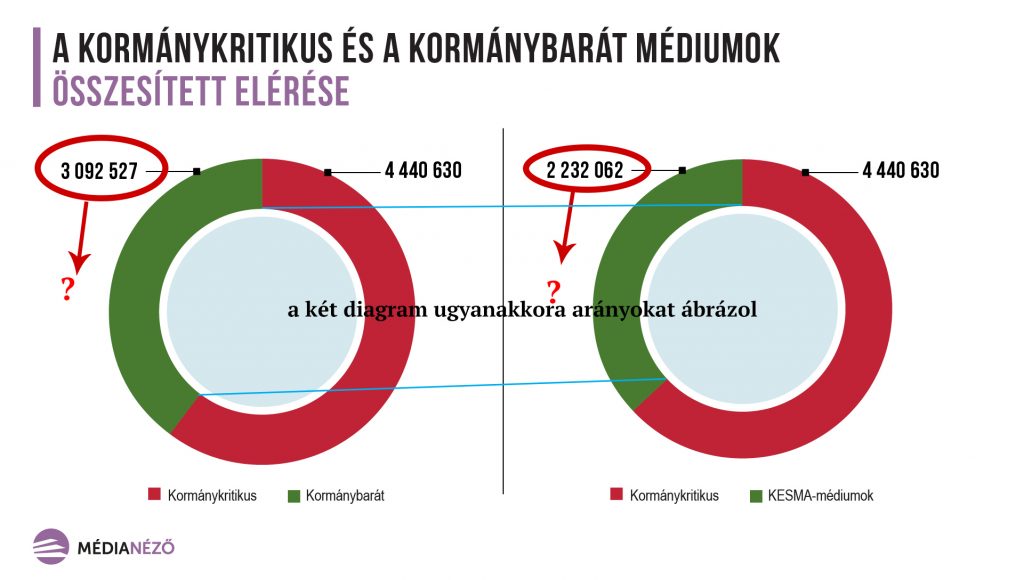 There is a common, ever-recurring myth that independent/left-wing media dominate Hungary, and the government uses this to justify its financial and moral support for right-wing media. Last year the pro-government research institute Nézőpont Intézet published another study on the topic that tried to find evidence to this claim. There are several problems with this study, and one of those is that its methodology remains unclear, and in the end, it begs for more questions than it provides answers for.
Last fall long-time Orban loyalist Gábor Liszkay founded the Central European Press and Media Foundation (KESMA). Various oligarchs and owners of pro-government 'donated' their newspapers, websites, radio- and television channels to the newly formed foundation.
According to Atlatszo's research, the foundation now controls 476 media outlets. The official reason for the foundation's existence was to create a media empire that supports the 'national and public' interests and promotes Christian values.
The new media company is so large that it is most likely in breach of Hungarian laws against media concentration. Thus the creation of KESMA should have been investigated by the Hungarian Competition Authority and the Media Council as well. However, it was soon declared to be of 'national importance' by Orban and thus exempted from legal restrictions.
This week 476 media outlets became parts of the new Hungarian media holding controlled by pro-government forces. The name of the mammoth is Central European Press and Media Foundation (in Hungarian: Közép-európai Sajtó- és Média Alapítvány). Our infographic shows you what happened! Two important announcements were made on Wednesday.
Even though the government now practically controls about 500 media outlets, it still wants to create the impression that independent press, mostly against Orban's policies, dominates the Hungarian media scene.
Thus the media research agency founded by Nézőpont, called Médianéző, tried to prove the government's claim.
First, it tried to justify the existence of the foundation by comparing KESMA to the Bertelsmann Foundation, the owner of the RTL Group. It argues  that Bertelsmann is a left-liberal company because 'the founder's intention is that they are on the side of free-market, individual freedom, and solidarity, which values, while not stated, are clearly equal to the left-liberal ideology.' The study adds that there is no mention of 'Christianity, faith in God, family, or homeland' among the goals of Bertelsmann's founder.
As part of the research, Médianéző put the media companies of KESMA, as well as other openly pro-government outlets such as Demokrata, pestisrácok.hu, Magyar Hírlap, TV2, and Super TV2 into one group – the one supporting the government's agenda.
On the 'other side' they put the television channels RTL Klub, RTL 2 and ATV, the radio Klubrádió, and several weeklies like 168 Óra, HVG, Magyar Narnancs, the daily Népszava, and many popular websites like Index.hu, 444.hu, atv.hu, 24.hu, napi.hu and more.
It's unclear how they decide which media to include – we don't understand, for example, why they did not include the public service media in the pro-government 'side.' It is a huge operation with several TV and radio channels – and it is openly supporting Orban's agenda.
The research also did not justify why it put certain media outlets into one or the other category.
The study categorized EchoTV, HírTV, TV2, and Super TV2 as pro-government, and compared it to RTL Klub, RTL II, and ATV. According to their calculation, the independent/leftist outlets dominate 54 percent of the market, but the study does not tell us what numbers this is based on. It's also unclear why they didn't include the clearly pro-government public service TV channels here.
Radio channels KarcFM and Gong were categorized as pro-government-friendly, while Klubrádió was considered as 'the opposition'. The study concluded that Klubrádió takes 53 percent of the market. However, we are wondering why they did not take into account the Radio 1 network that broadcasts news coming from the national news agency, MTI, and clearly supports the government. Public service media channels were also ignored.
When it comes to print media, the study measured pro-government dailies, weeklies, and the freely available Lokál together, and added came up with a total circulation of 991 207 a day. It's again unclear what data this number is based on (we do not even know whether they counted copies printed, sold or distributed). However, regarding print media, the study concluded that the pro-government publications dominate 72 percent of the scene.
However, this is also misleading: if you look at regional papers, pro-government papers dominate 100 percent of the scene. The same is true for free city papers distributed at public transportation stops.
With online news, the study found a 71 domination by independent outlets. Our own research from last year shows a 63 percent share for independent online outlets – this is an area where they definitely rule the market.
In the end, Médianéző found that KESMA reaches 33 percent of the audience while independent media reaches 67 percent. When we add other, non-Kesma but pro-government outlets, pro-government media has a 41 percent reach while independent outlets 59 percent.
Lucky for us, Médianéző provided a data visualization to show their findings. The left side compares the reach of pro-government media to the reach of independent/critical outlets. Green stands for pro-government, red stands for critical outlets. The right side compares only Kesma-owned media to independent media. Independent media is red again, while Kesma is green.
Let's take a closer look. Do you find anything amiss? We did. The numbers change but the charts remain the same!
Why is all this important? Atlatszo tried to do a similar research before and published our findings. However, while gathering the relevant data, we realized that there is simply no reliable data to make a sounds research judgement, and we explained this in detail in a story.
The comparison of the two 'sides' is also unfair on several levels. The majority of pro-government papers are financed with taxpayer money by state-run advertising campaigns and different public tenders. Pro-government media is practically funded by the government. At the same time, independent media are struggling because many companies are not willing to advertise in independent outlets for the fear of angering the government.
Discaimer: The original Hungarian version of this article was published on 4th December 2018. on Átlátszó after the KESMA was established and Nézőpont/Médianéző research institute published their own calculations on the Hungarian media market. The actuality of this slightly edited English version is based on that last week, Fidesz MEP Andrea Bocskor quoted this research on a hearing organized by the EP Culture and Education Committee saying that "69 percent of the Hungarian media is critical to the Government". 
Written by Attila Bátorfy
English version by Márk Tremmel. You can read the original, Hungarian language story here.