Investigative Journalists Team Up with Experts To Uncover Details About Nuclear Plants And Radioactive Waste Sites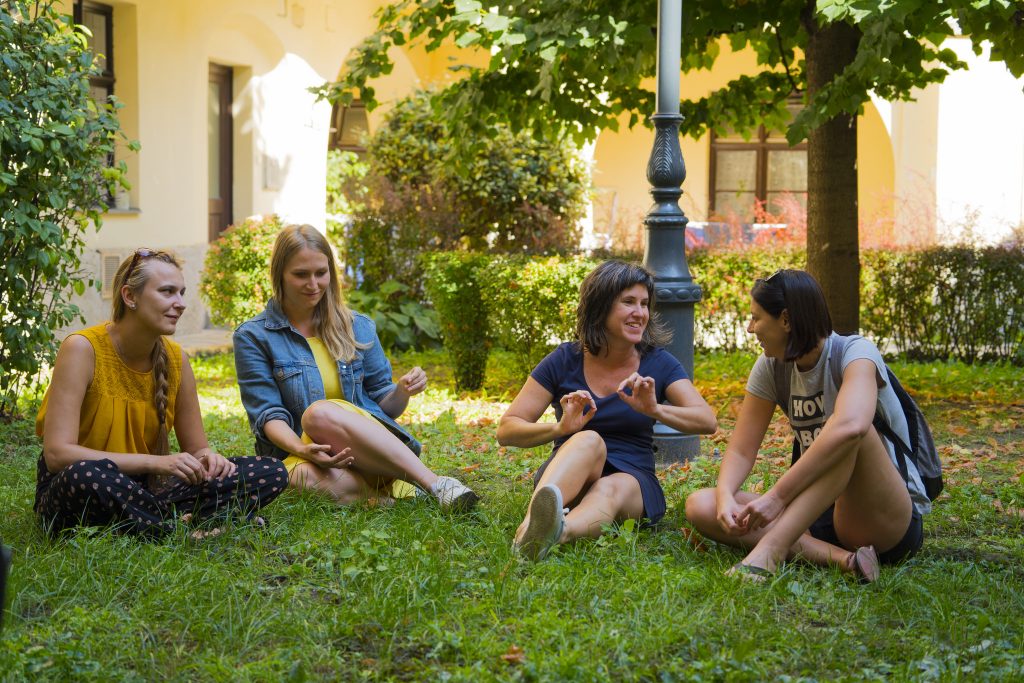 Hungary is home to a number of nuclear facilities. While the Paks nuclear power plant is known to everybody, the nuclear disposal site in Püspökszilágy is less recognized. Besides, there are several other nuclear projects in the making, including the Paks II nuclear plant or a high-level radioactive waste site in the Mecsek mountains. Our investigative team was formed to counterbalance the propaganda of the atomic lobby and the lack of official information and offer comprehensive information about the ongoing nuclear projects, especially with respect to corruption and environmental risks.
Picture a gorgeous apartment building in Buda with heavy metal doors, the kind that you would expect to find in a medieval jail. Pristine windows facing a backyard with trees and benches. This is where Orsolya Fülöp, the professional director of the Energy Club lives. She offers me coffee made with an old-school moka coffee maker, which happens to be my favorite. Her kitchen is as amicable as the host herself, which is no surprise as we have been part of the same team for a while.
We had set up this team of four to investigate nuclear issues. On our first mission, we traveled to Paks to measure the temperature of the Danube and found out that the 30-degree environmental temperature threshold was not being observed.
"How far back should we go in my story? To my childhood?" – Orsi responds when I ask her how long she has been into environmental protection. I hastily shrug off her suggestion believing she is only joking, but it turns out she really means it.
"Do you remember the Lutra album? This booklet was about animals with their pictures left blank, and you had to buy the picture stickers and fill in all the blanks. This is where I first read about animals going extinct due to human activity. I recall how much this senseless destruction struck me then and feeling we have no right to annihilate unique and irreplaceable creatures" – Orsi recounts her first formative experience that kindled her passion for the issue.
She chose to pursue a degree in economics with a focus on environmental and rural development and then went on to work for the Energy Club to cover issues like climate change and sustainable energy. She researched energy efficient ways to renovate and maintain buildings.
Next, she took a detour and moved on to work as an economic analyst for the governmental Energy agency – the authority issuing operating licenses to power plants and regulating gas and electricity prices. She ended up not staying for long as she felt an outsider amidst the organization's work culture. What's more, she felt that her efforts to make a real impact were doomed. Then she returned to the Energy Club to work on projects focused on meeting Hungary's energy needs without Paks II. Later she briefly delved into journalism at Magyar Narancs.
Tényfeltáró csapat alakult a nukleáris erőművek és hulladék-tárolók körüli ügyek felderítésére from atlatszo.hu on Vimeo.
"Bicycle or car?" – I ask her hoping to catch her off guard, but she is unfazed. She doesn't have a license nor does she ever travel by car. "I try to be environmentally responsible in everything I do, but I do admit it's quite a challenge at times. I often find myself deliberating for half an hour in the grocery store when shopping but it's impossible to run a product lifecycle analysis in your brain for every product" – she laughs.
When prompted to characterize herself she says she always has a Why? up her sleeve. "I love to dig down and see how things really work. I am a hard working person who is dogged when projects need to be done. At the same time I am also impatient and expect immediate results."
Orsi is happy to be part of the team and is driven to see more news in the media about the suspicious dealings surrounding the nuclear projects and environmental pollution. "These facilities are all around us and are perilous. Any sort of human malpractice or design flaw may have disastrous consequences, and I am outraged that these risks are downplayed and officials decline to take responsibility." – she says.
I start wondering if Orsi has ever worked for Greenpeace. I learn that she didn't but another team member did. Eszter Mátyás also works for the Energy Club and has trodden the classic green activist's path so far.
"I started my career as a Greenpeace activist. I have always been interested in environmental policies. As a child, we visited Germany quite often as half my family lives there. The green movement was powerful there at the time and I met civilians who were fundraising on the streets. I have no idea why but it appealed to me a lot. I was 18 when Greenpeace launched its fundraising program and I had a lot of fun collecting donations on the street" – she says.
She was doing this for half a year before joining as an activist. Later he became Benedek Jávor's intern in LMP. The party soon split up and he followed Jávor to his next party, PM (Párbeszéd Magyarországért), thinking that it would be the one to carry on the green legacy of LMP. I was there for the 2014 and 2015 campaigns organizing protests and various awareness-raising stunts – I even got myself detained by the police once" – she says. Ten of them sat down in the lobby of one of the ministries with signs that said "We want a referendum about Paks". Soon the police showed up and stuffed them in a paddy wagon claiming they were obstructing the flow of movement inside the building.
"We were held in a room for 10 hours before we were let go. Each of us was fined for HUF 30,000" – she adds. Eventually, she left PM feeling that the green agenda was pushed aside. She moved on to the journal of the Zuglo City Council and enrolled at CEU to research green parties and green movements. "At CEU you will master debating and writing, while you'll build a network that will serve you for the rest of your life" – she says in praise of CEU.
She joined the Energy Club two months ago as a project leader for nuclear-related issues. "I have developed an interest in these issues since there was that accident at Paks. I deem it essential for us to start a public debate about its perils and showcase the alternatives to the public."
Eszter and Orsi represent the professional line in our team, while Gabriella Dohi is the public's eye. "My poor mother was desperate to track me down when she realized I wasn't in my piano class. In fact, I was in a photography hobby class. I thought I was on a clearcut track to become a videographer, but I didn't find any work. So I leafed through Pesti Est and I found opportunities to become a gogo dancer or a Greenpeace fundraiser. I went for the latter one.
"One day on my second week after my shift ended I got on the tram and was so chock-full of things to share that I started talking to random people about it. Only this time I didn't try to get their bank account number, but talked about other stuff" – she laughs.
After her stint at Greenpeace Gabi went on to study journalism and started freelancing after a brief fling with the world of museums. "I realized that I have a thing for museums so I earned an MA degree in museology and did an internship in the State Hermitage Museum in Saint Petersburg. Coming back I thought all the museums would be utterly impressed by my training, but it wasn't the case" – she confides.
She started working for Atlatszo this year and joined the nuclear club because she feels strongly about environmental protection. She has an excellent command of Russian, which will come handy, especially in Paks. "Rash, practical, tabby" – she replies when I ask her to describe herself with three adjectives. Tabby is an obvious reference to her love of cats, which I can totally relate to being a great cat lover myself. But so as not to ridicule myself I will not disclose how many cats I feed at home.
So lastly, my name is Babett Oroszi. I am a journalist. In contrast to my other team members, I had no idea until my high school graduation about what I wanted to do with my life. Then my homeroom teacher suggested I should apply for an internship with TV2 as she thought journalism was a good match for me.
"You are cheeky enough and can even write, so there shouldn't be any problem" – the teacher said. By the end of my first week, I was head over heels in love with journalism and made it my life's purpose to become as good at it as I can. A few years later I got into investigative journalism. In 2012, 10 years into my journalistic career, I was on cloud nine when Atlatszo gave me the green light after me proposing that I could work for them in my free time.
My first project was to investigate the scandal over the Hungarian Moving Image Public Foundation (MMKA) by virtue of the documents leaked to Atlatszo. I won the Soma prize for my series of articles about the hijacking of the subsidies awarded by the foundation.
After my first rewarding experiences with investigative journalism, I decided to challenge myself with working in television. I joined the newscast of RTL splitting my time between validating leads and being a reporter. After three years I moved on to work for HirTV's investigative program entitled Celpont (Target). I returned to Atlatszo last December as I realized that I enjoy writing more than being a reporter. I still make videos sometimes, but I dedicate most of my time to writing articles.
This is going to be my main task in this team, too. I will be the one to write articles from the facts and stories that we dig up together. My motivation to join the project was the usual oligarchs getting involved in the HUF 4000 billion Paks II business, so there will surely be a plethora of cases waiting to be investigated. I firmly believe that people have a right to be thoroughly and clearly informed regarding every nuclear facility.
Written by Babett Oroszi
English version by Péter László. You can read the original, Hungarian-language story here.
Photo: Szebáld Szakál / Atlatszo.