Best of 2018: these were Atlatszo's most popular English stories last year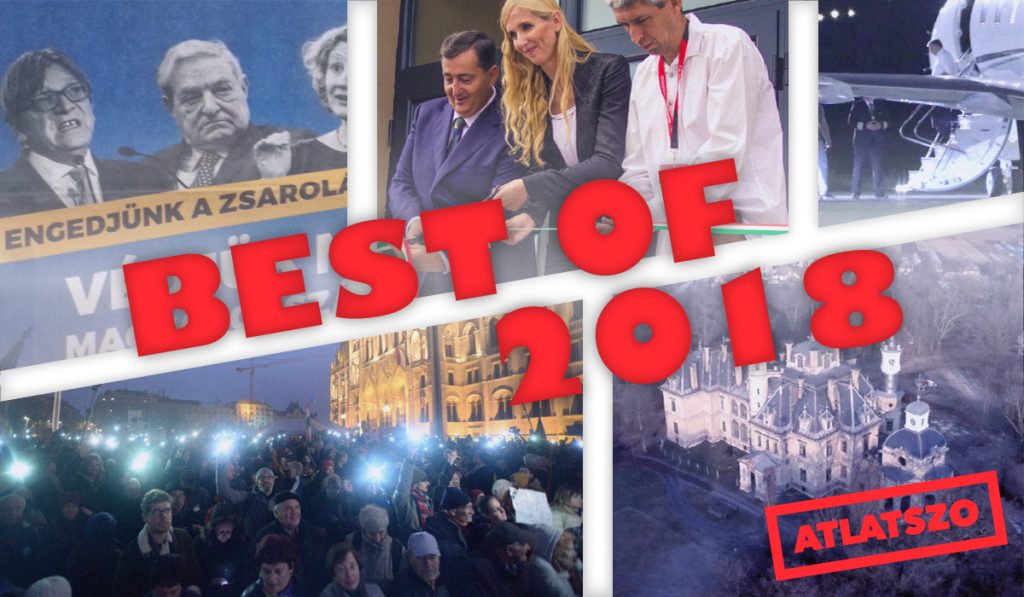 We compiled a list of our most popular stories published on our English-language site in 2018. The story of the luxury private jet used by prime minister Viktor Orban is the first on our list – this story captivated audiences both inside and outside the country. The reason for this might be that Hungary's PM was revealed to be using luxury vehicles that he is not able to afford from his salary – and he is doing so in a completely non-transparent manner. Other popular stories included our coverage of the expansion and working methods of the government's propaganda media, U.S.-Hungarian relations and the wealth of Orban's son-in-law.
Atlatszo has been tracking two luxury vehicles in the summer of 2018 and, in doing so has documented where the leadership of the governing party and their business partners spent their summer vacations. While we were following the route of a yacht crisscrossing European waters and tracking a private jet, we managed to take photos of many members of the Hungarian government and also businessmen closely connected to the governing Fidesz party. Prime minister Viktor Orban himself used the private jet which crossed path with a yacht several times this summer.
The Hungarian media empire that is friendly to the Orban government consists of more than five hundred titles. We compiled this list using the database of print and online outlets of the national media and telecommunications authority (NMHH, Nemzeti Média- és Hírközlési Hatóság). Their database is, unfortunately, not always accurate and up-to-date.
The luxury private jet used by the Hungarian governing and business elite took off from Vienna early in the morning on a November day.  Soon after that it took off again, flew to Belgrade and then returned to Budapest again. The flight to Belgrade happened at a tumultuous time, when Hungary was focused on that specific region: it was only a day before, on Monday, that former Macedonian prime minister Nicola Gruevski announced that he applied for political asylum in Hungary.
New York businessman David Cornstein became U.S. ambassador to Hungary this year. When news of his nomination broke, several Hungarian media outlets wrote profiles of Cornstein as soon as news of his nomination became public, but Atlatszo decided to look at his political campaign spending in order to figure out who he supports his political views.
The Hungarian government spent more than 40 million euros in 2017 on advertising its two 'national consultations' and communicating the 'results' of those, Atlatszo learned after filing a freedom of information request for the detailed budget of the above-mentioned propaganda campaigns. Nearly third of that money flowed to Lőrinc Mészáros, a close friend of PM Viktor Orbán.
The pro-government media empire in Hungary has a special characteristic: when there is a very important message to push, they work in unison. The same message is spread by every website, newspaper, TV and radio channel; sometimes even headlines are the same. This week brought another example of this close cooperation. The propaganda machine reacted to Atlatszo's story about the private jet and yacht used by the government elite with a unified message.
The Hungarian prime minister's soccer mania does not stop at the borders of Hungary: construction of stadiums and soccer academies have started in the past few years in neighboring countries in territories where ethnic Hungarians live. Hungary has spent several billions of forints on these academies across the border since then. We acquired and processed all the contracts relating to the Hungarian state support to these football clubs.
A foundation financed by the government of Hungary spent more than $7 million in the United States in the past three years. We tried to look at how MFNA has been using Hungarian taxpayer money in the United States, but we did not manage to get a full picture. MFNA rarely organizes significant events that get press coverage and its website does not give much information about its activities, either.
At the end of November 476 media outlets became parts of the new Hungarian media holding controlled by pro-government forces. The name of the mammoth is Central European Press and Media Foundation (in Hungarian: Közép-európai Sajtó- és Média Alapítvány). Our infographic shows you what happened!
István Tiborcz, the Hungarian prime minister's son-in-law became internationally known when his company Elios was involved in a scandal. It was revealed by the European Anti-Fraud Office (OLAF) that Elios was involved in stealing EU funds through street light renovation projects. Tiborcz then sold his stake in the company and went on to work in real estate. Atlatszo reporters equipped with a drone drove more than seven hundred kilometers to show you the properties Tiborcz owns.
Atlatszo in the international media
Several of our stories were noticed by international media outlets last year. Our revelation that PM Orban is using a luxury jet was quoted by AFP, Die Presse, Kurier, Der Standard, Der Spiegel, Jutarnij in Croatia, a website in Slovakia, one news site in Slovenia, two outlets in Romania, The Irish Times, Pester Lloyd, and OCCRP.
We are also closely following how much money the Hungarian government is spending on propaganda, and how the pro-government media empire is being expanded. Our stories and infographics on this topic were quoted by The New York Times not only once, but twice, by The Financial Times, Polish channel TVN24, and the Global Investigative Journalism Network.
Atlatszo's editor Tamas Bodoky was quoted on press freedom issues by AFP. The leader of our data team, Attila Batorfy was quoted by Reuters and Anita Komuves was quoted by a website in Lithuania,  Irish Times and TVN24.
We are also very proud to have been mentioned by an opinion piece in the The Washington Post as
an investigative site brimming with impressive scoops.
Atlatszo's stories and journalists were quoted by international media dozens of times in the run-up to the April elections as well.
The story that was quoted the most often in foreign media was the one where we added up the numbers and revealed that the Hungarian government spent €40 million on anti-Soros propaganda in 2017. The writer of the story, Katalin Erdélyi, has been tracking how the Hungarian government is spending taxpayer money on propaganda for more than a year.
Erdélyi's story was quoted by an AP story titled 'Far-right, even racist views go mainstream in Central Europe.' This AP report was picked up by many outlets including The New York Times, The Washington Post and the Taipei Times.
The Atlatszo story about the huge amount of money spent on propaganda was also quoted by the pre-election political summary published by The Intercept and by the election coverage of NBC News as well. The European edition of Politico also quoted another Atlatszo story about the anti-Soros propaganda.
Besides the above, Atlatszo editors and reporters were interviewed by foreign media several times before the elections.
Atlatszo's editor Tamas Bodoky was interviewed by Belgian De Standaard. Anita Komuves was quoted by  The Intercept, CNN and gave an interview to the  European Center for Press and Media Freedom. She was also quoted by Lithuanian outlet 15min.lt and by the Czech public service radio.
Attila Batorfy talked to The Daily Beast about the ownership structure of the Hungarian media. He spoke about the political climate with the reporter of Slovenian paper Vecer and talked about press freedom in Hungary with Lithuanian outlet Lietuvos Zinios.