Half of the October posts on the Hungarian government's Facebook page were anti-migration fearmongering messages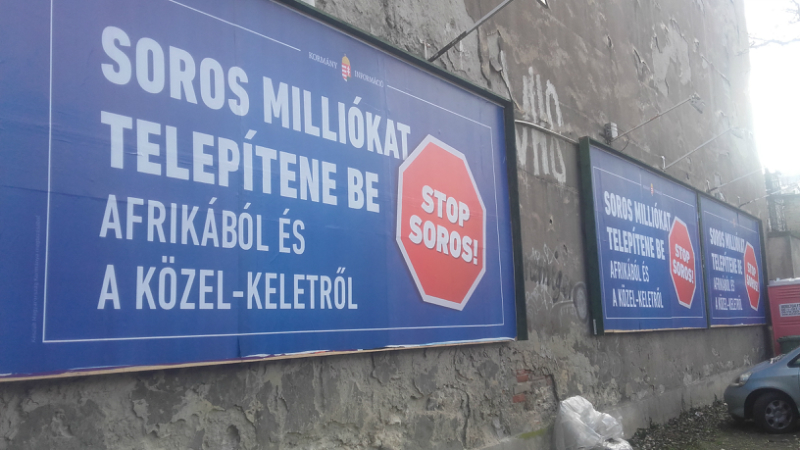 Nearly half of the posts on the Hungarian government's Facebook page were anti-migration messages in October, which shows that Viktor Orban is not letting this topic go for the moment. However, George Soros is less often mentioned than before. Now migration is tied to the European Union and European politicians in the Hungarian government's narrative.
The official Facebook page of the Hungarian government has 161 thousand followers, which is not extremely high but counts as a page with medium popularity. It is important to know that Twitter is much less popular in Hungary and Facebook and politicians mostly use Facebook to communicate with citizens and spread their message.
We are months after the Hungarian parliamentary elections and half a year before the European elections. That means that the messages were not influenced by campaigns and we wanted to check what messages the government is sending to citizens in a month like this.
The government's Facebook page published 109 posts in October, 47 of which were about migration. These were generally anti-migration posts: they spoke about how Hungarian identity is under threat or how someone wants to replace Europe's inhabitants and culture with a new one.
Curiously, George Soros's name is mentioned only three times in the captions of these posts. This proves that he is no longer 'enemy number one' for the Hungarian government.
The names that pop up in the anti-migration messages are those of MEPs Judith Sargentini and Guy Verhofstadt. Besides their names, 'Brussels' and the 'EU' also appear in this context as 'pro-migration' forces.
The European Union appeared in 37 of the 47 anti-migration posts. The main message of these posts is that the EU is led by pro-migration forces and that it is only Orban who can stop these politicians and this the destruction of Europe. And, of course, the usual message is also included: EU politicians criticize Hungary only because Orban opposes migration.
The second favorite topic of the government Facebook page are the benefits that Hungarian citizens receive. There were three posts about the program that gives huge subsidies to families with children if they want to buy a home (so-called CSOK). There were also posts about extra money given to pensioners and reconstruction of kindergartens and nursery schools.
One of the hottest topics in October was the collapse of garbage collection in several towns. However, there were only two post about this on the government's Facebook page, and one of those was about trying to shift the blame to the green opposition party LMP (Lehet Más a Politika – Politics can be Different.)
Written by Eric for our guest blog Vastagbőr
English version by Anita Kőműves. You can read the original, Hungarian-language story here. 
Cover photos: Anti-migration billboards in Hungary in the beginning of the year.