Hungarian elite's favorite luxury jet flew to London on the day of the FIFA Awards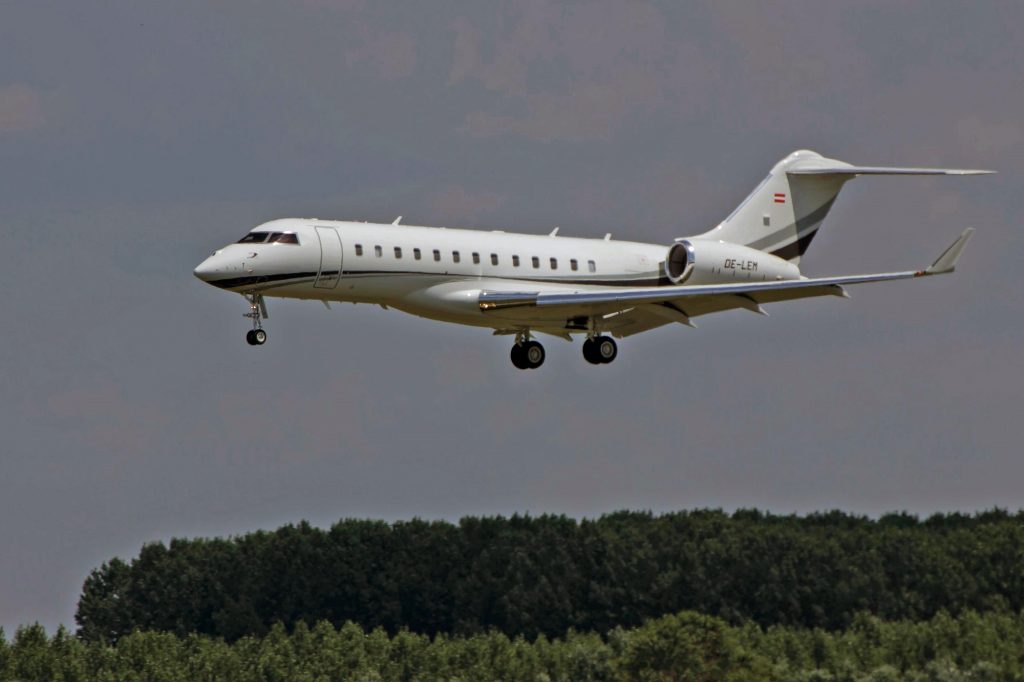 Monday morning, shortly after our previously reported investigation, the luxury private jet we have been tracking flew to London. This was also the day of the FIFA Awards in London. According to reports from a sports daily, a group of Hungarians attended the event, including Orban's friend Lőrinc Mészáros.
Since the publication of our investigation on Monday, Hungarian government officials have told the press that the private jet is connected to businessman István Garancsi. For example, they claim that Garancsi invited Viktor Orbán on the flight to Bulgaria on July 25 to watch a soccer game.
However, this explanation is not completely tenable and does not cover events following the publication of our story, events which provide further evidence for our theory that the jet has connections to Lőrinc Mészáros, not Garancsi.
Shortly after our investigation was published Monday morning, the private jet OE-LEM, parked in Budapest Airport, started up its engines. The engines for about half an hour, then they were switched off.
Around midday, it took off and flew to London where it landed at around 2 pm at  RAF Northolt air base.
A few hours after OE-LEM landed, Hungarian sports daily Nemzeti Sport (reportedly Viktor Orban's favorite newspaper) published a story on its website about a Hungarian delegation taking part in the Best FIFA Football Awards that night in London. During the gala, the FIFA Puskas Award, named after the famous Hungarian soccer player, was presented to its winner.
The private jet returned to Budapest the next day.
According to Nemzeti Sport the following Hungarians attended the FIFA gala in London:
Sándor Csányi, president of the Hungarian Football Federation (MLSZ) and vice president of FIFA
Marco Rossi, manager of the Hungary national football team
Antal Róth, manager of the junior soccer team
György Szöllősi, editor-in-chief of Nemzeti Sport, director of the Felcsút Puskás Institute
Csaba Spandler Csaba, player of Puskás Academy
János Jakab, chairman of the board of Puskás Academy
Lőrinc Mészáros, president of Puskás Academy
In the story, Nemzeti Sport stressed that prime minister Orbán did not attend the gala, reporting, "Viktor Orban, founder of the Academy, was invited to the gala as usual, but he was unable to travel to London." Nemzeti Sport did not include any reason why Orban was not attending.
The Hungarian prime minister has a good record of attendance to the gala. In 2014, for example, he handed over the Best Goal of the Year Award to Zlatan Ibrahimovic. In 2015, he traveled to the gala in OTP Bank's private jet. In 2017, Orban was seated next to Diego Maradona.
Although Orban was not present, his long time friend Lőrinc Mészáros was. Also in London was the private jet OE-LEM that Viktor Orban used on July 25th.
István Garancsi did not attend the gala, either, despite his reported control over the jet. Hungarian government officials have been saying since Monday that the private jet trip to Bulgaria was a 'gift' to Orban from Garancsi.
In addition to this new development, here are several links other between Mészáros and the private jet:
OE-LEM is registered in Austria. Mészáros was photographed with another private jet also registered in Austria in January 2018. 2.
Both of the jets mentioned above are operated by Austrian company International Jet Management GmbH.
This summer, OE-LEM and the luxury yacht Lady Mrd crossed paths at different vacation spots around  Europe. The plane often flew to ports where the Lady Mrd was anchored. Lőrinc Mészáros has been photographed on board the Lady Mrd.
Cameras in the port of Rijeka recorded a black van arriving at the Lady Mrd not long after OE-LEM landed in the town. A man resembling Lőrinc Mészáros got out of the van and walked on board the Lady Mrd.
Atlatszo has photographs of Beatrix Mészáros, Lőrinc's daughter leaving the small jet terminal of Budapest Airport on August 22, 2018, shortly after OE-LEM landed.
Written by Katalin Erdélyi
English version by Anita Kőműves, editing by Clare Humphreys
You can read the original, Hungarian language story here.