Chain voting, fake news agency, failed public projects – 12 stories uncovered by Atlatszo in 2022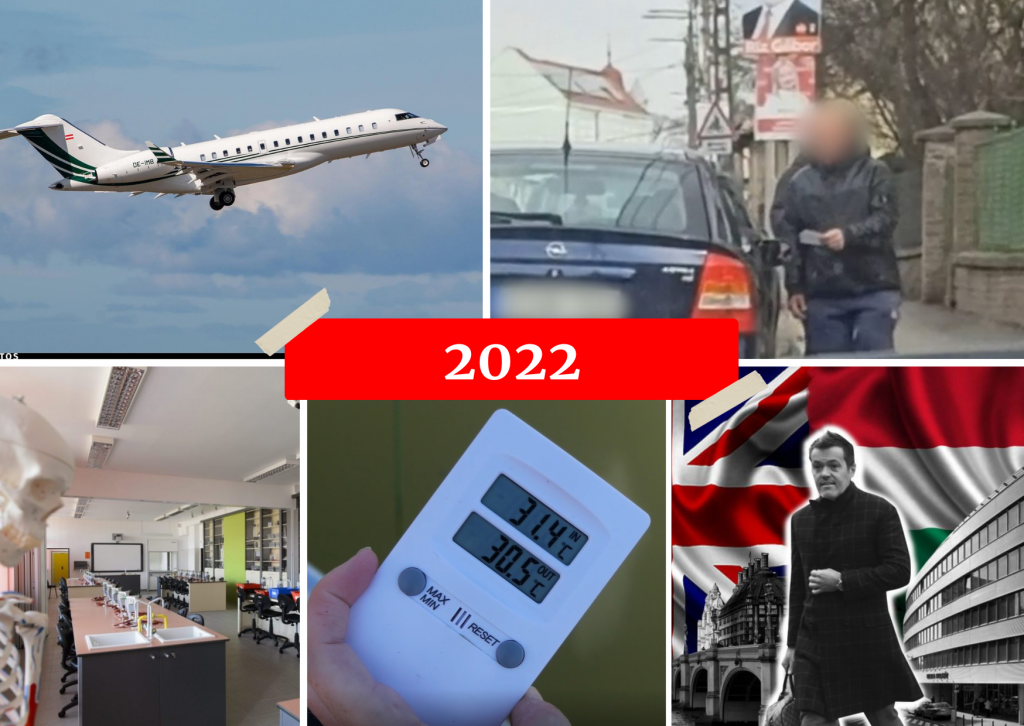 If things truly have to get worse before they get better, Hungary is on a good path – in that things keep getting much, much worse. Lows were hit so consistently throughout the year in every conceivable area – democratic backsliding, economic crises, general moral turpitude – that they were no longer truly lows, but a flatline. Indeed, you'd be hard-pressed to find a Hungarian who has not said or heard the phrase: "even Romania has surpassed us." Atlatszo has covered the continued decline through numerous stories of disinformation, cronyism, environmental degradation, and international corruption. We look back at some of our biggest stories from every month of 2022.
1. Viktor Orban's smear campaign – stranger than fiction
Prior to the April elections, pro-government media organization Magyar Nemzet ran a series of interviews to discredit anti-government journalists, foreign correspondents, and NGOs. The paper presented video clips and quotes where journalists, experts, and analysts discuss the EU's double standards, foreign meddling, and international media coverage of Hungary.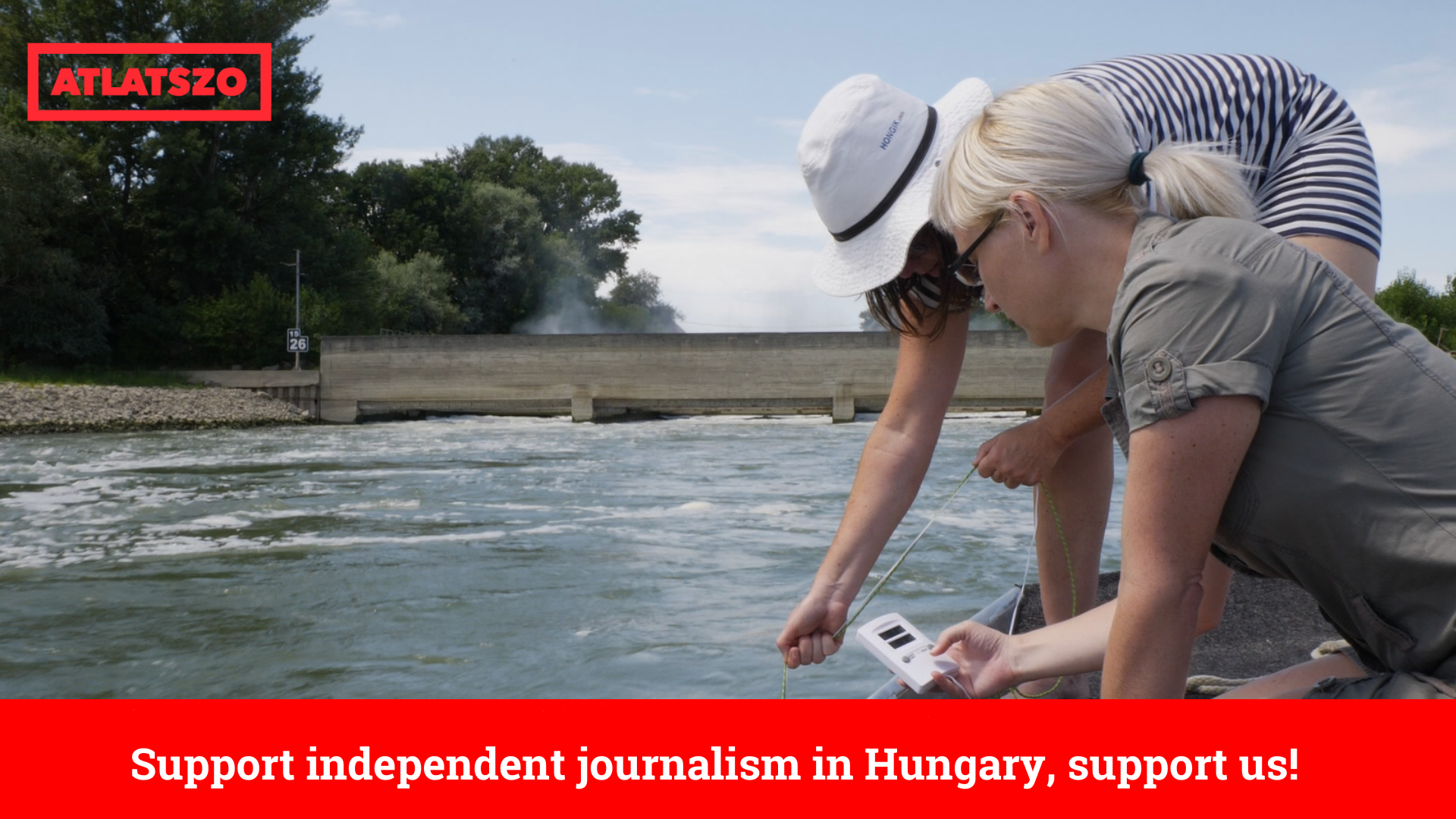 But the interviews were a trap. A group contacted several Hungarian professionals through fake job postings and recorded their interviews, which were then edited to serve Fidesz' election campaign. The Prime Minister's Office's English-language newspaper picked up the videos without hesitation, while government spokesperson Zoltán Kovács tweeted the links – despite our evidence that the videos were gathered under suspicious circumstances.
Leading pro-government daily newspaper Magyar Nemzet's online news site has published several video clips presenting them as exposés last week. The paper quotes the words of journalists, experts and political analysts working in the non-profit sector as if they were supporting Fidesz's conspiracy theories.
2. EU funding after irregularities
 Atlatszo revealed that Hungary was forced to pay back €7.8 million (2.8 billion HUF) in EU funding after irregularities were found surrounding the Öveges programme and other European Social Fund applications. Hungary's Öveges programme, launched in 2014 to improve science education, was open to any organization that runs secondary schools. By 2015, the programme received a total of €53.3 million (HUF 18.9 billion). But cracks started showing early, and the European Anti-Fraud Office (OLAF) found significant irregularities in the programme-related public procurements. According to OLAF, the Öveges programme was not an outlier – there were significant irregularities in several other European Social Fund (ESF) programmes as well.
Although the Hungarian government has kept the exact amount secret for years, Átlátszó managed to find out that Hungary has had to repay €7.8 million (nearly 2.8 billion HUF at today's exchange rate) in EU funding because of misused money from the Öveges Programme and other irregular European Social Fund applications.
3. Mihály Varga's extraordinary real estate luck by lake Balaton
Some people just have good real estate luck. Ostensibly, Finance Minister Mihály Varga is one of these people, because he has managed to rent a 204-square-meter luxury villa in Gyenesdias – worth, according to Atlatszo's estimates, somewhere around HUF 169 million – for around HUF 100 thousand a month since the summer of 2020. That is a great price, considering that the total size of the plot is 2,700 square meters, and the new-build villa comes with a swimming pool and a 42-square-meter garage. According to our calculations, Mr Varga pays HUF 100 thousand a month.
The finance minister insisted that he pays market price at HUF 150 thousand – which did not sound like market price to real estate experts. We couldn't find a villa with similar parameters for less than HUF 500 thousand per month – bad real estate luck, perhaps.
According to his asset declaration, Finance Minister Mihály Varga is renting a 204-square-metre holiday home in Gyenesdiás since 2020. Átlátszó has found out where the property is located, and that it is linked to an entrepreneur close to the government.
After the publication of our story, we found out that the finance minister decided to buy the luxury villa.
4. Chain voting captured on video
There was no shortage in suspicions of electoral fraud during the April 2022 elections. A lack of evidence, on the other hand, plagued these concerns – until Atlatszo caught the practice of chain voting on camera. The incident was filmed in northern town Putnok, population 6,400, 40 kilometres from Miskolc and 20 kilometres from Ózd. The chain voting operation – which is a way to check how people vote – was filmed outside the Serényi László Primary School (28 Bajcsy-Zsilinszky Endre Street), which was voting district 3 and 4 of the Borsod 3 constituency.
In the video captured by Átlátszó, the perpetrators committed the fraud in broad daylight near a voting station on a…
5. Göd battery factory and water pollution
Atlatszo's breaking story on water pollution in the Göd water wells – used by the Samsung battery factory – prompted disaster management authorities to order an investigation. The battery plant also launched a water quality monitoring campaign to assess cross-contamination. The story broke after an independent study found lithium and N-methyl-2-pyrrolidone (NMP) in the city's water wells. NMP can cause irritation to the skin, eyes, and respiratory tract and could be harmful to pregnancy.
The disaster management authorities have ordered an investigation following our story on water pollution in water wells in Göd. At…
Many of our articles worked to cut through the noise surrounding the plant. In this video, we reveal the truth behind the domestic battery industry – from the cover-up of pollution and the disregard for safety standards to the disenfranchisement of local government and the easy sale of domestic natural resources.
6. Foreign acquisitions
A subsidiary of the Foundation for Preserving Built Heritage in Central Europe (Közép-európai Épített Örökség Megőrző Alapítvány) has gone on an acquisition spree in regions that formerly belonged to Hungary, 100 years ago.
The foundation brought its total number of buildings to 24, with many in areas that belonged to Hungary prior to the Treaty of Trianon. This year alone, they purchased properties in Slovakia's Betlanovce, Kežmarok, Levoča, Veľký Kamenec, and Trenčín. Currently, they have acquisitions in Romania, Croatia, Slovakia, and Slovenia. Not bad for a foundation that was only registered in March 2021 – although they did receive HUF 15.8 billion in assets from the state in donations, including the two formerly state-owned companies Manevi Zrt. and Comitatus-Energia Zrt.
Betlanovce, Kežmarok, Levoča, Veľký Kamenec, Trenčín: these are the settlements where new properties were acquired by a subsidiary of the Foundation for Preserving Built Heritage in Central Europe (Közép-európai Épített Örökség Megőrző Alapítvány) in Upper Hungary (Felvidék) in Slovakia.
7. Matolcsy Jr's magic diplomatic passport
Central bank chief György Matolcsy's son, known for a decadent lifestyle littered with fast cars, fast jets, and fast billions, can now bypass the hassle of travel after he received a diplomatic passport. The document means visa-free entry, no customs checks, no queues, and diplomatic immunity – rare travel perks for a furniture maker.
It is unclear why Ádám Matolcsy was granted the passport, but Péter Szijjártó's ministry has been generous with their passports: 17,000 people received the coveted document between 2010 and 2019. While these are traditionally reserved for high-ranking state officials and diplomats, footballers and government-friendly individuals (and their wives) have been on the receiving end recently.
The luxurious life of central bank chief György Matolcsy's youngest son, Ádám Matolcsy has been repeatedly reported in the newspapers. Home worth billions, fancy cars, private jets – these are the details from the life of a furniture maker in Hungary. Now it turns out that Matolcsy Jr.
8. Environmental impact of the Paks NPP
Atlatszo discovered that temperatures in the Danube at the Paks Nuclear Power Plant (NPP) exceeded the 30°C threshold set to protect aquatic life. We also found yellow, foul-smelling foam on the water surface by the discharge canal, and empty shells and dead mussels floating in the water. Despite our findings, official measurements did not report similar temperature spikes – which leads to questions about their methodology and reporting.
High temperatures risk the health of the river's biodiversity and could see introduced species reproduce rapidly to displace native species.
Four years ago, and now again, we measured higher water temperatures in the Danube at the Paks Nuclear Power Plant (NPP) than the plant's staff who monitor the water temperatures. Although the exceedance of the threshold was not acknowledged by the Paks nuclear power plant four years ago, our article in 2018 led them to publish how they measure the temperature of the Danube.
9. Live from London – or not
The west, apparently, is rapidly declining. So says bilingual international news agency and harbinger of a migrant-driven Soros-funded Western European apocalypse V4NA. The London-based agency has been supplying the Hungarian pro-government media empire (KESMA) with news, gathered by around half a hundred correspondents stationed across Europe.
Or not – because one journalist said that the London office was actually in the third district of Budapest, which, albeit a nice district, is decidedly not London. We checked. The news agency is also edited in Budapest. The journalist who spoke to Atlatszo also said that articles were not first-hand information – instead, they were translated news stories that were already posted in Hungary. Atlatszo did not find a trace of V4NA at their two London addresses, despite visiting the locations and searching through UK databases. In the last year alone, 3,000 news items have appeared in the pro-Fidesz media that refer to V4NA.
The activities of bilingual "international news agency" V4NA that delivers thousands of news stories to the Hungarian pro-government media empire (Central European Press and Media Foundation or KESMA) are deceptive.
10. The Orban-Erdogan friendship and Hungary's shopping spree
The Hungarian Defence Force (HDF) recently bought Turkish armoured vehicles through the intermediary company of Hungarian yachtsman László Szíjj. Atlatszo investigated the purchases to find they benefited Turkish and Hungarian oligarchs with close ties to the respective governments.
Who benefited? László Szíjj and Suat Gökhan Karakus, two owners of HT Division Zrt and important figures in the pro-Fidesz business circle, saw a windfall, as did Erdogan's friend Nurettin Carmikli, who owns Nurol Holding. The story won Transparency's Investigative Mentoring Programme.
In his 2013 speech in Tusványos, PM Viktor Orbán mentioned Turkey as an example of an illiberal democracy. Since then, Hungary has not only moved closer to Ankara in ideological terms, but trade between the two countries has also increased significantly.
.
11. New luxury jet of the Hungarian government elite
Duna Aszfalt owner László Szíjj has been traveling in style on a shared HUF 17 billion private jet with richest Hungarian Lőrinc Mészáros. But the sharing setup may have come to an end – Atlatszo found that the pro-government entrepreneur Mr Szíjj enjoyed multiple business and private trips on a new private jet.
Atlatszo recently discovered that László Szíjj did not fly to Africa in late September in the famous aircraft previously used by PM Viktor Orbán.
The plane – worth HUF 14 billion – departed from and returned to Budapest after every trip, many of which were to the Croatian port cities that hold Mr Szíjj's two luxury yachts. Based on our investigation of travel route histories, the jet also took Mr Szíjj on his recent business trip to several African countries. Atlatszo found that Mr Szíjj does not just rent the jet – it is likely that he owns the aircraft.
12. Failed public projects, unpaid subcontractors, bankrupt companies
In December, Atlatszo has uncovered a case of suspected corruption involving half the country. Octopus Invest Ltd and its subsidiaries have failed to pay their subcontractors in at least six public projects across the country. Work has also been interrupted in many of these projects because the company breached the contract and failed to pay on time. The amount of withheld contractor fees exceeds HUF one billion. Atlatszo found that Octopus Invest won several public contracts but had no assets of its own. Numerous contractors said that Octopus regularly referred to their good relationship with the Orban family as the reason they win so many public contracts.
Failed public projects, unpaid subcontractors, bankrupt companies – we have uncovered a case of suspected corruption involving half the country. The injured parties suspect that Prime Minister Viktor Orbán is related to the main contractor, who has won the tender many times over, and the parties concerned and the Prime Minister's press officer did not refute this claim when contacted.
Compliled by Vanda Mayer.