Hungary spends less on cancer care than the EU average, international report says
According to a report on the situation of cancer patients in European countries, Hungary has an exceptionally high incidence and mortality rate of cancer. A serious problem is the lack of human resources in the Hungarian health sector, which has led to significant regional disparities in the availability of health care. In addition, Hungary spends significantly less on cancer patients than the EU average.
The incidence and mortality rates of cancer in Hungary are well above the EU average. What's more, in 2019, Hungary had the highest cancer-related mortality rate in the EU. As in other EU countries, the number of years of human life lost to cancer in Hungary has been on a downward trend since 2000; however, in 2017, the rate in Hungary was still almost twice the EU average. This may point to an earlier age of onset of the disease in our country, diagnosis at later stages or less effective treatment. What is certain is that the quality of cancer care in Hungary needs to improve, according to the 2023 Cancer Profile of the Organisation for Economic Co-operation and Development (OECD).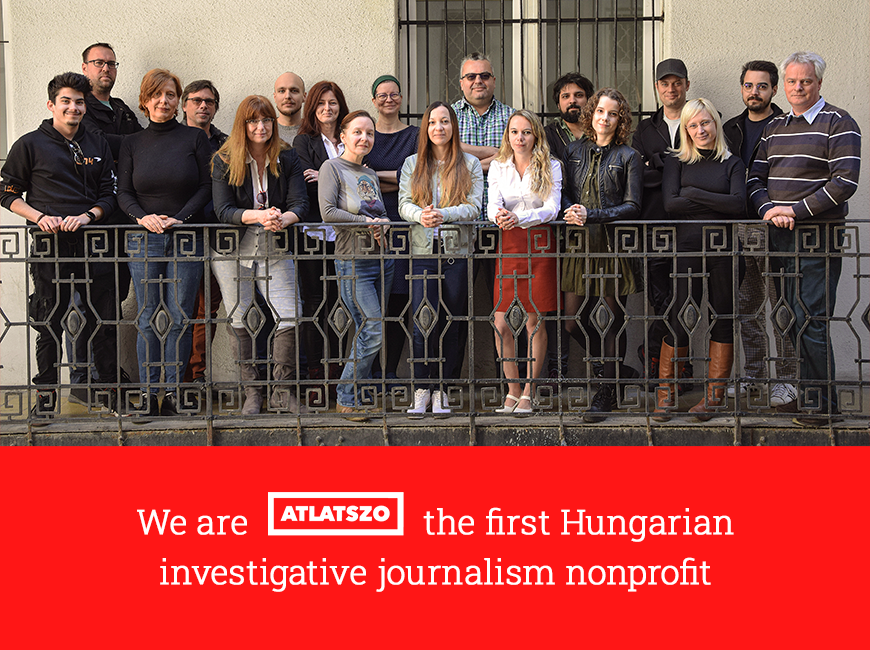 The OECD's Cancer Country Profile for the 27 EU Member States, prepared in collaboration with the European Commission, is based mainly on official national statistics provided by Eurostat and the OECD and aims to establish reliable data on cancer prevention and treatment and to identify trends, differences and inequalities between Member States and regions.
At the national level, there has been an improvement in the treatment of cancer over the past decade, with mortality rates falling for most types of cancer in Hungary. The biggest decrease has been in stomach cancer – 28 percent decrease between 2011 and 2019. However, internationally, the estimated incidence of cancer and the associated mortality in Hungary exceeded EU averages between 2019-2020.
With 328 deaths per 100,000 people in 2019, Hungary had the highest cancer-related mortality rate in the EU.
Meanwhile, the EU rate was 247 cases per 100,000 people.In Hungary, lung cancer, colorectal cancer, breast cancer and pancreatic cancer are the main causes of cancer deaths. In terms of incidence, in 2020, there were 623 cancer cases per 100,000 persons in Hungary, compared to an EU average of 569.
Based on the data presented in the report, we have looked at the latest EU statistics for both mortality and incidence, which shows a slightly better situation for Hungary, but still places us among the poorest performing countries.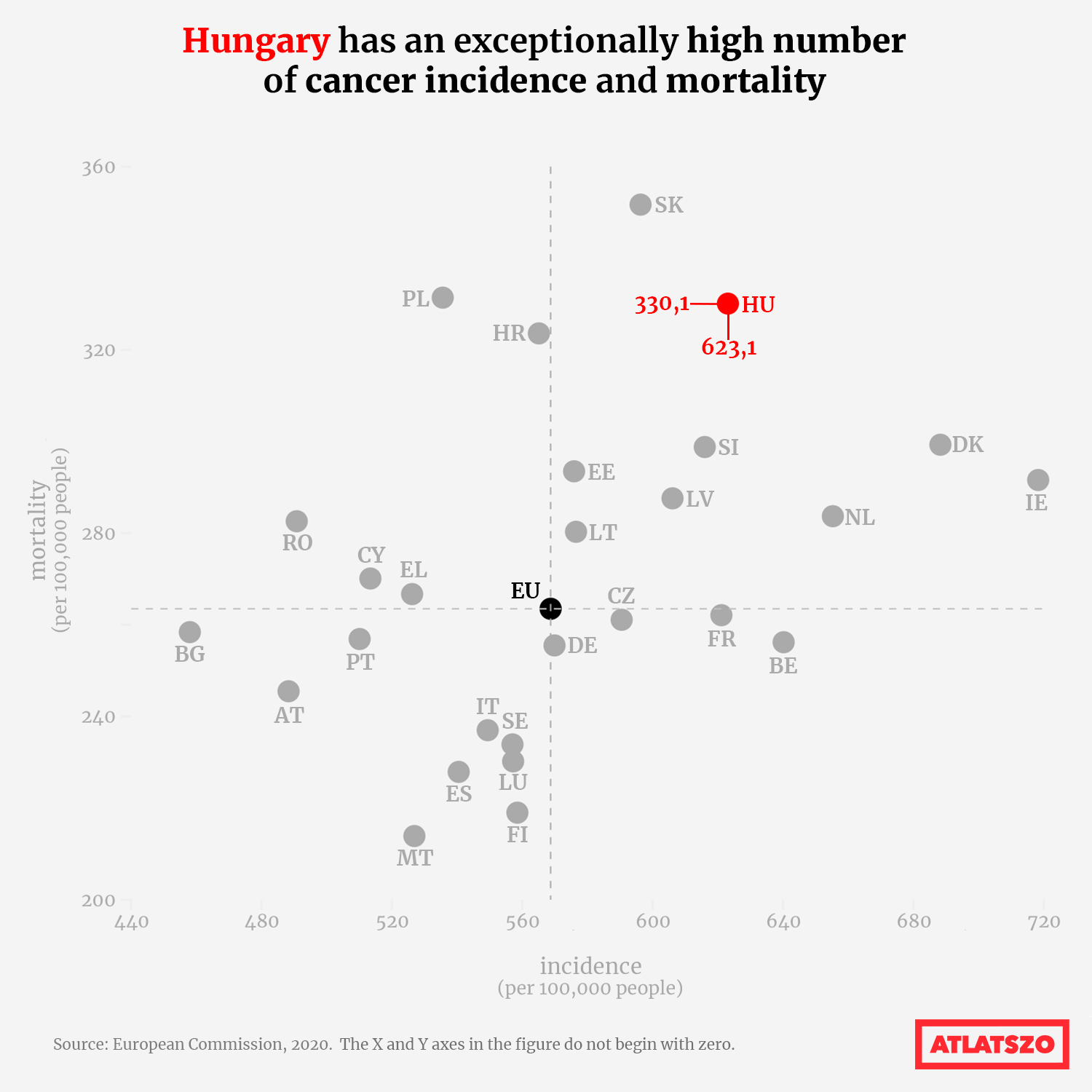 European Commission figures show that in 2020, we have moved from 2019's leading position in terms of deaths to third place (330,1 deaths per 100,000 people), overtaken by Slovakia and Poland. In terms of incidence, we are in fifth place after Ireland, Denmark, the Netherlands and Belgium.
The most significant risk factors for cancer in Hungary are being overweight, obesity and smoking, but we also perform poorly compared to other EU countries in terms of alcohol consumption and exposure to air pollution. While we do relatively well regarding HPV vaccination coverage, though.
The rate of early detection is the same as the EU average for breast cancer, slightly higher for cervical cancer and almost half the EU average for colorectal cancer. However, there are significant differences in screening participation depending on income levels.
The main problem in our cancer care is the lack of human resources, especially in rural areas.
There is a shortage of oncology specialists in regional and county centres. Only the National Institute of Oncology has a sufficient number of qualified oncologists, radiotherapists, radiologists and residents.
Overall, Hungary has fewer available radiotherapy equipment (0.7 per 1,000 cancer cases, compared to the EU average of 1.2) and lower physician density (547 per 1,000 cancer cases, compared to the EU average of 691) than other countries.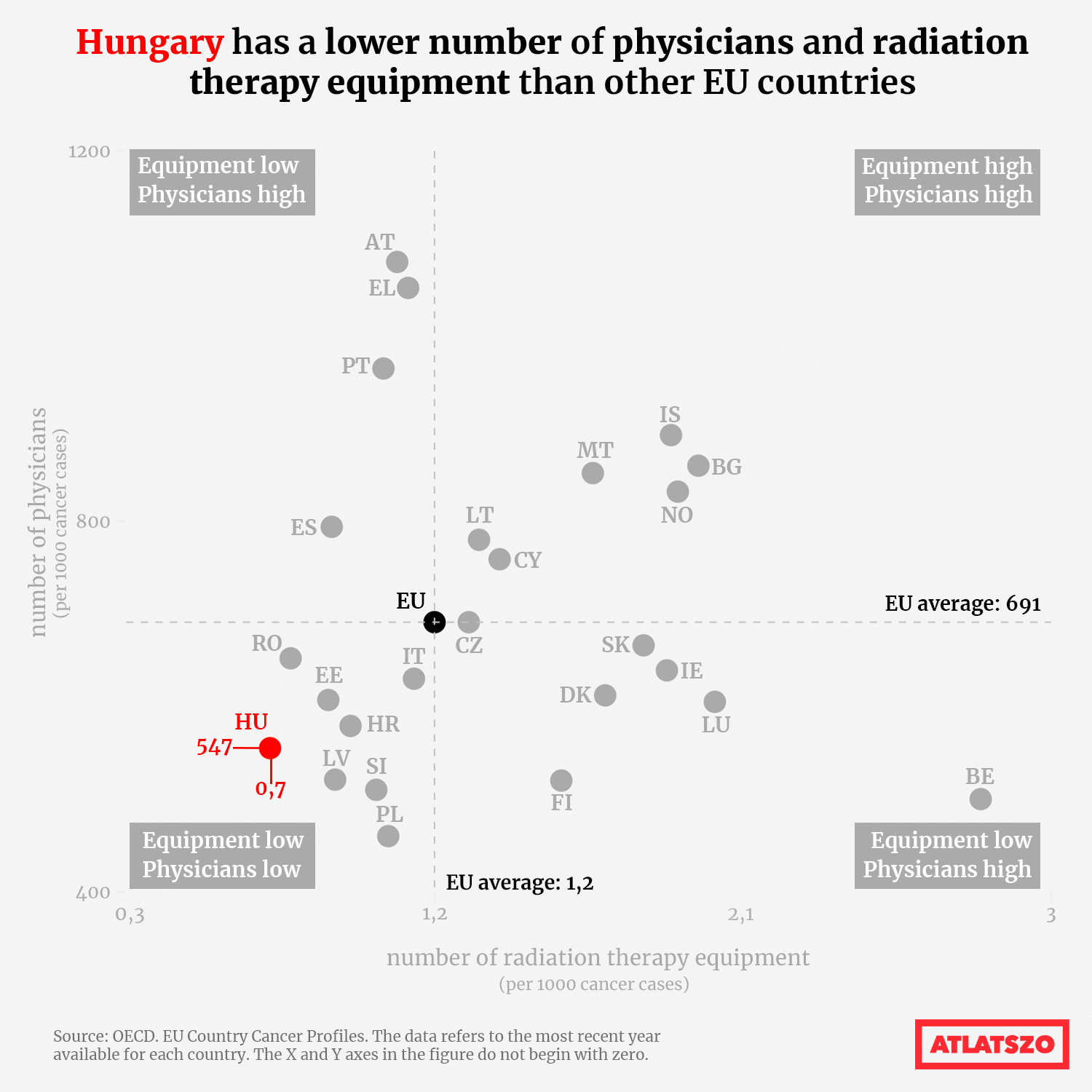 'Due to a lack of human resources in oncology centres, patient follow-up has been transferred to general practitioners. However, the shortage of human resources in these areas of care is aggravated by the ageing of the workforce. Hungarian professionals working in these segments of the health system are also less skilled in oncology. These problems are more pronounced in rural areas, especially in the least developed sub-regions,' the report says.
The national budget for cancer care also separates our country from EU standards. As the report shows, in 2018 Hungary spent €226 per person on patients with cancer, just 69 percent of the EU average of €326. Total spending on cancer in Hungary for 2018 was estimated at €1,372 million, of which half, nearly €618 million, was spent on cancer care, with cancer drugs accounting for nearly two-thirds of this.
Currently, Hungary has set a target to reduce cancer-related deaths by 10 percent by 2030 as part of the National Cancer Program.
Written and translated by Luca Pete. The original, Hungarian version of this story can be found here.