When this picture was taken, we were being monitored by Pegasus spyware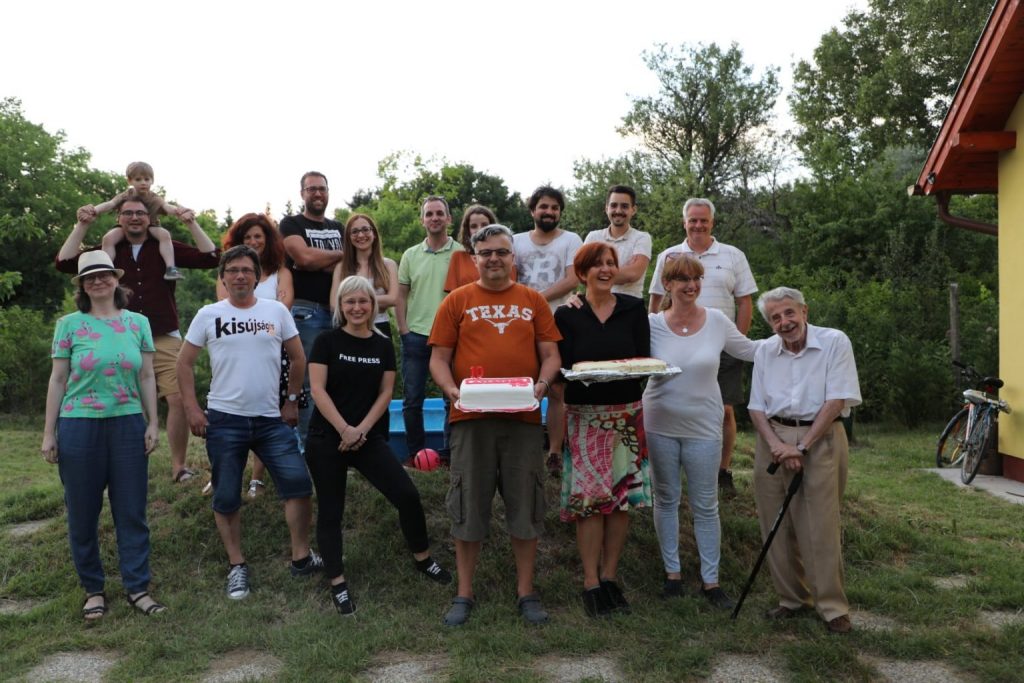 In an opinion piece, our colleague reacts to the fact that some journalists and contributors of Atlatszo discovered traces of the now infamous Pegasus spyware on their smartphones, and through one of these hacked devices, dozens of our colleagues and friends who attended our summer get-together, including Ferenc Kőszeg, who experienced something similar in the party state of the last century, could have been targeted with the Israeli spyware.
Support independent investigative journalism in Hungary, become a patron of Atlatszo on Patreon!
The picture above was taken on 3 July this year in a village in the Danube Bend (Dunakanyar), where, as usual, we came together for a day for the regular summer meeting of Atlatszo. To this event, we invited our regular authors and contributing journalists as well, who are in some way personally connected to our work. Some of our colleagues have been accompanied by their partners. A special feature of this year's gathering was that we also celebrated the tenth anniversary of Atlatszo.
Ten years ago, on Independence Day on July 4, 2011, we launched Atlatszo, with no capital or investor, relying on the donations of our readers and with a single journalist. Our mission was to promote investigative journalism, freedom of information and the protection of whistleblowers in a non-profit organisation.
I brought two bottles of good wine, editor-in-Chief Tamás Bodoky grilled all kinds of meat. One of our lawyers, Balázs Tóth, brought excellent pálinka, which I quickly poured to drink pertu with Ferenc Kőszeg,  now 82, who runs his blog at Atlatszo. Kőszeg was jailed in 1957 for distributing leaflets, and in the 1980s he was a contributor to a samizdat of the democratic opposition, called Beszélő.
He was also under surveillance by state security. According to an anecdote that Feri likes to quote, the first director-general of the National Security Office after the regime change of 1989 when asked by Kőszeg, reassuringly replied that they had already dismantled the listening device hidden in his apartment.
This summer, I didn't even think to ask Kőszeg about this case. however, there was a reason to bring it up, but we didn't know about it then.
Two days earlier, on 1 July, the phone of photographer Dániel Németh, who also attended the summer event of Atlatszo, had been secretly hacked and the Pegasus spyware had been installed on it. 
The software was running until 9 July, according to information published by Direkt36.
Since Pegasus is capable of recording everythinging the phone's environment with the device's microphone and camera and transmitting the data, I have very good reason to believe that our summer gathering between these two dates – the toasts and parties, the professional and friendly conversations around the table – was also observed by unauthorised persons.
If you look at the group photo taken at the event, you won't find Dániel Németh, a regular photojournalist for our editorial staff, who was the prime target of the spyware software. Németh, who is already known to our readers as the author of last year's photos of Péter Szijjártó (Minister of Foreign Affairs) on a yacht, for example, was not left out of the picture by accident.
The photographer would not be able to take pictures of politicians and oligarchs hiding from the public during their luxury trips or just in general if anyone would immediately recognise his face.
The Hungarian Minister of Foreign Affairs is spending this summer seemingly feverish, just visit his Facebook page to make sure:…
For Dániel Németh, this facelessness was both a burden and a working tool undertaken in the public interest, which he used to photograph Lajos Simicska, perhaps the most powerful man in Hungary at the time, on the cover of Magyar Narancs in 2012, a man the public had not seen for ten years. And to photograph the 2016 meeting of businessmen linked to Gaith Pharaon, who is under FBI investigation, and István Tiborcz, the son-in-law of Prime Minister Viktor Orbán.
Dániel Németh's work is an outstanding journalistic achievement and a defensible asset for the Hungarian public, as the most prestigious award of the Hungarian journalistic community, the Soma Prize, proves.
Our journalists won the Transparency-Soma Prize for Investigative Journalism in 2018 with the story "Hungarian government elite, including Orban, uses luxury yacht and private jet registered abroad", which was the first to reveal in detail the luxury vehicles used by the government elite for their travels.
Atlatszo has been tracking two luxury vehicles all summer and, in doing so has documented where the leadership of the…
The photographs and the drone footage in the award-winning article was taken by Dániel Németh. The other two members of the team were Katalin Erdélyi, who was responsible for writing the article and for tracking public shipping and flight records for months, and Attila Bátorfy, who created the data visualisations.
A Lady Mrd 2018. augusztus 16-án az Adrián Opatija közelében from atlatszo.hu on Vimeo.
The case of Dániel Németh is not unique. According to Direkt36, the phone of Brigitta Csikász, former journalist of Atlatszo was also hacked several times in 2019 with Pegasus, while she still worked with Atlatszo. Our editorial office is therefore at the top of the sad statistics of Hungarian journalists monitored by Pegasus.
We do not know for sure who targeted our colleagues, who may have observed our summer meeting. My personal impression, however, based on the news that has been published on the subject so far, is that the signs point in the direction of the Hungarian national security services.
In the story by Direkt36, we read that Dániel Németh was travelling or planning to travel to southern Italy at the time his phone was hacked. During this period, the Lady Mrd yacht and privat jet OE-LEM were in the area, and businessman Lőrinc Mészáros was also spotted in a nearby town.
The basic task of the national security services is to protect Hungary's independence, law and order, the government website writes. In my personal opinion, the best way to protect Hungary's independence and the rule of law is for a journalist to be able to photograph a politically connected oligarch, who holds no public office, without being observed or hindered by secret services.
Lőrinc Mészáros is not Hungary.
We at Átlátszó do our work in the knowledge that it is for the benefit of Hungary, the Hungarian people and Hungarian democracy. We do not believe that our honest, thorough journalistic work and public service is a valid reason for any Hungarian security agency to monitor us.
Press reports also suggest that the company that developed Pegasus, NSO Group, and through them Israeli intelligence services, and through them who knows who else, may have had covert access to the data obtained by the software.
I can only hope that the Hungarian national security services do not assist foreign powers in monitoring their citizens, although I wonder how interesting it is for any secret service that we are drinking pálinka with Ferenc Kőszeg in the Danube Bend.
Translated by Zita Szopkó. The original Hungarian version of this article was written by Márton Sarkadi Nagy and is available here.
Support independent investigative journalism in Hungary, become a patron of Atlatszo on Patreon!