Azerbaijani Laundromat project awarded at the Global Investigative Journalism Conference
OCCRP and its partners were recognized with a "citation of excellence" at the 11th Global Investigative Journalism Conference for unveiling the USD 2.9 billion money-laundering operation and slush fund linked to the Azerbaijani political elite. Atlatszo was the Hungarian partner of this 2017 crossborder investigative project: we reported on an offshore company with azeri government ties which received millions of dollars on a Hungarian bank account following the extradition of the Azerbaijani axe murderer.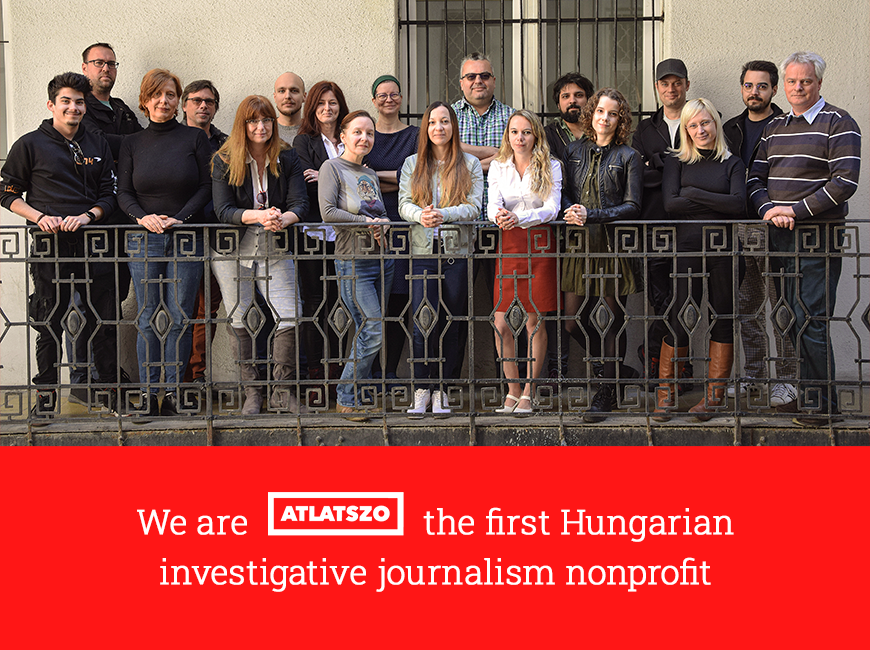 The biennial global conference of investigative journalists, hosted by Der Spiegel and HafenCity Universität in Hamburg from September 26 to 29, was organised by the Global Investigative Journalism Network , Netzwerk Recherche and Interlink Academy. More than 150 presentations, panel discussions and workshops were held at the four-day event, and the Global Shining Light Awards were presented for the best investigative achievements of the past two years.
Excellent journalism is being produced all around the world. The 11th Global Investigative Journalism Conference highlighted just a few great investigations you may not have heard of ⁠- but should.
The main message from the organizers was that investigative journalists from around the world should seek cooperation rather than competition, and stand up for each other when they are attacked, which is unfortunately increasingly common. This was emphasized in the keynote presentation given by Maria Ressa, head of the Philippine Rappler investigative news site, who was arrested twice this year in retaliation to their investigations into the wrongdoings of the Philippines' authoritarian president Rodrigo Duterte.
According to Ressa, attacks on journalists are attacks on facts and democracy, and we live in a time when, if we do not do something about it, "democracy as we know it is dead".
What's happening in the #Philippines "is coming soon to a democracy near you" — if it hasn't already, said @mariaressa in her #GIJC19 keynote of the #disinformation attacks against journalists, against facts & attacks against democracy https://t.co/qeCRFrNxrW Pix: @NickJaussi pic.twitter.com/Un532WJGJ4

— GIJN (@gijn) September 30, 2019
During the conference, numerous workshops focused on data journalism, data visualization, how to find and process public data available on the open internet, experts lectured journalists how to look for information in social media. Speakers presented a bunch of new online tools that can facilitate the work of journalists, such as the Dictator Alert, which broadcasts the flights of private airplanes operated in authoritarian regimes.
Although Dictator Alert does not yet include Hungary, it is indicative that Atlatszo has been featured in a roundtable discussion about investigating "closed and captured states", along with countries such as Myanmar, Pakistan or Cuba.
Tamas @Bodoky @Atlatszo: "Even #Hungary is a #EU member state and should respect #pressfreedom, year by year the situation is deteriorating […] The Hungarian media situation is in a captured state." – He is sitting on one panel here @ #GIJC19 with Myanmar, Pakistan and Cuba! pic.twitter.com/mVmZDGBAac

— ECPMF (@ECPMF) September 28, 2019
Another important topic of the conference was sustainability, the business model of nonprofit investigative journalism organizations, the effectiveness and know-how of crowdfunding campaigns. Our five cents on sustainability was that in addition to scandals and high-impact stories, paradoxically, government attacks on independent outlets or journalists also increase the flow of donations to investigative nonprofits, as an expression of solidarity from the audience.
Atlatszo was also featured in a publication by DW Akademie: in the study titled After the Scoop the German public service media organisation presents case studies, where nonprofit investigative media outlets are viable despite adverse political and economic conditions.
.@Atlatszo is one of the media portrayed for #AfterTheScoop. The media system in #Hungary is highly distorted by political powers, media struggle to stay independent. More about https://t.co/PSVROaHSXF's strategies for #mediaviability: https://t.co/Rt0nlkGRbe #GIJC19 #mediadev pic.twitter.com/z7HHvTZdOh

— DW Akademie (@dw_akademie) September 26, 2019
The biennial Global Shining Light Awards, which were awarded to the best investigative projects, received 291 nominations from articles published worldwide from January 1, 2017 to December 31, 2018. Atlatszo nominated the story of the secret governmental private jet and luxury yacht. This story did not win this time, but we have been still awarded as the Hungarian partner of the OCCRP project,  The Azerbaijani Laundromat.
Our part of this complex story revealed that the son of an influential Azerbaijani politician opened a bank account in Budapest for an offshore company, and transferred there more than USD 9 million in 2012, exactly when the Hungarian government extradited the Azerbaijani axe murderer, Ramil Safarov to Azerbaijan under strange circumstances.
The Azerbaijani Laundromat uncovered by the OCCRP was a money-laundering scheme and slush fund used by Azerbaijani elites to disguise the origin of billions of dollars, purchase goods and services, and make secret payments to companies and individuals in the European Union. It was also used to directly enrich powerful, well-connected Azerbaijani politicians.
More than 1,700 investigative journalists from 130 countries attended the 11th Global Investigative Journalism Conference in Hamburg, Germany, to share experiences, learn from expert speakers, network with kindred spirits, and find new partners for their next investigations. Organizers claim that this was the most diverse and largest-ever international gathering of investigative journalists. Click here to find out more about the highlights.
Written and translated by Tamás Bodoky
You can read the original, Hungarian language story here.