Azerbaijani slush fund transferred millions of dollars to Hungary in 2012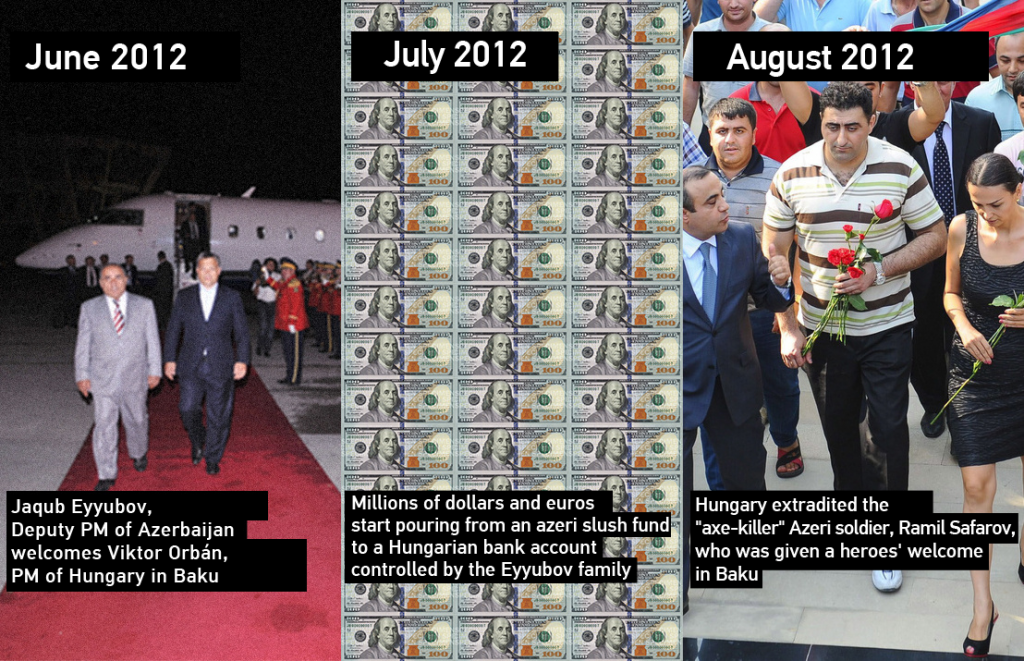 The Azerbaijani Laundromat uncovered by the OCCRP was a money-laundering scheme and slush fund used by Azerbaijani elites to disguise the origin of billions of dollars, purchase goods and services, and make secret payments to companies and individuals in the European Union. It was also used to directly enrich powerful, well-connected Azerbaijani politicians. This is aptly illustrated by the case of Yaqub Eyyubov – one of the country's most powerful officials – and his family. Atlatszo contributed to the story researching an offshore company's Hungarian connections, which was owned by the son of Yaqub Eyyubov, and received a series of payments totalling over $9 million to a Hungarian bank account in 2012.
Leaked banking records indicate that Yaqub Eyyubov, who is Azerbaijan's first deputy prime-minister, used a shell company at the heart of the Azerbaijani Laundromat to pay medical bills worth tens of thousands of dollars.
At the same time, a bank account in Budapest belonging to one of his sons, was receiving millions through the Laundromat.
Some of the money for these payments came from another series of covert transactions, also revealed in the banking records, that were made by Russia's main weapons export company, the state-owned Rosoboronexport. Why these payments were made are unclear.
Yaqub Eyyubov is one of the most influential politicians in Azerbaijan. While the country's prime minister must be confirmed by the National Assembly, the first deputy prime minister is appointed directly by the president.
Eyyubov got the job in 2003, when he was assigned to the post by former President Heydar Aliyev, the current president's father.
Since 2009, he has also been charged with developing the oil-dependent country's oil and gas strategy. Last year, Russian President Vladimir Putin awarded Eyyubov the Order of Friendship for his contribution to the development of friendly relations between Russia and Azerbaijan.
The Hungarian Millions
Along with other members of his family, including his son Emin, who is Azerbaijan's Ambassador to the Council of Europe, Eyyubov used Azerbaijani Laundromat money to pay medical bills in Germany and the United States.
The banking records, along with documents obtained from the Panama Papers databases and from Hungarian archives, show that the Eyyubov family used the offshore company named Metastar Invest LLP. for more than just healthcare services.
Leaked banking records obtained by OCCRP show, that in July 2012, Metastar began making a series of payments totaling over $9 million to the Hungarian bank accounts of an equally secretive firm based in the British Virgin Islands called Velasco International Inc. Company records obtained by Atlatszo prove, that this firm is also in the Eyyubov family. It belonged to another son of Yaqub Eyyubov, Orkhan.
Velasco International Inc. had been created by Mossack Fonseca, the infamous law firm at the heart of the Panama Papers, at the request of a Hungarian offshore company formation agency called Laveco.
The Azerbaijani Laundromat money started flowing into Velasco's accounts in the summer of 2012. The first transfer from Metastar to Velasco was made on July 19, 2012. The money kept pouring in until August the following year.
All in all, 27 payments totaling over $9 million were made to the Velasco accounts in Hungary and Cyprus. The offshore company was dissolved at the request of its Hungarian formation agency in 2015, and it is not clear where the money ended up.
The azeri 'axe murderer' goes home
Hungarian company records show, that Velasco International Inc did not develop any visible economic activity in Hungary while receiving the Metastar payments in its accounts in the country. It seems the company was just a financial vessel to move money. According to Mossack Fonseca records, the company was struck off the BVI registry in 2015.
The timing of the Velasco payments coincides with a series of murky events in the Hungarian-Azerbaijan diplomatic relationships.
The first payment was made in July 2012, less than a month after Viktor Orban, the Hungarian prime-minister, visited Baku to participate in a political forum, in June 2012. On his arrival in the Azerbaijani capital, Orban was welcomed by the first deputy prime minister, Yaqub Eyyubov.
In the end of August, a diplomatic spat started between Hungary and Armenia after Hungary extradited an Azeri soldier, Ramil Safarov, who was imprisoned for life for homicide in the Central European country.
In 2004, Safarov, an officer of the Azerbaijani Army, was participating in a NATO-sponsored training seminar in Budapest, when he broke into a dormitory room at night and axed to death Armenian Army Lieutenant Gurgen Margaryan who was a participant in the same conference.
Azerbaijan told the Hungarian government that Safarov would be spending the rest of his sentence in prison in Azerbaijan but, instead, the Azeri criminal was received as a hero on arrival in Baku. He was pardoned by president Aliyev, promoted to the rank of major and given an apartment and over eight years of back pay.
This move caused a huge scandal in both Hungary and Armenia, a country that severed diplomatic relationships with Budapest right after the extradition.
Velasco's sketchy connections in Hungary
Looking at the Panama Papers database and the Hungarian business registry, we find that Velasco, the offshore company that received 9 million dollars from Metastar has significant ties to Hungarian, Azeri and Russian business circles.
According to the Panama Papers database, Bahamas-connected Nothingham Holding Ltd. is a shareholder of Velasco International Ltd., and the company that helped found Velasco is the Hungarian offshore formation agent called Laveco Kft..
Laveco is owned by Hungarian businessman László Váradi, who has strong Russian connections. Laveco is one of the most popular companies that offer offshore advising and help create offshore companies in Hungary.
Laveco's 'official' Hungarian bank is MKB, in which the Hungarian Velasco-account was also opened, thus this was the bank where payments from Metastar Invest LLP arrived.
Velasco had only one Hungarian investment, well before the Metastar payments started. In 2008-2011 it owned shares in a dairy company called Biopalmitin Tejtermék Gyártó és Kereskedelmi Kft., which is now being dissolved by the court.
Velasco owned shares of the company until October 2011.  Velasco left Biopalmitin after a business debate between the owners and sold its shares to another member of the Eyyubov family, Kamran. He is Yusif Eyyubov's son, that is, the deputy prime minister's nephew.
Yusif Eyyubov, the brother of Yaqub Eyyubov, was also a director in a Baku based company called ILREM. Board of supervisors of ILREM consisted of Orkhan and Kamran Eyyubov, along with two Hungarian citizens, László Vancskó and József Takács.
Vancskó, a former topmanager of the real estate branch of Raiffeisen Bank Hungary, had a business dispute over a Hungarian company with another Hungarian businessman, János Hiszem. Hiszem was connected to Velasco International Inc. as "delivery agent" and has an ownership share in Biopalmitin Kft. himself.
Atlatszo journalists reached out to Velasco's nominal director: we wanted to ask him about the companies ties to Hungarian business, its investments in other countries, and about the money that came from Metastar.
He is an Englishman named Martin Graham Samuels. He is nominal director for many other offshore companies that were founded by Laveco.
He is easy to find: he has been living in Hungary for a few years now in a pretty house in a Budapest suburb with his Hungarian wife. He is easy to find, but not easy to talk to: when we mentioned Velasco, he said he did not want to talk about his businesses.
Azerbaijan: Blame Soros and the Armenians
The Azeri president's press office released a statement Wednesday refuting the "dirty campaign against the President of Azerbaijan and his family." According to the statement, the real criminals in this story are the Open Society Foundation's George Soros and "the world Armenianism [sic]."
"We know that it is George Soros and his henchmen – who have an international reputation as cheaters, tricksters, frauds and liars in relation to Azerbaijan and its leadership – that are behind this campaign," the statement said. "George Soros's dirty actions should be seriously investigated. The Armenian lobby, which acts in concert with him, carries out a dirty campaign against the President of Azerbaijan and his family."
When asked about these reports at a press conference Wednesday, Hungary's foreign minister Péter Szijjártó did not explicitly name what the scandal was about, and instead chose to refer to the "investigation by British and other news media".
Szijjártó expressed his hope that the "international and national inquiries into the stories uncover what exactly happened", because as long as the truth is not known, all kinds of defamatory statements can be made by everyone without consequence.
"In the firmest possible way, I reject any inference or insinuation which make a connection between the Hungarian foreign policy decisions and the aforementioned international criminal actions," Szijjártó said. "I really hope we uncover the truth of what happened very soon."
Read more in Hungarian:

Budapestre dollármilliókat utalt, európai politikusokat is korrumpált az azeri rezsim

Azeri guruló dollárok Budapesten a baltás gyilkos kiadása idején

Így dőlt a pénz Magyarországra a bakui feketekasszából – Alijevék szerint Soros rátámadt Azerbajdzsánra
[sharedcontent slug="hirdetes-english"]