Tour of 'atomic truck' advertising the Paks2 nuclear plant expansion costs €1,1 million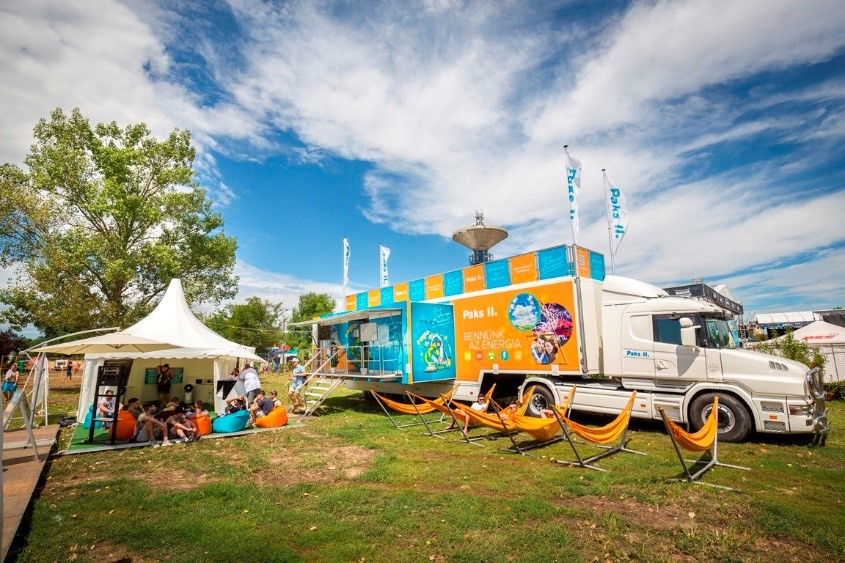 A truck traveling around Hungary will promote Paks2 project, that is, the expansion of the nuclear plant in Hungary. The 'atomic truck' has games and interactive information screens about nuclear energy. It will be displayed in various festivals around the country and in towns that have more than 5000 residents.
It was announced in 2014 that Hungary would be expanding its nuclear plant and that two new reactors will be built by Russian company Rosatom. The project is financed by a Russian loan. The project is already suffering from delays and is highly controversial.
According to the latest EU public procurement journal, from 357 million Hungarian forints (approximately €1,1 million at today's exchange rate) will be spent on the above-mentioned vehicle's 'Paks2 roadshow.' The truck and the advertising campaign will promote the expansion of the nuclear power plant.
The contractor (the winner of the tender) is Euroshow Kft. won the tender and the contract was signed on the 8th of February. The company will have to organize public disclosure of information with the vehicle owned or rented by them, according to the notice.
The truck will tour Komárom-Esztergom, Fejér and Pest counties and will appear at eight summer festivals between March 2019 and September 2020.
The nuclear plant expansion will be also advertised at various festivals in the summer of 2019 and 2020, and the Csaba Sausage Festival in the autumn of 2019.
According to the notice, the vehicle will be present in at least 122 cities and 14 festivals.
This is not the first time that the 'atomic truck' is used to promote the nuclear plant expansion project. Euroshow Kft. has already presented the truck at festivals several times.
Mfor.hu reported in 2017 that the company was at the time promoting Paks2 for 300 million HUF (approximately €930 000). The webpage of Paks2 described the interactive truck, and TelePaks TV introduced it in a Youtube video.
Hungarian Green MEP Benedek Jávor recently filed a freedom of information request to learn about where the truck has already been. He recently published the information on his blog. According to the data he obtained, the truck visited 145 locations in the last three years.
Written by Brigitta Csikász
English version by Lili Rutai. You can read the original, Hungarian language story here.
Cover photo: The 'atomic truck' – photo from the official Paks2 website