Former MVM CEO sentenced to five years in jail; lost taxpayer money will be hard to recover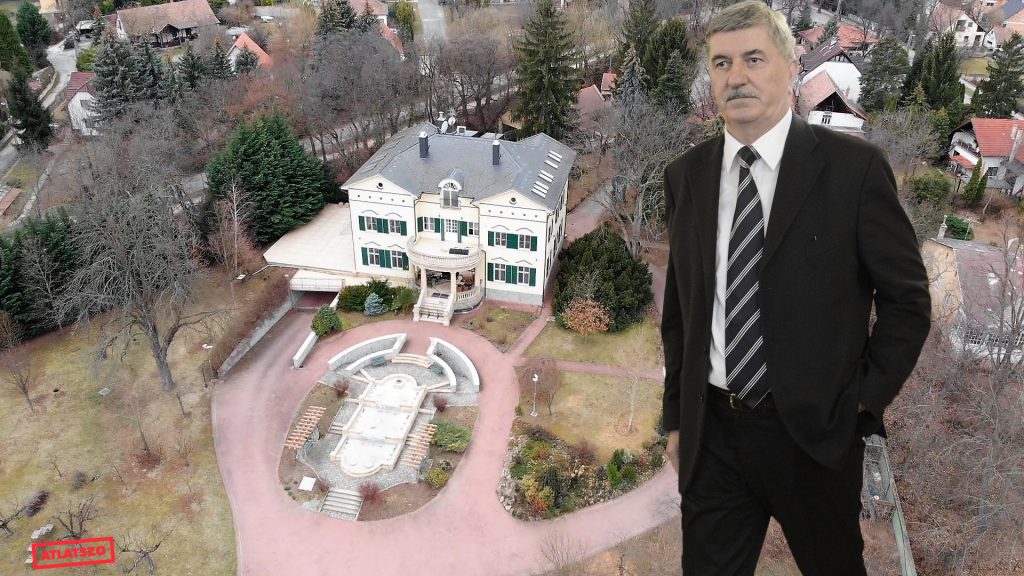 The former CEO of Hungary's state energy giant, MVM, was sentenced to five years in jail at the end of February. István Kocsis and his accomplices also have to repay 2 billion Hungarian forints (approximately 6.35 million euros at today's exchange rate). During Kocsis's leadership (in 2005-2008) tens of millions of euros disappeared from MVM after they were paid to a bunch of obscure offshore companies. Kocsis's wife was found guilty of money laundering and illicit trading; she received a two-year jail sentence that was suspended. Kocsis's former advisor, András Szász was sentenced to three years in jail. The Kocsis couple lives in a suburb of Budapest, Leányfalu, at a huge estate worth billions of forints. It will be hard for authorities to recover the stolen wealth, though: the estate is owned by the couple's children, who were still teenagers back when their parents purchased the villa in their names.
The story of the more than ten billion forints that were channeled from MVM to offshore companies was broken in 2009 by Index.hu. A key turning point in the investigation was when British company records revealed that a 'Mrs. Istvan Kocsis' was the 'ultimate controlling party' of the BVI offhsore company called Jadran Investments Limited.
Jadran Investments Limited was paid 3.5 million euros by a Croatian MVM subsidiary in 2008 to provide 'quality recreation' for MVM employees in a hotel at the Adriatic sea. When Kocsis was replaced at the top of MVM the hotel contract was canceled, but Jadran never repaid the money.
Later it was revealed that the hotel deal was only the tip of the iceberg: during Kocsis's leadership, tens of millions of euros (more than ten billion Hungarian forints) were paid by state-owned MVM to offshore companies registered in British Virgin Islands, Cyprus, Ibiza, Luxemburg, and Panama.
After he left MVM, Kocsis went on to lead the Budapest public transport company, BKV Zrt. He stayed in that position until 2011. Before his scandalous time at MVM, in 2002-2005 he was the CEO of the Paks nuclear plant.
Advisor András Szász was Kocsis's important accomplice in the offshore deals. According to the investigative series published by Index in 2009, the offshore deals of MVM were all coordinated from Szász's office at the elegant Andrassy Avenue in the heart of Budapest.
Szász was sentenced to jail in the MVM case as well. In the Hungarian company registry now he is listed with a home address in Barcelona. His advising company in Budapest was liquidated in 2012. In the past three decades Szász was involved in several high-profile scandals in Hungary.
The story of the billions of forints stolen from MVM through offshore companies was uncovered by an internal investigation at the company that was started after Kocsis was ousted in 2008.
However, MVM tried to keep the results of the investigation a secret.
Green party LMP filed a freedom of information request in 2009 to see the documents; the party won in court but MVM gave them heavily redacted documents citing business reasons.
Atlatszo sued MVM in 2011 and asked to see the redacted details and also published some of the unredacted documents it managed to obtain in the meantime. Atlatszo won in court in 2012 and went on to publish the documents produced by the internal investigation against Kocsis.
At the same time, NGO Energiaklub sued MVM for a study produced by a company with links to Szász. MVM paid 50 million forints for the study that turned out to be a copypaste rip-off of other documents.
Ten years passed between the first article and the jail sentence
It was only in 2009, after the series of articles was published by Index that the new leadership of MVM reported Kocsis to the police. The former MVM CEO was charged in 2012 and was accused of misappropriation of 15 billion Hungarian forints committed as a member of a criminal organization.
The lengthy court case had several absurd turning points and events, including two instances when Kocsis himself was acquitted but his wife who never worked for MVM was found guilty. During the years of the court proceedings two defendants died: businessmen and former minister László Kapolyi and Kocsis's MVM deputy, László Molnár.
The defendants, including Kocsis, denied committing any crimes. In an interview in 2009, Kocsis said that he needed the offshore companies because MVM was planning to expand and invest in Serbia and Bosnia. He said that business in such countries has certain 'constitutional costs' and offshore companies can better handle that.
The expression 'constitutional costs' has become a well-known expression in Hungary since then, used to sarcastically refer to bribes.
How to recover the money?
One of the most interesting parts of the court's decision is that Kocsis and Szász are supposed to pay 2 billion Hungarian forints to MVM within 15 days. The decision is not yet binding; it still has to be finalized by the Curia that serves as the highest court of the country. However, Atlatszo tried to find out how authorities could enforce that decision in case the two men did not pay on time.
According to the Hungarian business registry, Kocsis has no ownership stake in any companies and he has only one management position in a company: he is a member of the board of a winery, Csányi Pincészet Zrt.
His wife, however, owns 1% of Csányi Pincészet Zrt. and also owns 10.86% of agricultural company Aranykorona Mezőgazdasági Zrt.; she is also CEO of Kalornet Kft., a company owned by Gergely András Kocsis who shares and address with Mr. and Mrs. Kocsis.
There is another company registered at the Kocsis family estate: it is the Hungarian representation of a Spanish company called Calesta Ibiza S. L.. In the Spanish business registry, Atlatszo found that Calesta was founded in 2007 and it operates hotels. Its director is Gergely András Kovács. We do not yet know whether the company owns any real estate in Spain.
However, if we were authorities trying to recover stolen taxpayer funds, we would take a close look at Ibiza.
The estate owned by the Kocsis family in Leányfalu – based on local real estate prices – must be worth billions of Hungarian forints. It was in 2003 that Blikk reported that Kocsis, then CEO of the Paks nuclear plant, bought the villa that was formerly owned by a trade union and used as a children's vacation home.
The seller did not make the price public. However, according to our source who knows the details of the deal, the price was around 200 million forints and the trade union had been trying to sell the villa for four years by the time it founds someone who could pay the price they asked for.
Ezen a leányfalusi birtokon él Kocsis István egykori MVM-vezér from atlatszo.hu on Vimeo.
According to the official registries, the plot is more than 27 thousand square meters large and was bought by Kocsis's two then-teenage children in 2001. Kocsis and his wife have never been owners of the plot and the villa and the private swimming pool.
NGO Energiaklub has criticized Kocsis several times in the past decades. According to Orsolya Fülöp, Energiaklub's professional director, Kocsis's sketchy deals go back as far as the beginnings of the 1990s when he was responsible for the privatization of the energy sector. According to press reports, more recently Kocsis had a key role in finalizing the deal about the Paks expansion between Hungary and Russia's Rosatom.
According to Fülöp, István Kocsis was able to serve several governments and managed to 'play' where most of the money was to be found. 'There was one thing he never managed to do, to work for the public good and for the welfare of citizens' she added.
Written by Tamás Bodoky
English version by Anita Kőműves. You can read the original, Hungarian language story here.
This story is part of the investigative series produced by Atlatszo in cooperation with Energiaklub. Company data was provided by Opten.