RT contradicts TV personality claiming to have been picked as its anchor: 'We never planned a Hungarian service'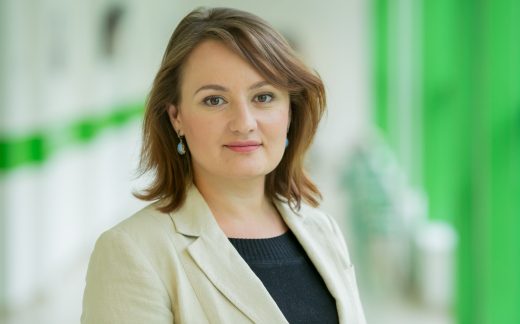 'RT has never planned, nor are we planning a Hungarian service, and thus we never even had a reason to discuss something like an anchor or studios. All reports to the contrary are outright fabrication' – Anna Belkina, head of communications at the Russian RT channel told Atlatszo.
We reached out to RT after Hungarian TV personality László Juszt claimed that the Russian TV empire had been planning to start a Hungarian language channel and that he was offered to become the anchor and face of RT.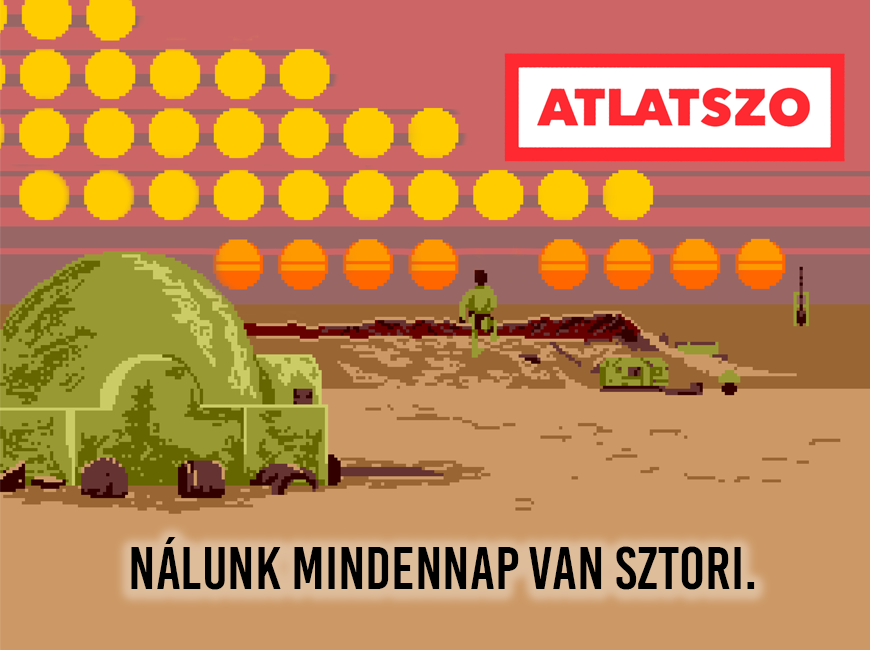 However, Juszt says that he was dropped by the channel because of embarrassing stories published about him. László Juszt claims that it was a story by Átlátszó that destroyed his career plans and he is suing us now for compensation.
RT never said it planned to open a Hungarian channel
However, RT has never publicly said that it was planning to start a Hungarian language channel. RT (formerly Russia Today), started in 2005 is the arm of the Russian propaganda machine that aims to spread the Kremlin's views abroad. It already has channels in English, Arabic and Spanish. It was planning to start a German and a French channel as well, but due to financial difficulties, these were delayed.
Our previous coverage of the topic

TV personality claims to have been offered to become RT's anchor for a Hungarian language channel

Opposition MP asking if a Hungarian language RT channel would be a national security threat
The idea of a Hungarian-language RT was floated by right-wing columnist István Lovas in an open letter in 2014. He addressed the letter to the president of Russia and published it on Facebook. It was admittedly only his personal idea, but Lovas claims that the Russian embassy in Budapest looked at his letter and said a Hungarian RT would be a good idea and that they would examine the possibility of starting it.
But, according to Lovas, the plans for the channel were scrapped for financial reasons – and he cites a 'former Russian ambassador' and RT editor-in-chief Margareta Simonyan's words to prove this.
Memos from Moscow, in Hungarian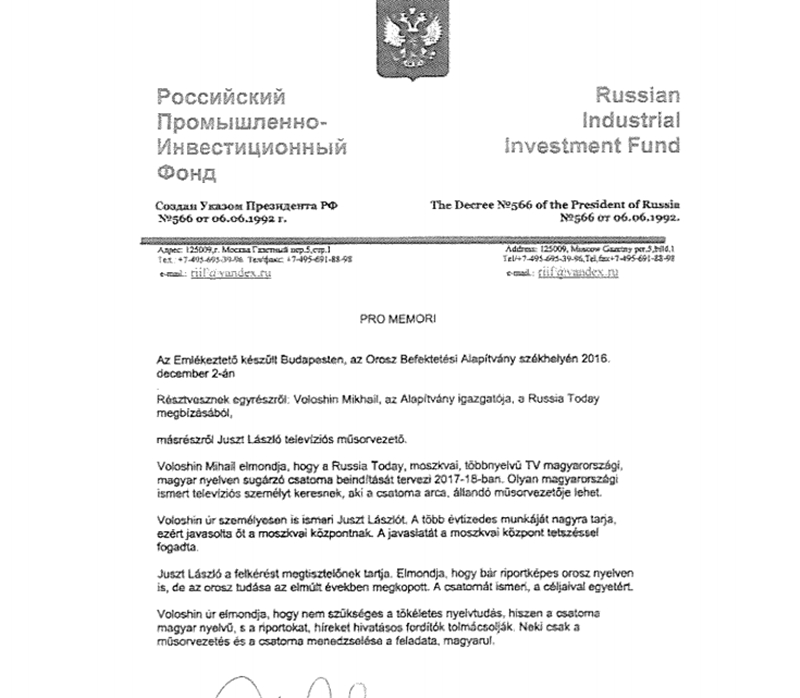 'Mihail Voloshin said that Russia Today, the Moscow-based, multi-lingual television network is planning to launch a Hungarian language channel in 2017-18. The channel is looking for a Hungarian TV personality to become its face and anchor. Mr. Voloshin personally knows László Juszt. He appreciates Mr. Juszt's decades-long professional experience and he recommends Mr. Juszt to be this anchor. The Moscow HQ liked this idea and accepted it. László Juszt is honored by this offer.'
The above text is from a memo of a meeting that allegedly took place in December 2016. The memo was written in Hungarian, and according to the text the meeting took place at the headquarters of the Russian Industrial Investment Fund (directly controlled by the Kremlin). László Juszt and the Fund's director, Mr. Voloshin were present at the meeting according to the memo Juszt attached to his court case against atlatszo.hu.
They agreed that László Juszt would be getting a monthly salary of HUF 2 million (EUR 6600) and the channel would also pay his phone bill and provide him with a car.
According to the text Juszt 'knows the TV channel and agrees with its goals' and Voloshin added that the channel would be 'controlled by the Moscow headquarters.'
Juszt filed another letter in court, allegedly written also by Voloshin, stating that RT is no longer planning to employ him as its anchor because of 'stories in the Hungarian press about your connections with Russian criminals.' This letter was also written in Hungarian.
Written by Anita Kőműves and Antónia Rádi
You can read the original, Hungarian language version of this story here.