TV personality claims to have been offered to become RT's anchor for a Hungarian language channel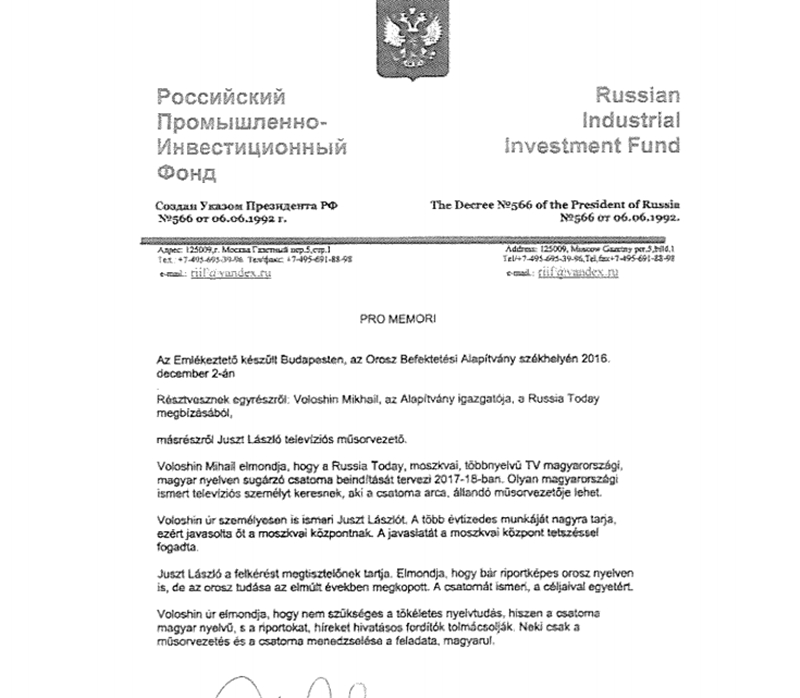 A Hungarian TV personality claims that he was offered to become the face of Russian TV channel RT in Hungary, but he was dropped because of embarrassing stories published about him. László Juszt claims that it was a story by Átlátszó that destroyed his career plans and he is suing us now for compensation. However, RT has never publicly said that it had been planning a Hungarian service and RT editor-in-chief Margareta Simonyan said in March that the channel was hit hard financially because of the depreciation of the ruble.
'Mihail Voloshin said that Russia Today, the Moscow-based, multi-lingual television network is planning to launch a Hungarian language channel in 2017-18. The channel is looking for a Hungarian TV personality to become its face and anchor. Mr. Voloshin personally knows László Juszt. He appreciates Mr. Juszt's decades-long professional experience and he recommends Mr. Juszt to be this anchor. The Moscow HQ liked this idea and accepted it. László Juszt is honored by this offer.'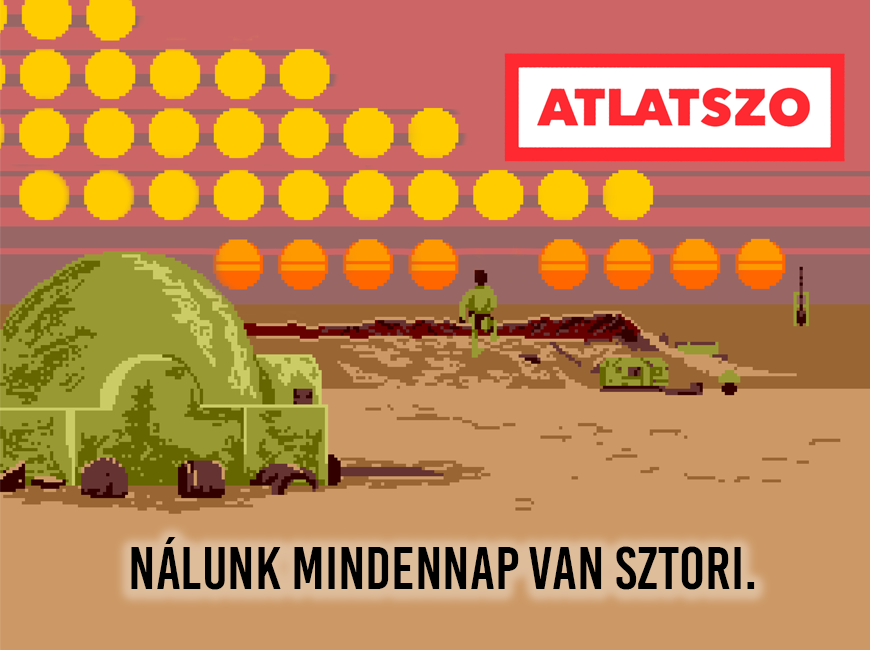 The above text is from a memo of a meeting that allegedly took place in December 2016. The memo was written in Hungarian, and according to the text the meeting took place at the headquarters of the Russian Industrial Investment Fund (directly controlled by the Kremlin). László Juszt and the Fund's director, Mr. Voloshin were present at the meeting according to the memo Juszt attached to his court case against atlatszo.hu.
They agreed that László Juszt would be getting a monthly salary of HUF 2 million (EUR 6600) and the channel would also pay his phone bill and provide him with a car. According to the text Juszt 'knows the TV channel and agrees with its goals' and Voloshin added that the channel would be 'controlled by the Moscow headquarters.'
Juszt is now suing Atlatszo.hu because he claims that a story published on our website made RT drop him as the anchor for the planned channel. He is requesting HUF 5 million (EUR 16,500) in damages.
He filed a letter in court, allegedly written also by Voloshin, stating that RT is no longer planning to employ him as its anchor because of 'stories in the Hungarian press about your connections with Russian criminals.' This letter was also written in Hungarian.
But Atlatszo's story about Juszt was not the first or the only one that was embarrassing for the Hungarian TV reporter. Stories that he claims are damaging had been published about Juszt long before his alleged offer from RT. In a high-profile court case, for example, a witness testified that Juszt accepted a watch worth HUF 1,5 million from Tamás Portik, a convicted criminal in exchange for so-called unbiased coverage.
It was Hungarian website hvg.hu that first covered this testimony, though at the time they did not publish the name of Juszt and another journalist who was allegedly involved. Another website, 24.hu later decided to publish the names, claiming that the minutes of the court proceedings are public documents. After that, many more newspapers and websites published the story, including the names.
However, it seems that it is not the expensive watch coming from an alleged criminal that bothers the Russian Industrial Investment Fund. From the documents filed with the court in the case against Atlatszo, it becomes clear that the Fund cites the so-called 'Clodo-story' as the reason for dropping Juszt.
Dietmar Clodo, the infamous 'bombmaker' of the 1990s spoke to German writer Jürgen Roth when he was researching his book titled 'Dirty Democracy.' In this book about the expansion of the Russian mafia in Eastern Europe, Clodo says that the head of the Hungarian arm of the mafia, Semjon Mogiljevich was giving out bribes to a huge number of people. Clodo's words about this scheme include Juszt here as well.
Atlatszo translated and published the chapter from the book that discussed Hungary, and Juszt now claims that the publication of this, along with the translation of a testimony given to Roth by Clodo, caused RT to drop him and not employ him as its anchor. Juszt says that the memo and the letter from Voloshin prove that Atlatszo caused damages to him.
Did RT ever plan a Hungarian service?
RT has never publicly said that it was planning to start a Hungarian language channel. RT (formerly Russia Today), started in 2005 is the arm of the Russian propaganda machine that aims to spread the Kremlin's views abroad. It already has channels in English, Arabic and Spanish. It was planning to start a German and a French channel as well, but due to financial difficulties, these were delayed.
The idea of a Hungarian-language RT was floated by right-wing columnist István Lovas in an open letter in 2014. He addressed the letter to the president of Russia and published it on Facebook. It was admittedly only his personal idea, but Lovas claims that the Russian embassy in Budapest looked at his letter and said a Hungarian RT would be a good idea and that they would examine the possibility of starting it.
In March 2017 Lovas wrote about the plan again on his blog, saying that not long after his open letter he got a message from Irina Zvonova, press attaché of the Russian embassy saying that the Russian Foreign Ministry liked the idea and 'preparations for the Hungarian program may begin.'
But, according to Lovas, the plans for the channel were scrapped for financial reasons – and he cites a 'former Russian ambassador' and RT editor-in-chief Margareta Simonyan's words to prove this.
We asked RT's press office whether they had planned to start a Hungarian channel, whether they planned to hire Juszt, and whether they dropped him because of the stories published about him. We have not received an answer yet.
Written by Antónia Rádi and Anita Kőműves
You can read the original story in Hungarian here.
[sharedcontent slug="hirdetes-english"]