Taxpayers subsidising free Budapest newspaper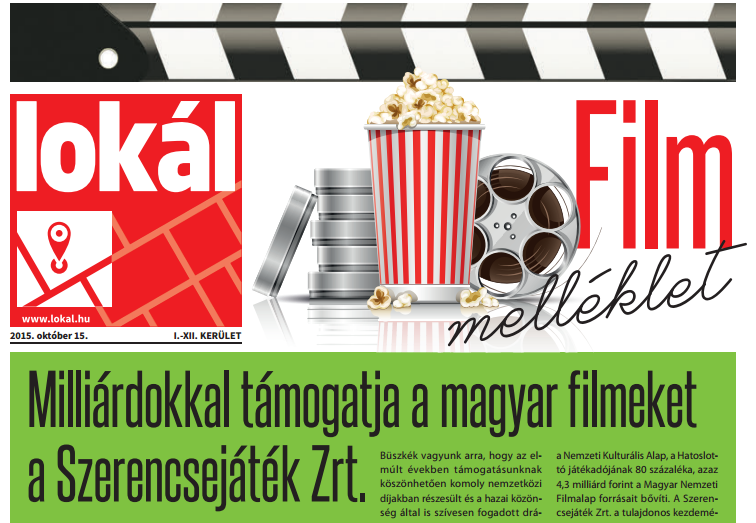 Created as part of a drive to strengthen the media presence of the political right, the newly established Lokal publication group operates on the basis of being almost exclusively reliant on advertisements from the state or state-owned companies. This funding arrangement, increasingly common in the Hungarian media, is costing taxpayers a fortune.
Last year a series of fundamental and wide-reaching changes in the Hungarian media landscape took place, prompted primarily by the very public falling out between Prime Minister Viktor Orban and his former closest ally, and media magnate, Lajos Simicska.
One of the results of this feud was the creation of the Modern Media Group (MMG). Destined to become a significant player in the media market, this new organisation's ownership has close ties to the ruling party, including Arpad Habony, trusted advisor to Prime Minister Viktor Orban, and Tibor Gyori, likewise a member of Orban's innermost circle and also previously a state secretary.
The first of MMG's initiatives is Lokal, a freely distributed newspaper designed to operate according to a tried and tested formula: complete market saturation. A strategy made possible thanks to the essentially limitless resources it receives from state-funded advertisement.
Atlatszo first filed a Freedom of Information request last autumn for the release of the advertisement funds. We also approached the companies whose advertisements appeared in Lokal.
True to its name, Lokal is published in different versions for the various Budapest districts. Each edition responded differently to our approach for information, with some ignoring the requests entirely. Amongst those who did respond, there was an intriguing variation in whether district municipal governments had contracted Lokal's services.
Nevertheless, the list of advertisers included state firms, ministries and agencies, and unsurprisingly, Lokal articles often revolve around issues that the government is happy to communicate.
Based on the information gathered and on commonly used advertising rates, we made our own estimates as to the figures in question. Our calculations conclude that Lokal has received somewhere between HUF 200 million to HUF 600 million (€645,000 to €1.9 million) in taxpayer money since its establishment.
Of course, Lokal's actual performance will only be known in May once it discloses its annual business results. This will also be the measure of the paper's success, reflecting whether it has been able to gain a foothold in Hungary's free newspaper market.