Atlatszo.hu digs into the renting out of museum exhibits to friends of the government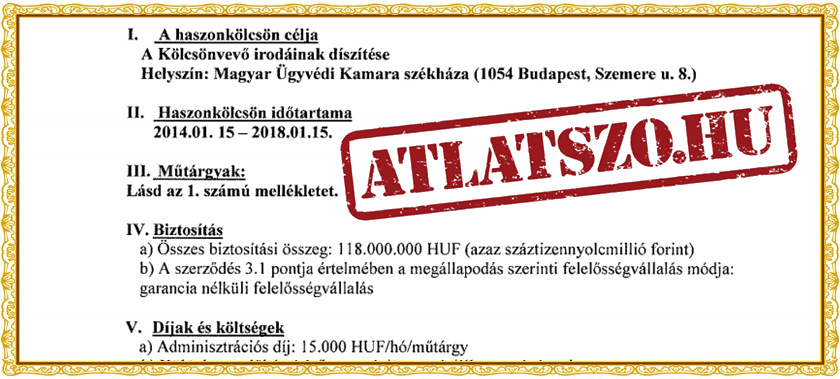 Recent developments have compelled Atlatszo.hu to dig deeper into the common practice at the Budapest Museum of Fine Arts of renting out exhibits for decorative purposes. The latest findings indicate that the prime minister's top advisor was also among those who rented out publicly owned art for private use.
Atalszo.hu is pursuing a rumor that Árpád Habony, a top advisor to Prime Minister Viktor Orbán, is among the clients of the Museum of Arts in Budapest, borrowing exhibit items as high-end decoration. We have already found out that the museum has provided items valued at millions of euros to various state bureaus. The records released by the museum following our requests, however, left out some interesting contracts.
Habony is a recurring subject of our investigations. He is known to have the prime minister's confidence, is often credited with key elements in economic policy and political strategy while holding no official office, thereby dodging accountability in the process.
Talk in the art world has it that he is also a fan of fine art and that the state-funded cultural institution is ready to oblige his demands. Atlatszo.hu eventually received data from the museum about art rentals, but apparently these records did not include contracts that were now brought to the public's attention because of specific inquires by the Vs.hu news portal.
Following up on a rumor in the art scene, they filed a request to view information pertaining to a certain Brand Lab Kft consultancy, which is part owned by Habony's sister. Others in the company are also prominent media personalities and are consistent beneficiaries of the current government's activities. This company signed 10 contracts with the museum for renting out pieces of art, worth close to 1 million euros, for a 50 euro monthly rental fee. The museum originally left out these contracts from the previous disclosure saying that the agreements have already been terminated and should thus be irrelevant. However, even with the release of the records, the location where the art pieces were allegedly on display was redacted.
If the address happens to coincide with the official address of Brand Lab, it will be all but confirmation of Habony's involvement. Atlatszo.hu will continue to pursue the case.