Hungarian diplomats in the United States pay $45,000 a month for the advice of Trump's men in Israel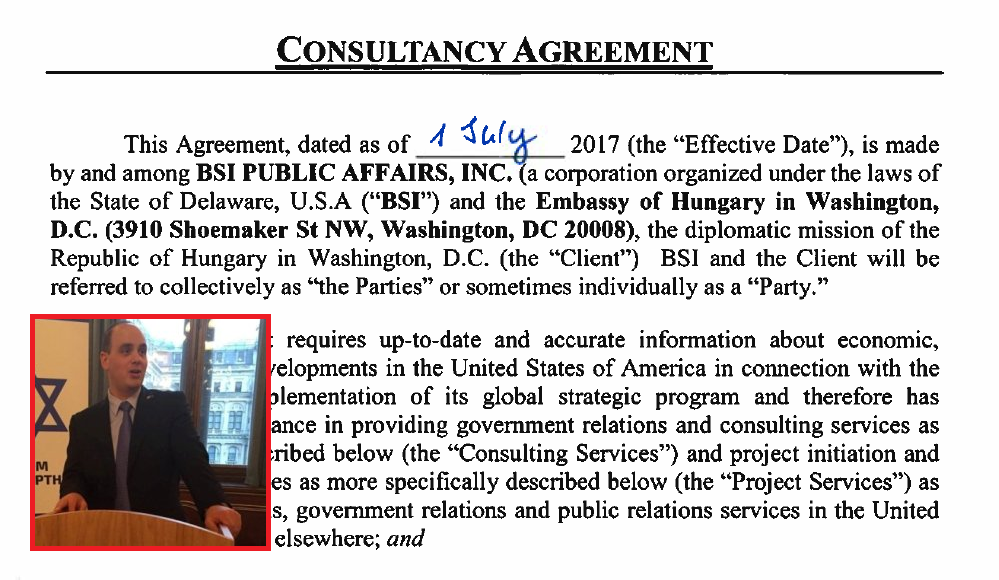 The Hungarian Ministry of Foreign Affairs and Trade in the second half of 2017 paid a minimum of $270,000 to a company co-chaired by Donald Trump's Israeli campaign chief. The Delaware company called BSI Public Affairs signed contracts with the Embassy of Hungary in Washington and the consulates in Chicago and Los Angeles. However, the final bill must be higher than $45,000 a month: this is only the amount paid to BSI for consulting services. But the contract also includes two other services (project services and PR), whose price is unknown.
Atlatszo reported in March that the American lobbying firm Sanitas International registered in the DOJ's FARA database as a foreign agent – lobbyist – employed by Hungary. From the documents that Sanitas filed it became clear that they were a subcontractor for BSI Public Affairs, a company incorporated in Delaware and co-chaired by Tzvika Brot and Ariel Sender.
Brot used to be responsible for Donald Trump's campaign for the votes of Israeli Americans living in Israel. Ariel Sender is a lobbyist.
Brot is reported to have a close relationship with Israeli prime minister Benjamin Netanjahu. Since our first story, Brot decided to run for mayor in his hometown, supported by Netanjahu's Likud party.
Following the initial story, Atlatszo filed a freedom of information request with the Hungarian Ministry of Foreign Affairs (MFA), asking the department to send us all the contracts and documentation connected to the work BSI Public Affairs is doing for the Hungarian MFA.
In response, the MFA sent us three documents: BSI's contracts with the Embassy of Hungary in D.C., and the consulates in Chicago and Los Angeles. The contracts are identical, except for the name of the client and the amount paid. The embassy pays $20,000 a month while the Chicago consulate pays $10,000 and the Los Angeles consulate pays $15,000. 
The above amounts are paid for 'consulting services': BSI sends a person to a consultation with the client every month, writes a project summary every three months and, upon request, is available for teleconferences for maximum one hour every week.
Besides this work, BSI Public Affairs also provides project services to Hungarian diplomats: it organizes conferences, delegations and arranges meetings with public officials, academics, and media. The price of these services, according to the contracts, will be decided on a case by case basis and the MFA of Hungary did not give us any information on what projects have been carried out and how much those cost.
BSI also provides "Media, Government Relations and Public Relations Services" to Hungary, and according to the contracts the price list for these services can be found in a document attached to the contract. However, the Hungarian MFA did not send this to Atlatszo and did not reply to our request when we asked them specifically for these documents.
This means that we do not know how much Hungary is paying for the second and third type of the services that BSI provides.
The contracts that the MFA provided to Atlatszo were signed July 1, 2017 and are valid for six months and state that they can be extended. Atlatszo asked the MFA if the contracts were extended, but they did not reply to our request.
However, a few facts suggest that BSI Public Affairs did not stop working for the Hungarian government last year. BSI hired a subcontractor, lobbying firm Sanitas International to help its work in Washington. The agreement between Sanitas and BSI was signed in October, 2017 and Sanitas only registered in the FARA database in March 2018. According to the FARA database, Sanitas is still working on behalf of the Hungarian government.
And when The Daily Beast reached out both to BSI and Sanitas and asked them about their work for the government of Hungary, neither of the companies mentioned stopping the work – they both talked about the work in the present tense.
When asked by The Daily Beast why BSI has not registered in FARA, BSI counsel Marc Zell said that the reason was that the company has not started lobbying yet and that 'it was providing only strategic advice to Hungary internally and has not (yet) represented as an agent or otherwise acted on behalf of Hungary or any of its officials, agencies or instrumentalities before the U.S. Executive Branch, Congress, any other agency of the U.S. Government, nor has BSI acted to disseminate information on Hungary's behalf to the American public.'
Sanitas has not done so, either, according to their latest FARA filing. A document uploaded to the FARA.gov website says that Sanitas partner Christoper Harvin 'provided strategic counsel' to the Hungarian ambassador, the deputy chief of mission and the director of communications at the embassy.
The documents also state that Sanitas did not reach out to U.S. media, government officials or Congress. Sanitas was paid $15,000 for its work.
Hungary might be hoping to get closer to Trump by hiring his campaign advisors
Hungary has been struggling to improve its relationship with Washington for years. Hungarian PM Viktor Orban proudly declared that he believes in illiberal democracy and he has been criticized for, among other things, muzzling independent media, distorting the election system, harassing civil society and his government has been accused of widespread corruption.
Orban had high hopes when President Trump was elected. He was hoping for the criticism coming from Washington to stop quickly and he was expecting an invitation to the White House.
However, the criticism has not stopped. Washington voiced its concerns about the Orban government's attacks on Central European University many times. David Kostelancik, chargé d'affaires at the U.S. embassy in Budapest, gave a speech last fall stressing the importance of press freedom. Soon after that, the U.S. State Department announced plans to financially support regional media in Hungary.
According to government-funded Hungarian media, the relationship might be improving: Minister of Foreign Affairs and Trade Péter Szijjártó met Assistant Secretary of State for European and Eurasian Affairs Wes Mitchell in January 2018.
According to Szijjártó, the meeting went very well – so much so that soon after the meeting government mouthpiece Magyar Idők quoted an expert saying that Mitchell will be the key figure in U.S.-Hungarian relations in the future, even more important than future ambassador David Cornstein.
Written by Anita Komuves
You can read the original story in Hungarian here.
Related coverage
Government of Hungary refusing to tell how it spent $7 million in the U.S. 
Hungarian PM met anti-Soros DC lobbyists 
David Cornstein, to be named U.S. ambassador to Hungary, donated to Hungarian PM Orban's D.C. lobbyist
[sharedcontent slug="hirdetes-english"]