Turkish billionaire Adnan Polat visited PM Viktor Orbán in Felcsút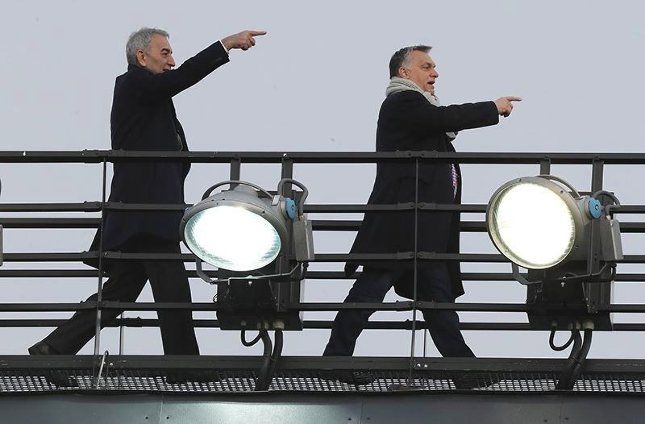 Turkish businessman Adnan Polat was already known to be a good friend to Hungarian Prime Minister Viktor Orban, but the two made the relationship very public recently by appearing together at the premier's favorite venue, the football stadium next door to his home. Atlatszo.hu explored how Polat came to be held in such high regard by Hungary's top politician.
The fact that Prime Minster Viktor Orban is friendly with Turkish wealthy businessman Adnan Polat is no secret and the same applies to the growing number of businesses ties established with the premier's family. Atlatszo.hu profiled Polat after he made a very public appearance alongside Orban at a football game.
Polat is 64 years old, born in Turkey's Erzurum. In interviews he talked about his youth, how he was only 4 or 5 years old when he went to Istanbul, where he worked in construction until finishing high school. He finished college in the USA in 1976, after which he joined the family business and gradually took control.
Besides rising in the ranks at Polat Holding, he also tried his hand in politics and ran for the post of mayor in Istanbul in 1999, but didn't win. It was at this stage in his career when football coach, former national team manager Kalman Meszoly who is very familiar with Turkish football introduced Polat and Orban on occasion of Turkey hosting the Champions League final.
The two made a good impression on each other, Polat soon after started popping up in Hungary, sponsoring football teams and expanding the operation of already existing Hungarian business interests. In 2013, Polat was in the entourage of the visiting Turkish president Recep Tayyip Erdoğan, where he negotiated investment options. The talks were so successful, that ever since, one of Polat's businesses manages the Hungarian trade house in Istanbul and he is the head of the mixed committee for bilateral trade.
It was around the same time that Polat started investing heavily in Hungarian real estate, along with other interesting foreigners who have strangely strong ties to Orban and his family. Ever since, then there have been several confirmations of meetings when Polat and his family members talked to Orban's family.
Your support matters

Atlatszo.hu is financed by nonpartisan and non-governmental sources; we do not accept money from state institutions, political parties and affiliates. We rely on support from readers. Donate here.