Government circles use state-owned Eximbank as payout spot for friends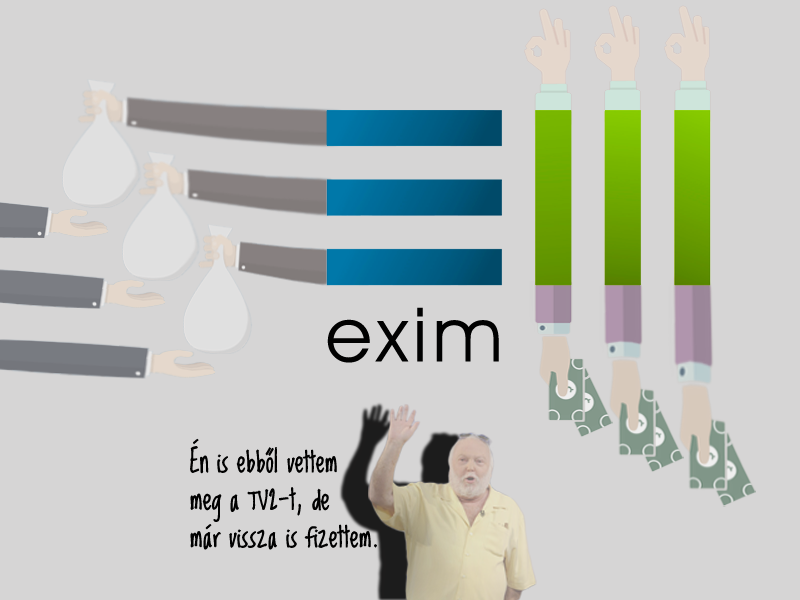 Hungary's export-import, or Eximbank is meant to support Hungarian companies looking to get involved in foreign trade, but as subtle changes in the legal environment have achieved, it has become a money-bag for those well connected. As Atlatszo.hu's investigation revealed, the list of beneficiaries is also a very good reflection of the reshuffle that happened in the country's oligarchy in the past years.
Magyar Export-Import Bank Zrt, or Eximbank for short is a state institution that exists to give cheap loans and also to secure financing to risky companies that are looking to get involved in foreign trade but are too small for commercial banks, a model common for many countries. As Atlatszo.hu found from several discussions with sector insiders, in Hungary, a 2014 legal amendment changed the firm into a payout spot for the governing prominents' friends.
The revision in the parameters for Exim's operation basically widened the scope of companies that may be eligible for discount funding. Under the auspices of supporting Hungarian SMEs, the government has since then implemented numerous capital raises at Exim, which now disposes over several times the resources it had in 2014, to the amount close to 0.5% of the country's annual GDP.
Over the course of the past years, Exim saw rather significant changes in management that also show a clear political drive. In 2014, Andras Puskas a close ally of current propaganda minister and prominent governing party figure Antal Rogan was added to Exim's board of directors. It was also at this time, when the head of the institution, Roland Natran was targeted. Although Natran's expertise is widely recognized and his Exim tenure is appreciated widely by the profession, he had to leave amid an investigation into criminal charges. Suspicions stated that he wanted to relocate Exim's headquarters to a prestigious office building owned by oligarch Kristof Nobilis at an inflated price. Eventually Natran was released from further scrutiny, but his privileges were also scrapped and he was removed from his post.
In retrospect, it is likely that he too was lumped in with those loyalists who for one reason or another have lost favor. Nobilis most notably had close relations with Zoltan Speder, another oligarch who has recently been culled from the inner circle in very direct and public fashion.
Under the control of Natran's successor Zoltan Urban, Exim's lending policies also changed and in a very clear pattern. While Natran maintained a criteria-system of professionalism, the list of selected firms now hardly features any that are not in direct friendly relationship with the government circles. The full range of clients is protected as business secrets, but through indirect means, by finding the mortgage claims as collateral formulated by Exim we can identify the parties that received money.
We found one familiar oligarch after another, hotel projects, commercial real estate ventures linked to the likes of Laszlo Garancsi and Lorinc Meszaros. There were also loans to loyal foundry operators as well as a vendor of discount airline Wizz Air.
Not to mention the curios deal for media czar Andrew Vajna to help him buy a commercial television station.
Exim now being aligned with the interests of Rogan could also very clearly be identified from how his friends also got lucrative supplying deals from Exim.
There was little in the way of market repercussions. Exim could easily finance itself from bond issuance, regardless of its curious policies investors are more interested in the fact that there is a state guarantee behind any purchase they make.
The apparent fall from grace in the case of Nobilis is a fate shared by another loyalist, Gabor Szeles. The industrialist, a devout supporter of the government, established a conservative media empire, including a television station and a daily newspaper. This is, however, falling apart, the broadcaster has been sold and many prominent journalists have switched to Magyar Idok, a paper newly created as a direct communication channel for the government's messages. As we learned, the main reason to concentrate media efforts is that the Szeles media still had many viewers leaning towards the radical-right Jobbik, which Fidesz now sees as its main challenger at the 2018 general elections and wants to have closer control over swaying the message.
Original articles in Hungarian here and here
Your support matters

Atlatszo.hu is financed by nonpartisan and non-governmental sources; we do not accept money from state institutions, political parties and affiliates. We rely on support from readers. Donate here.