Assets of fraudulent investment firm targeted by oligarchy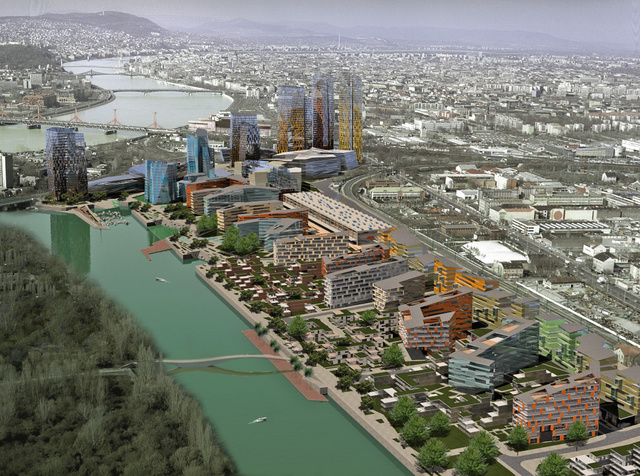 The ongoing court procedure into the Quaestor investment firm's dealings has revealed that out of unknown considerations, the prosecutors didn't formally confiscate a valuable real estate project that could potentially be used to compensate cheated clients. The actual value is highly contested, nonetheless, prominent members of the oligarchy have apparently set their sites on the valuable properties that are available for rock bottom prices.
The ongoing trial of Csaba Tarsoly and his fraudulent Quaestor investment company as seen the defendant formally request the prosecutors to impound the Duna City real estate project in Budapest currently under planning. As they argue, the project, which is set to be a key location if Budapest's bid to host the 2024 Olympic games wins, is worth the forint equivalent of tens of millions of euros, money that could be used to compensate the customers who lost their investments.
Tarsoly as well as other defendants have argued that the properties are currently at the risk of being auctioned off well under their market value without any oversight. Tarsoly recently implied that after the collapse of his Quaestor empire several of his business competitors, including government-friendly oligarch Lorinc Meszaros have started seeking out the means to cherry-pick valuable Quaestor assets at bargain prices.
They argue that Duna City is listed at a mere fraction of its actual value, while other assets that used to belong to Quaestor have already been liquidated, the defendants say with a major and unwarranted discount.
The prosecutors, however, say there is no reason to protect the property, nor is there any reason to assume that those overseeing the liquidation would be conspiring to sell off the assets in a way that would cause damages to the Quaestor clients or give anybody unfair advantages. The authority also stated that the value cited by Tarsoly and his associates for Duna City is greatly inflated, especially since it is burdened by a major bank loan, as such, even a sale above the listing price would only entail additional payment obligations towards the bank.
Although its value is unresolved, Duna City was a known project to those in the government as well. State secretary Levente Magyar tried to mediate with Arab businessmen, looking for a buyer for the project. The venture also raised the interest of Ghaith Pharaon, the controversial businessman who seems to be very close to the prime minister, although there is an international warrant for his arrest.
Your support matters

Atlatszo.hu is financed by nonpartisan and non-governmental sources; we do not accept money from state institutions, political parties and affiliates. We rely on support from readers. Donate here.