Pro-government media outlets benefit from government communication campaigns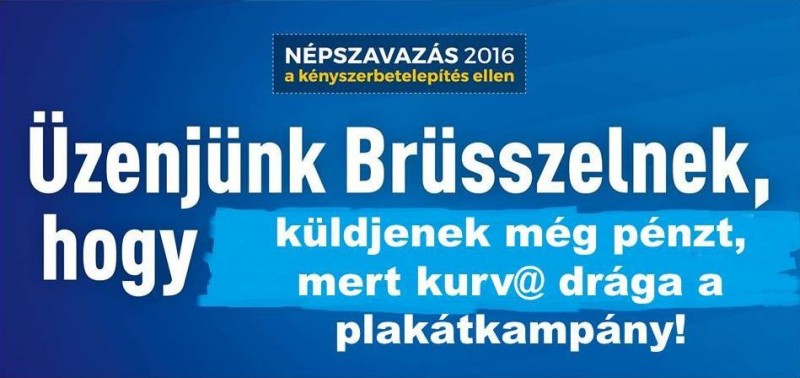 Following up on our earlier report, Atlatszo.hu dug through another batch of reluctantly released public records to explore the details of the government's propaganda spending in relation to its anti-migration efforts. One of the main beneficiaries of this spending happens to be the neighbor of the government's propaganda minister.
After publishing the amounts that the government spent on the first round of its campaigns against introducing migrant quotas, we submitted yet another request for public information to investigate further how much taxpayers paid for political propaganda. In a second reading held in October, we found additional documentation, so here we will focus on these new materials.
Related Article

Atlatszo.hu tackles institutional defense of government propaganda
As we found, there are records of HUF 404 million (€1.3 million) spent on the propaganda effort. This covered 1,716 city light posters, 4,782 billboards, 2,201 television ads, not to mention a tumult of ads in print and online media, television and radio.
It is little surprise that the main beneficiaries of the spending are the loyalist media circles. This includes public media, as well as right-leaning publications like Magyar Hirlap, Magyar Idok, Lokal, the Karc FM radio station or commercial broadcaster TV2, which is controlled by government movie commissioner Andrew Vajna. And a good chunk also went to the Mediaworks group, which has since then been transformed into a government-friendly cluster.
One big beneficiary stands out. Kod Media Kft was very successful in procuring advertising space. The company is closely associated with the interests of Csaba Csetenyi who happens to be the neighbor to propaganda minister Antal Rogan, both live in an exclusive luxury residential park in Budapest.
Your support matters

Atlatszo.hu is financed by nonpartisan and non-governmental sources; we do not accept money from state institutions, political parties and affiliates. We rely on support from readers. Donate here.