Origins of the plight of Hungary's left wing media – Nepszabadsag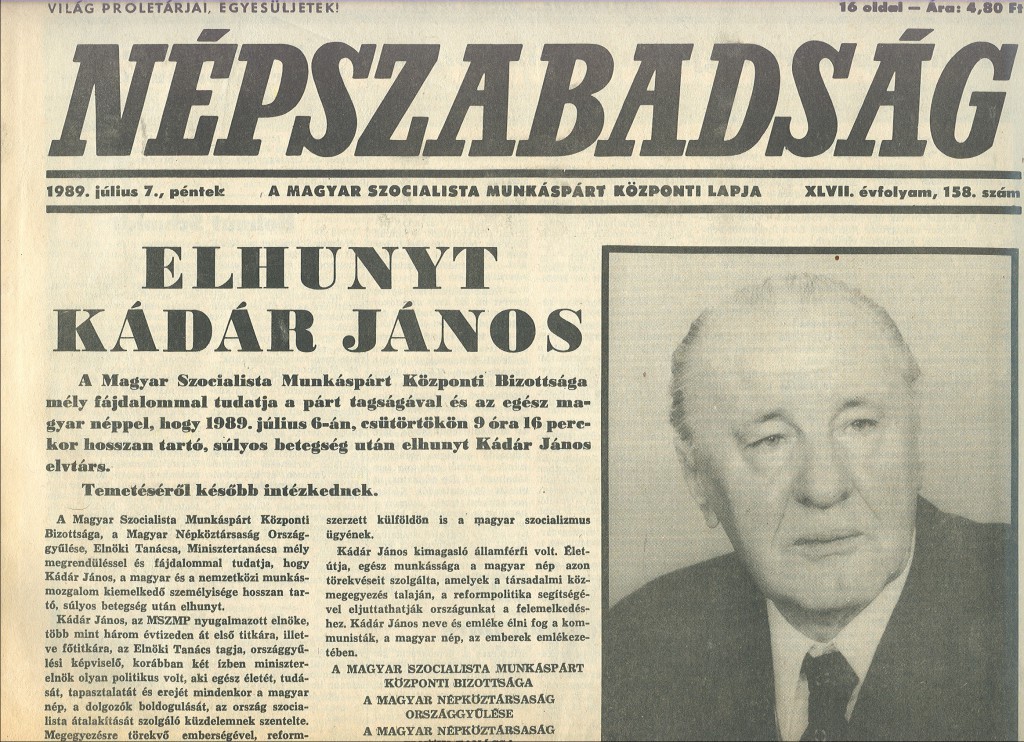 Although still boasting the biggest print run, Hungarian political daily Nepszabadsag has seen its market position drastically changed in the past few years. From being the leading paper in the country, currently its prospects are not so promising. Like most of its competitors, it too is subject to political tussles, and as Atlatszo.hu found after extensively interviewing people closely associated with the paper, there is little hope that market investors will be able to restore the outlet's privileged position.
Left-wing daily Nepszabadsag has interesting origins. It was established under the socialist regime and functioned as the mouthpiece for the single-party system, essentially as a propaganda tool. After the switch to democratic rule in 1989, the paper not only survived under the same name, but to this day remains an important voice.
Naturally, and typical of the experience of print media in general, it has seen many changes over recent years. While it sold 468,000 copies in 1989, today it has a print run of merely 40,000. Remotely true to its political roots, it remains a left-liberal paper that prides itself on its factual reporting and its unrelenting opposition to the dominant right wing rule that has been in control after a sweeping election win in 2010 and a commanding reelection in 2014.
Based on political affiliation, MSZP, the socialist party which lost power in 2010, remained an owner of Nepszabadsag until May, 2015. It was at this point that the party sold its stake. Being in opposition, MSZP's financial means radically reduced, it saw its central subsidies slashed and it lost support from business circles to the extent that it had to move out of its old party headquarters.
By the time this happened, actual control of the paper was overseen by Vienna Capital Partners (VCP), a corporate finance advisor and private equity investor headquartered in Vienna, which purchased its ownership from Ringier AG, the well-known international publishing firm. The sale was necessary since Ringier merged with peer Axel Springer and the combined assets of the two would have given them a degree of control over the media market that violated market regulations, so certain portfolios were sold off. The 2014 merger was the biggest deal on the Hungarian market to date, the two companies together had annual revenues of HUF 40 billion (EUR 130 million) and portfolios with a combined print run of 300,000 copies. Ringier-AS held on to the "lighter" publications, sports, women's and lifestyle magazines, and passed the "heavier" political portfolio to VCP.
It is at this point that the story took an interesting twist. Looking back, the various reshuffles within MSZP and the effect this had on the party's relationship with the media and what it wanted to do with its assets was relatively straightforward. Other dealings, however, were less clearcut. Heinrich Pecina the owner of the eventual buyer, VCP, can easily be linked to a completely different part of the political playing field. Pecina is a long-time participant in the Hungarian media market, having had dealings with companies behind several well-known media outlets. His arrival at Nepszabadsag was widely perceived as a first step in shifting the paper towards Hungarian media magnate Lajos Simicska, once the key ally of Prime Minister Viktor Orban. While these rumors were formally denied, inside sources talking to Atlatszo confirmed this was the plan at the time, although at the end of day nothing came of it.
The Nepszabadsag story has more to do with how things went within MSZP, not to mention how the media market was changing in Hungary. As was happening in most countries, print sales plummeted, even as "old guard" journalists firmly rejected any idea of taking their publication in a tabloid-oriented direction to boost sales. In spite of this, the new owners appointed the former editor-in chief of Hungary's market leading tabloid, Blikk, Marcell Muranyi, to head up the paper. He was eventually replaced by his brother, when it was revealed he had caused a fatal car accident and had tried to keep the matter under wraps.
Apart from the overall state of the media in Hungary, there are several questionable professional decisions that also cannot be ignored. The last time Nepszabadsag turned a profit was in 2007. Nonetheless, it seems that the paper maintained an agreement with its printing partner which offered worse terms than other options on the market. It also tried its hand at its own distribution firm to compete with the state-owned postal agency, but this effort failed.