Hungarian movie commissioner presides over not-so successful offshore empire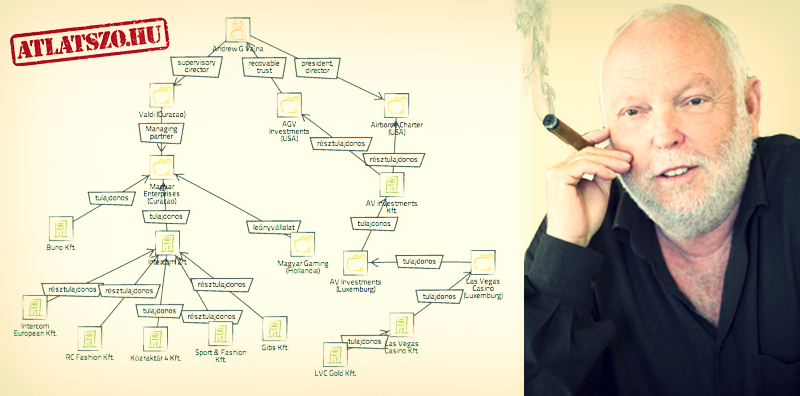 Andrew G. Vajna, internationally renowned movie producer, most recently the government commissioner in charge of state financing to Hungarian filmmaking, portrays himself as a highly successful entrepreneur. A look into the financial results of his companies shows a different picture: losses are abundant and, consequently, little is paid in the way of business taxes.
Andrew Vajna can be directly connected to 18 companies, 7 of which are offshore, and to another 11 business interests in Hungary, as revealed by Atlatszo.hu's previous examination of corporate records.
Out of all the firms, apparently only those companies awarded casino licenses under that the Hungarian government monopoly, created a few years ago, are actually doing well. Las Vegas Casino Kft yielded HUF 3.1 billion (10 million euros) in dividends to its owners between 2010 and 2014, while another casino business, Bár-Co generated HUF 418 million (1.3 million euros) in profits over the same period. Altogether, the offshore owners received around HUF 3.5 billion (11.3 million euros) in dividends form the two firms.
In contrast, other assets continue to produce losses, despite operating with revenues in the billions of forints. The movie distribution firm Intercom concluded its 2013 business year with losses of HUF 451 million (1.5 million euros); Buno, which operates the high-end Nobu restaurant racked up losses of HUF 52 million (167, 700 euros) last year, despite tripling its revenues between 2010 and 2013; and Vajna's fashion and luxury retail ventures are following a similar path.
Consequently, these 'unsuccessful' businesses are only required to pay minuscule sums in terms of business taxes.