About Us
Last updated: May 16, 2015
Atlatszo.hu is a watchdog NGO and online newspaper for investigative journalism to promote transparency, accountability, and freedom of information in Hungary. Established in 2011, atlatszo.hu – "atlatszo" means transparent in Hungarian – produces investigative reports, accepts information from whistleblowers, files freedom of information requests, and commences freedom of information lawsuits in cases where its requests are refused. Atlatszo.hu operates a Tor-based anonymous whistleblowing platform (Magyarleaks), a freedom of information request generator for the general public (Kimittud), and a crowdsourced platform to report everyday corruption anonymously (Fizettem). Atlatszo.hu provides a blogging platform to other NGOs and independent media. Atlatszo.hu staff are journalists, lawyers and IT-specialists.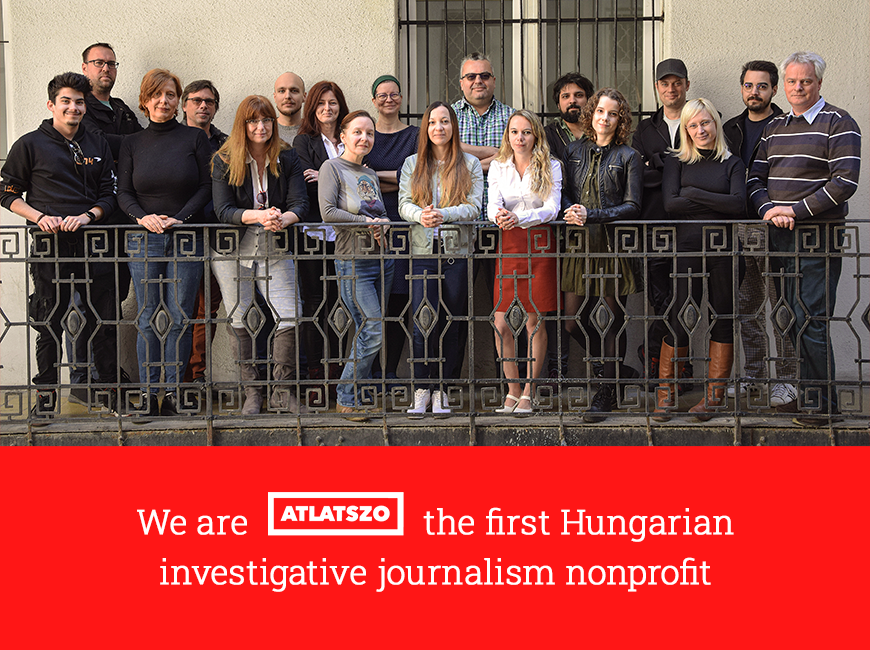 Download a more detailed description of the project (pdf, english – last updated May 2015)
The site started in 2011 unfunded as a blog, but after a few months we upgraded the design to a unique newspaper layout, and in 2014 to responsive, mobile-friendly design. All of the important Hungarian mainstream newspapers, news websites, radio stations and television channels have reported our stories and other activities, and we have received significant foreign coverage as well. Our websites have a regular readership of approximately 500,000 unique visitors monthly. Our Facebook page has more than 60,000 fans.
Our legal strategy is based on the perception that public data is often withheld by state institutions in Hungary, therefore freedom of information requests are not sufficient alone, court procedures must be initiated to obtain documents of sensitive nature. Therefore in 4 years we filed more than 120 court applications of this nature. Other NGOs use freedom of information lawsuits mostly for strategic litigation purposes in principled cases, our aim is to impact discrete cases, to force authorities to react, to have maximum impact. We have won more than 60 percent of FOI lawsuits initiated.
Atlatszo.hu is evolving into a popular online only news outlet with growing readership and a significant impact on the Hungarian public sphere. The site covers corruption cases, political party financing, election fraud, financial abuses in public procurement, infrastructure projects and EU funding, environmental abuse, human rights violations etc. It profiles individuals in public life, politicians and businessmen.
English abstracts of the most important stories are regularly published on our website.
Atlatszo.hu was launched unfunded in 2011 and in the beginning the founders worked on a voluntary basis. Since 2012 we are able to pay a handful of employees and subcontracted freelancers of the project. The NGO is financed by nonpartisan and non-governmental sources; we do not accept money from Hungarian state institutions, political parties and affiliates. Individual donors – more than 3000 private citizens – have contributed significantly. Crowdfunding is very important to us, we regularly campaign our readership to donate, microdonations accounted more than 50% in the 2014 budget.
Institutional donors include various programs of the Open Society Foundations, and a grant from Fritt Ord. We are collecting income tax 1 percents and run a training project funded by the Norway NGO Fund through a partnership with Asimov Foundation. Atlatszo.hu is cooperating with other NGOs and independent media in Hungary and internationally. Atlatszo.hu is member of the Global Investigative Journalism Network of similar investigative nonprofit news outlets all around the world.
Awards we have won: Breaking Borders Award – 2012, Global Voices and Google; European Citizen Prize – 2014, European Parliament; Freedom of Expression Award – 2015, Index on Censorship (UK);  Theodor Heuss Medaille – 2015, Theodor-Heuss-Stiftung (DE)
Your support matters: Paypal 5000 HUF/month recurring donation or Paypal single donation
Bank info:
Beneficiary: atlatszo.hu Közhasznú Nonprofit Kft.
Bank name: Raiffeisen Bank Bank address: H-1054 Budapest, Akadémia utca 6., Hungary
Account number (HUF):12011265-01424900-00100007 IBAN (HUF): HU 8012 0112 6501 4249 0000 1000 07
Account number (USD):12011265-01424900-00200004 IBAN (USD): HU 8012 0112 6501 4249 0000 2000 04
SWIFT: UBRTHUHB
Contact us Atlatszo.hu can be reached at atlatszo.hu on the web, www.facebook.com/AtlatszohuEnglish and www.facebook.com/atlatszo.hu on Facebook. Our email address is [email protected], and our postal address is Atlatszo.hu Közhasznú Kft., H-1531 Budapest, POB. 54. Hungary, Europe.