Invasion of Ukraine: Russian propaganda claims appear in Hungarian state media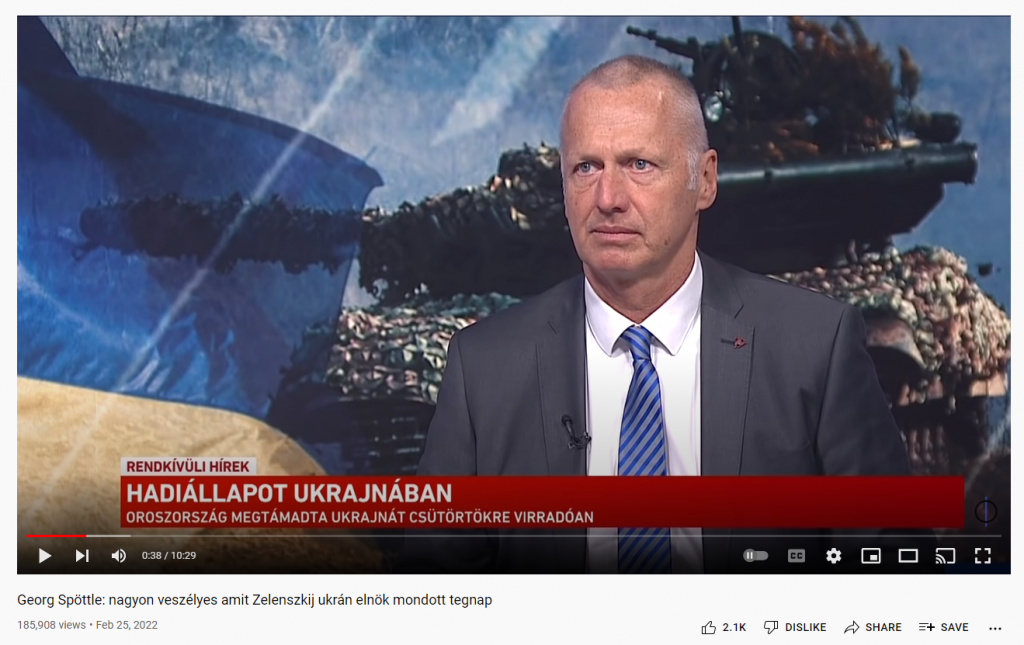 Hungary is a kind of reluctant ally of the West, although we officially support sanctions, we also want to remain on good terms with Russia; the war against Ukraine is the fault of both sides, but mainly of the West, and least of all of Putin's personal responsibility; The best thing would be for the Ukrainians to give up resistance as soon as possible and for Russia to be punished as little as possible – this is broadly the position that emerges from the way the Orbán government has communicated the war in Ukraine to the domestic public through state-owned public broadcasting channels.
In our previous story, we showed that some media outlets directly or indirectly linked to the Hungarian government were openly engaged in pro-Russian, pro-war propaganda about the Russian-Ukrainian conflict. In the following, we will look at the public media and official statements, where statements reminiscent of Kremlin propaganda have also appeared, sometimes causing communication confusion on state channels.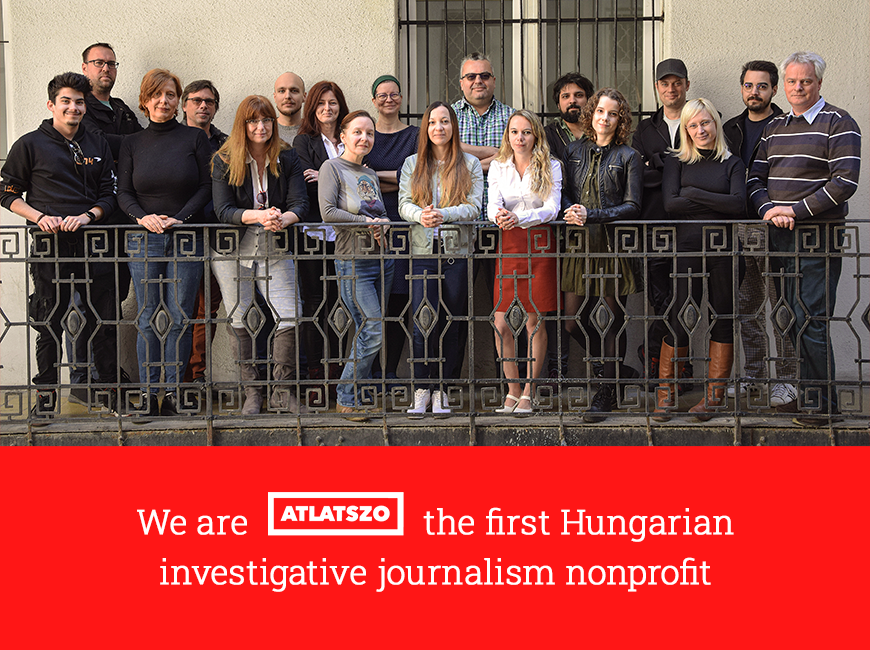 While the Hungarian government officially supports Ukraine in line with the common EU and NATO position, a large part of the governing Fidesz party's media machine has openly spread pro-Moscow propaganda, following the Russian occupation of Donetsk and Luhansk and the attack against Ukraine proper. Several media channels associated with Viktor Orbán's government publicized fake news portraying Ukraine as the aggressor, and there have even been calls for Hungary to take part in a partition of Ukraine.
Appeal to the media authority
While the Hungarian government says it supports all sanctions against Russia and condemns Putin's aggression, the public media at the beginning of the war seemed to be subtly trying to antagonise public opinion against Ukraine and relativise Moscow's responsibility. And Hungary was presented to the domestic public as a neutral party, as an outsider in NATO and the EU. In many cases, the messages simply serve to discredit the Hungarian opposition, who are portrayed as putting Hungary at risk by getting too involved in the conflict. But the public media did not stop there,
Several of the 'talking heads' on MTVA criticised the sanctions against Russia in general.
In some broadcasts, Hungarian grievances against Ukraine were explicitly emphasised, and in the analyses, Ukrainian President Zelensky was singled out for criticism, while Russian President Vladimir Putin was barely mentioned.
In a public Facebook post on Saturday, Gábor Polyák, associate professor, head of the opposition's press policy cabinet and founder of the Mérték Media Analysis Workshop, wrote to András Koltay, chairman of the National Media and Infocommunications Authority and the Media Council of the NMHH, that Hungarian state television is spreading Russian war propaganda.
"The state television is spreading Russian war propaganda with Spöttele (sic), Nógrádi and similar dangerous liars."
– wrote András Polyák, calling on Koltay to recall Dániel Papp, chairman of the Media Services Support and Asset Management Fund (MTVA).
"Ukraine has crossed the red line"
These security policy experts (who have been regular commentators on public media programmes for years, and are also frequent speakers at CÖF and Fidesz events) have given several interviews on the situation in Ukraine in recent days. Their analyses reveal a narrative, some elements of which are echoed in the statements of Hungarian politicians.
Georg Spöttle, an analyst at the pro-government Nézőpont Institute, a former policeman who became known as a UFO researcher in the 1990s, blamed Ukraine for the outbreak of the war in a TV interview on 24 February. He claimed that Ukraine had crossed the red line, "blowing Putin's fuse" by announcing that it was preparing to develop nuclear weapons. This false accusation was also made verbatim in Putin's speech two days earlier announcing recognition of the breakaway republics.
Kiev has not in fact announced the launch of a nuclear programme:
in reality, Ukrainian President Volodymyr Zelensky was talking about convening a meeting of the signatories to the Budapest Memorandum, the document on the basis of which, in 1994, the newly independent Ukraine disarmed its nuclear weapons in exchange for security guarantees from Russia and the other signatories. Since 2014, Ukraine has called three times for the same memorandum to be enforced and for its signatories to meet. Zelensky said that if the talks failed again, Ukraine's position was that the treaty would be considered inoperative, but he did not claim that this would lead to attempts (or even the ability) to produce nuclear weapons.
Russian soldiers: calm, Zelensky: Hitler
Spöttle also said that the Russian soldiers were "very calm", as the Ukrainians were not showing any serious resistance. He also criticised Zelensky for arming civilian volunteers, saying that "the last time Hitler committed such madness was in the last days of the war." Spöttle speculated that the Ukrainian resistance would collapse like the Afghan army did when it attacked the Taliban – for this reason he criticised Western arms supplies to Ukraine, saying that this would only put weapons in Russian hands. Finally, he said that sanctions against Russia could threaten Europe's energy supply, but that Hungary is not threatened "thanks to the pragmatic, excellent policy of our government."
Putin not even named
Security expert György Nógrádi also said on 24 November that "the Russians are so superior that Ukrainian resistance is pointless". Like Spöttli, he compared the Ukrainian armed forces to the Afghan army, which he said had "fallen apart". He said the US should "reconsider whether the export of democracy it has been promoting is appropriate". Finally, he also said that "sanctions can be done", but there will be a corresponding Russian response, which will hurt Europe. He called the sanctions a US decision and a blunder.
Two days later, in an interview on 24 February, Nógrádi already admitted that
"there is Ukrainian resistance", but stressed that the Russian superiority is "astonishing".
He also said that Zelensky was "saying different things every half hour" and that he was contradicting himself by saying first that he was defending the country and then that he was ready to negotiate a ceasefire. Nógrádi continued to criticize sanctions against Russia, pointing out that there is no realistic alternative to Russian gas imports in Europe. Interestingly, Nógrádi did not mention Putin's name once during the 10-minute interview.
Nógrádi was specific about Hungary's role, saying that "Budapest is neutral on this issue, we are members of the EU and NATO, but we want to build good relations with both sides". He said that this is why Budapest would be a good venue for peace talks.
I reject the attack, but…
In addition to invited guests, off-air public figures made statements relativizing Russian aggression. Balázs Németh, the MTVA presenter, wrote in a comment on his Facebook page on 24 November that the US was also to blame for the outbreak of the war. In another post, he said that although he condemned the Russian invasion, "Volodymyr Zelensky has acted correctly, responsibly and wisely in the last four days? Is it the right decision to take the fight to him? Is he free to arm civilians, encourage them to make Molotov cocktails, send them into the streets with twitter videos?" He also asked: "And what would happen if Zelensky resigned? Wouldn't that be a wiser decision?" (the ousting of the elected Ukrainian government is one of the Kremlin's main aims in attacking him). The same presenter also rejected comparisons between the situation in Ukraine and the 1956 Hungarian uprising (an analogy used by President János Áder).
Orbán signalled approval of EU weapons shipments
Meanwhile, almost all MTVA news programmes broadcast a campaign message attacking the opposition in Hungary, claiming that opposition politicians would send weapons to Ukraine, thereby allegedly endangering Hungary's security. This led to a grotesque show on 27 September, after Foreign Minister Péter Szijjártó said that Hungary had also voted to activate the European Peace Facility, i.e. to buy arms jointly for Ukraine.
The news of the joint arms purchase, supported by Hungary, was soon followed by a clip on the news program Híradó that day, which strongly condemned how irresponsible it would be to send arms to Ukraine.
At the same time, it cannot be said that the Hungarian public media are constructing a completely alternative reality about the situation in Ukraine to the same extent as, for example, the Kremlin media or some pro-government sites broadcasting concentrated Russian war propaganda on social media.  In contrast, several MTVA news broadcasts and other speakers present the events in a way analogous to international news.
Orban is not pro-sanctions
In the confusion of communication in the public media, however, a narrative about Hungary's role is beginning to emerge, which can also be seen in the statements of government members: that although Hungary is unlikely to join the common policy, it is wiggling out of it and trying to soften its strong stance against Russia, in favor of Ukraine. Many have stressed that it is wrong to support the "continuation of the war" – also known as the Ukrainians' resistance to Russian aggression.
For example, Fidesz communications director István Hollik wrote in a statement that sending arms to Ukraine "actually helps the continuation of the war".
When it became certain that Hungary supports the activation of the European Peace Facility, Szijjártó could not stress enough that Hungary "will not supply weapons on a national basis", it is only the EU as a whole that is sending them.
On 25 February, Lajos Kósa, a member of the Hungarian parliament's defence committee, warned against "attacking the Russians" while "expressing solidarity with the Ukrainians". In his answer, Kósa rejected the suggestion that the University of Debrecen (a city in the center of Kósa's electoral constituency) should abolish Putin's honorary doctorate, saying that "Putin's personal image is not important at the moment."
Viktor Orbán also said in an "extraordinary" interview on 27 February that he "does not believe in the beneficial effect of sanctions", but that unity was needed and that the EU's common position was supported. Orbán also made a reference there to the fact that Hungary should not supply weapons to Ukraine because "those weapons might be used to shoot at Hungarian people".
A quarter of Fidesz voters agree with Putin
Recently, Pulzus Research conducted a survey on how Hungarians view the war. The answers revealed that there are huge differences in the perception of the war among supporters of different parties. When asked why the war broke out,
25 percent of Fidesz-KDNP supporters said that Russia had launched a "justified war" to protect the Russian minority in Ukraine.
Fewer than half of governing party voters agreed that the attack on Ukraine was a show of great power aggression, with a strikingly large 26 percent saying they did not know why the war broke out – a pollster said many governing party voters "don't know what to think" after Viktor Orban also condemned the Russian attack.
Eighty-nine percent of opposition supporters see the conflict as a war of imperial aggression. Of the total population, 16 percent explicitly sympathize with Russia, while the majority, 52 percent, sympathize with Ukraine, according to the poll – the remainder did not respond or do not know where to stand.
A successful influence operation?
The Orbán government's double-dealing policy towards Moscow has only seemingly ended with the support of the EU's common positions, wrote investigative journalist András Dezső in a 28 February article.
"For the Kremlin, propaganda, and the division of the West, and especially of Europe is at least as important as physical attacks"
– he wrote. The article recalls that for many years the Hungarian state media constructed an anti-West and anti-EU narrative modeled after Kremlin propaganda.
Dezső also referred to a private meeting that took place at the Interior Ministry in 2014, where Viktor Orbán allegedly said that the world was undergoing major transformations, that Russia would occupy Ukraine, which "is a non-existent country", that China was rising, that the United States and the EU was weakening, "and therefore we must adapt to the new world order."
Orbán then made generous gestures towards Moscow, while Hungarian intelligence services were told to overlook Russian operations. "Some of the similarities in Hungarian government propaganda are certainly already the result of successful Russian intelligence interference," he wrote.
Written and translated by Zalán Zubor, the Hungarian version of this article is available here. Cover photo: Georg Spöttle M1 Híradó / Youtube.
Hungary. What do you know about Hungary? from atlatszo.hu on Vimeo.