Evacuees' future is uncertain as Hungary's role in Afghanistan ends after 16 years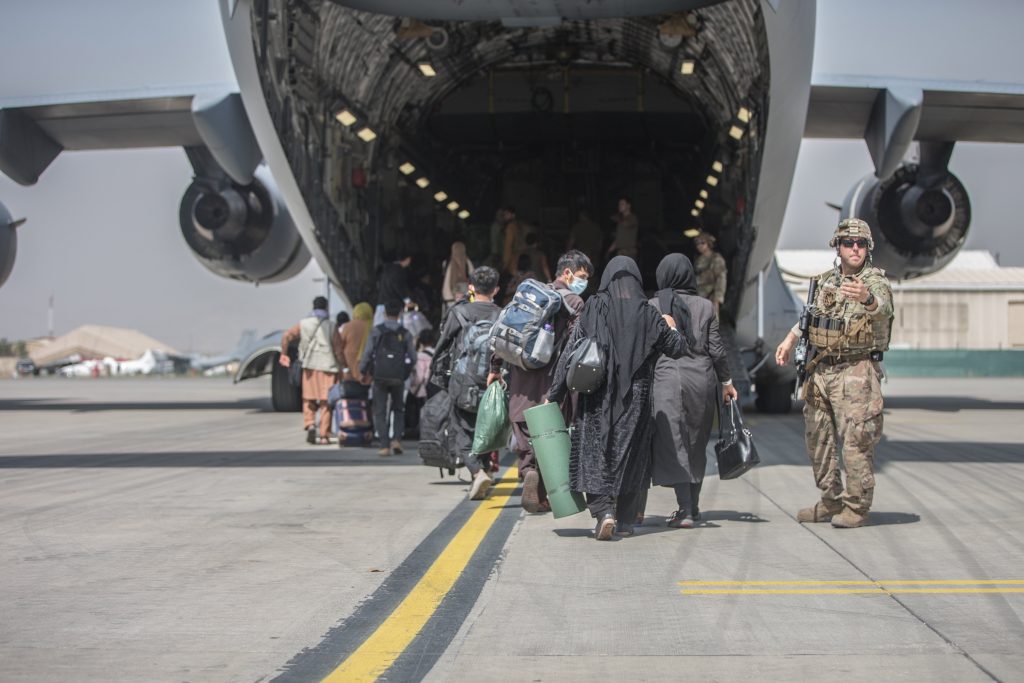 Around 20 to 30 Afghan families were evacuated by the Hungarian Armed Forces, some of whom Atlatszo interviewed in their temporary residence at Balassagyarmat, Hungary. Although they are safe at the moment, their legal status is unclear, and it is not yet known where can they stay once their temporary residency permit expires later this year. For over 16 years, Afghan nationals were helping the Hungarian ISAF mission, which cost the Hungarian state over 75 billion Forints.
Support independent investigative journalism in Hungary, become a patron of Atlatszo on Patreon!
During the evacuation of the Kabul international airport after Afghanistan fell to the Taliban, several locals and their families were permitted to leave for Hungary. They previously helped the Hungarian contingent that took part in the NATO peacekeeping missions, which put them at risk of being targeted by the Taliban as collaborators.
As of mid-September, most families are being housed in open reception stations for asylum seekers – facilities that have virtually shut down since the 2015 refugee crisis, after which Hungary stopped receiving asylum seekers, who were either forced back through the border or stranded in so-called Transit Zones.
By contrast, Afghan evacuees have freedom of movement, although they are not allowed to have visitors inside their temporary accommodation.
Thus Atlatszo interviewed them in the main square of Balassagyarmat, one of the towns where the evacuees are housed.
Not everyone got out
We conducted in-depth interviews with four people: a journalist, a former chief guard, and two soldiers who had previously studied in Hungary and still speak fluent Hungarian. Quasimi, the journalist was put on the list of Afghans to be evacuated due to his father-in-law, who used to work for the Hungarian Defence Forces, but as he told us, the Taliban have already put a hit out on him and his colleagues due to their journalistic work and were searching his apartment just as they entered the airport.
"I am very lucky to have been able to leave the country. Unfortunately, many of my companions have not had this opportunity: many have been arrested or are in hiding.
When my colleagues found out that I had left the country, they were very happy. They were very worried for me, as I had reported on the Taliban's abuses on several occasions", he told us. During the chaotic evacuation of the Kabul airport, Quasimi and his family were only able to get inside because they managed to find Hungarian soldiers guarding the perimeter that recognized them. Not everyone was so lucky: according to Quasimi's father-in-law, 10 out of the 25 Afghan soldiers who worked at the Hungarian base, Camp Pannonia, are still in Afghanistan. They contacted the Hungarian government, but there is little hope for their evacuation since the Kabul airport fell under Taliban control.
Two former soldiers who used to study in a Hungarian military college compared their experience of becoming refugees in Pakistan in the 1990s to their current situation. "In Pakistan, I felt that despite the anti-refugee political refugees, people were very nice to us, just like now in Hungary" – they said. They also recounted getting help from Hungarian soldiers outside the airport, who was happy to meet someone who was fluent in Hungarian.
Unclear status
The evacuees described their current conditions as extremely crowded: in the Balassagyarmat center, over 10 people share one room and all have to use unseparated showers. They also suffer from a "total lack of information" about their future:
"I tried several times to ask the helpers at our accommodation in Balassagyarmat what would happen to us, they said only their boss knew, I had to ask him, but he was not at the accommodation and I could not get contact details for him", Quasimi said.
All evacuees received a "temporary residence certificate valid until December", which according to the Hungarian Helsinki Committee is normally issued to those who are in the process of obtaining a residence or settlement permit. This points to the Afghans not being offered refugee status, but waiting for another type of staying permit. Upon arrival, they were made to sign a Hungarian document, however, nobody could tell what that paper was, since most of them either do not speak the language or were too exhausted to read through legal documents. Even more unusually, they did not receive a copy of the document they just signed.
Several evacuees also recalled that upon arrival to Hungary, they were asked by the staff if they are planning to move on to another European country. One of them added that they were advised not to stay in Hungary since "the economic situation is very bad here".
Afghanistan mission cost billions
Soldiers of the Hungarian Defense Forces (Magyar Honvédség) have been present in Afghanistan since 2004 as part of the NATO ISAF and Resolute Support operations. As of today, the Hungarian government did not disclose the complete expenses of the mission. Atlatszo estimates the full price to be over 75 billion Forints based on the amounts found in the central budget and financial reports published by the Ministry of Defense over the past 18 years.

Around 1 billion Forints were spent by the Hungarian Foreign Ministry to help the modernization of the Afghan national army (which, despite extensive foreign aid collapsed rapidly under Taliban attacks this summer). The Foreign Ministry also provided an additional 2 billion in support of the Hungarian army's Provincial Reconstruction (PRT) efforts.
The largest expense of Hungary in Afghanistan was the upkeep of the Hungarian military contingent in the country, which cost over 73 billion Forints throughout the years. One of the largest items in the mission's costs was the soldiers' wages, which in the case of officers was more than 824 thousand forints per month. The size of the Hungarian contingent was the largest in 2013, reaching 611 soldiers. After that, it diminished rapidly and stayed around 100 until the end of the occupation, as NATO's focus shifted to preparing the Afghan army for dealing with the Taliban alone.
Most Hungarians opposed the occupation
The costs also included periodic modernization of the Hungarian soldiers' equipment. Although officially the Afghanistan unit was given the most up-to-date equipment, many soldiers often complained about the quality of their weapons and vehicles, which became a topic even in the mainstream press.
During the 16-year long mission, a total of 7 Hungarian servicemen lost their lives in Afghanistan.
In 2008, a PRT artilleryman was killed defusing an improvised explosive device. On 12 July 2008, an artillery captain died in an explosion on the road to Kunduz. On 23 August 2010, a Hungarian sergeant major was killed in Baghlan province when the Taliban attacked their convoy.  Another soldier was also critically wounded in the attack and later died of his injuries. On 17 May 2011, two Hungarian soldiers died in a road accident, and a medical officer died of a heart attack.
While politicians tried to paint a positive picture of the Afghanistan mission, public opinion remained largely against foreign military interventions. A 2018 survey by the PAGEO Institute showed that more than 60 percent of the Hungarian population believe that Hungarian soldiers should not be deployed in any foreign missions.
Written by Boglárka Rédl and Zalán Zubor. English version by Zalán Zubor. The more detailed Hungarian articles are available here and here. Photo credit: MTI/EPA/Samuel Ruiz
Support independent investigative journalism in Hungary, become a patron of Atlatszo on Patreon!