A former neonazi became the homophobic, pro-Christian talking head of Fidesz-allied media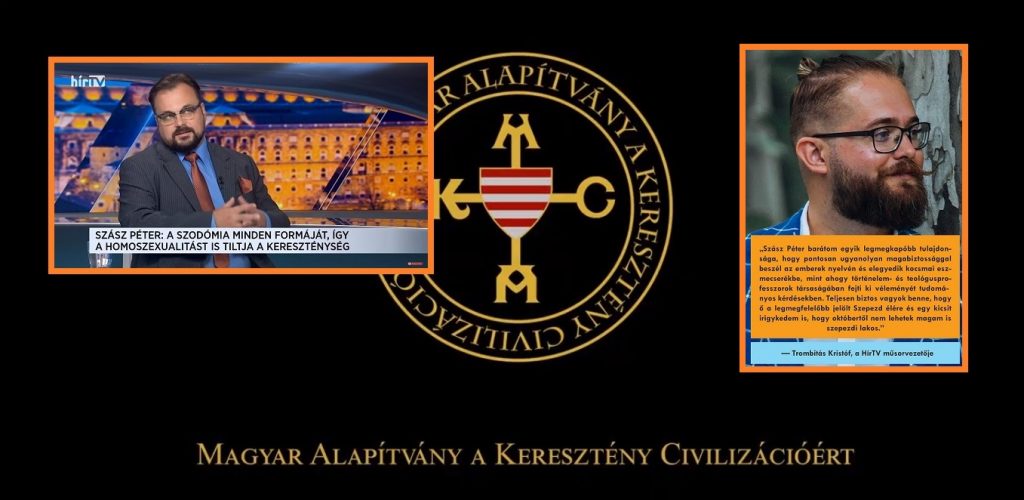 Men from the local branch of an international, ultra-Catholic network opposing abortion and sexual minorities rights are promoted by government-allied media in Hungary. An ex-neonazi former president of the Hungarian Foundation for Christian Civilization, Péter Szász promotes homophobic views on Facebook and government-funded television channels. With the support of Fidesz-allied media personalities, he also unsuccessfully ran for mayor in the village of Balatonszepezd.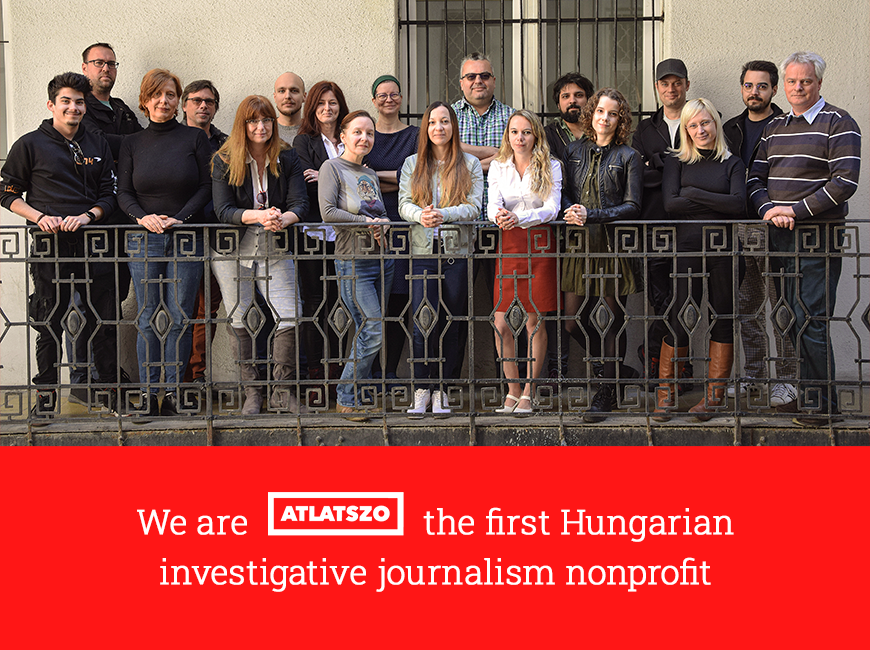 Átlátszó took part in the effort of an international team of journalists trying to uncover a network of ultra-Catholic organisations that try to influence politics in Central Eastern Europe. The network has its origins in the Tradition, Family and Property (TFP) movement hailing originally from Brazil, with a strong presence in France, and a regional center in Polish Krakow, where the Piotr Skarga association is headquartered. The network rakes in millions of euros from donations received in exchange for religious nick-nackery mailed to thousands and thousands of people in Poland and elsewhere.
Átlátszó has also looked at the Hungarian branch of the network, which never collected any serious amounts of money, but have supplied several personalities to media close to Viktor Orbán's government, as well as a candidate for mayor in Balatonszepezd.
Hungarian Foundation for Christian Civilization (MAKC), the local branch of TFP was established in 2015 by the Piotr Skarga association, which also provided an initial amount of 10,000 euros. Two men from the Krakow group, Sławomir Olejniczak and Arkadiusz Stelmach sit on the supervisory board, together with Carlos Schaffer from Austria (the same man who participated in the creation of the Lithuanian branch of TFP).
Documents filed at the Budapest court specify that any amount of money remaining after a possible liquidation should be wired to Federation Pro Europa Christiana, a TFP-linked entity registered at the Villa Notre-Dame de la Clairière in Creutzwald, France.
Contrary to all other members of the network, the Hungarian organization never managed to collect significant amounts of money from donations. According to the leader of the Hungarian foundation, they still reside in an "embryonic stage".
In the name of God and King
"TFP in Hungary, in the context of issues, is knocking on open doors" — explains Balázs D. Fekete, the main man of MAKC on the phone. D. Fekete, who teaches history at a Catholic school, elaborates on his beliefs. During the conversation he repeatedly mentions he represents Catholic values, stands against abortion and admits he's a supporter of democratic Hungary reverting to a monarchy. He is also a founding member of Pro Hungaria Sacra, a monarchist Christian association, while also working with Templárius foundation, a Hungarian affiliate of lay Order of the poor Knights of Christ.
In 2012, the Vienna-based TFP affiliate published a Hungarian translation of founder Plinio Corrêa de Oliveira's book Revolution and Counterrevolution.
Anxious to measure its effect, three TFP men — Schaffer, Grinsteins and Hungarian-born Ferenc Dózsa, who now resides in Brazil — travelled to Hungary, where they struck up acquaintances on the traditionalist fringe and advocated for a local branch to be founded.
Their local guide was Péter Szász, who was formerly a member of Pax Hungarica movement (PHM), an organisation devoted to the ideas of the WWII political leader Ferenc Szálasi, whose government collaborated with Nazi Germany in killing Hungarian Jews.
They found an eager ideological ally in D. Fekete and some members of the monarchist group Pro Hungaria Sacra. With Szász's assistance, the group taking shape was invited to TFP summer schools in Poland in 2013 and 2014. They also visited the Creutzwald headquarters twice, including spending New Year's Eve there in 2013, according to Szász.
Their ties to the movement deepened and eventually MAKC was registered. "The Polish gentlemen had an exact concept for the foundation" — explains D. Fekete the reason for a new entity. He's also critical of the name of the organisation, which he plans to change to Pannonia Christiana, as the original doesn't exactly roll of the tongue in Hungarian.
"It sounds much better in Portuguese" — he says.
He doesn't add that his proposed new name is obviously inspired by Slovakia's TFP branch Slovakia Christiana.
According D. Fekete, TFP's plans for Hungary were foiled so far by an unholy trinity of competition, human fallacy and the sad phenomenon of best laid plans often going awry. He believes there are simply too many direct competitors for public attention in Hungary, where the government of PM Viktor Orbán's Fidesz party embraced the far-right and Christian fundamentalism. This December, the Parliament voted to effectively ban adoption for singles, targeting LGBT people but also locking anyone else not living in a marriage out of the option to raise a child otherwise left to the care of the state.
Fidesz's new mainstream skews to the far right
The political climate is not unkind to D. Fekete's views. MAKC's financial report for 2017 lists a state grant of 2 million HUF for religious videos. In 2016, Templárius foundation organised a two-part conference on families. The event, partly also funded by a state program, was headlined by then-state secretary (now minister) for families Katalin Novák, while also featuring Catholic bishops Miklós Beer and László Bíró, as well as Julio Augusto Loredo de Izcue, the president of the Italian branch of TFP, who held a lecture on "the apocalypse of families in the European Union".
While marching in lockstep with the Hungarian political mainstream, MAKC also reaches out to the fringe. The foundation organized a lecture by José Antonio Ureta on "The crisis of Western civilization and the Catholic resolution". The lecture was related to the thesis of Alexandr Dugin, a Kremlin ideologue.
Another presentation, by Canadian priest Raymond de Souza, was organised by the Hungarian TFP in collaboration with the Székesfehérvár chapter of HVIM (Hatvannégy Vármegye Ifjúsági Mozgalom), an irredentist, ultra-nationalist group. In 2016, MAKC co-organized an anti-abortion rally in front of the Polish embassy in Budapest, where "security" was provided by the militant far-right organisation Betyársereg.
As Hungarian politics slide further to the right, TFP's ideas and men are swept up in the the new mainstream, where opportunities abound. Áron Czopf, a former member of the supervisory board of MAKC, is now a journalist at Mandiner, a weekly newspaper belonging to the giant KESMA media conglomerate allied with Fidesz. Norbert Filemon, a former regular board member, is a media personality working for the Axióma video channel, founded by Áron Giró-Szász, who is the PM's commissioner for relations with Christian movements.
The most colourful career belongs to Péter Szász, who was a member of the neonazi PHM between 2010 and 2012. He was part of the original group organizing TFP in Hungary — he says he's got the best relations with the Brazilians, as well as the only actual TFP medal depicting a roaring lion in Hungary.
Szász was running the foundation while D. Fekete, who had personal matters to attend to, was out of the picture between 2016 and 2018. Formerly a member of neonazi Pax Hungarica Movement, Szász's tenure as leader didn't come without controversies.
"We severed ties with him, there's absolutely no communication between us" — says D. Fekete.
According to documents filed at the court register and now in our possession, financial matters became a point of contention between Szász and the Poles providing the funding. 2016 was the best year of the Hungarian foundation: it registered an income of some 11,1 million HUF (an equivalent of 30 thousand euros) but still managed to lose some 1,2 million HUF.
The Poles wanted to step up the activities of the Hungarian branch and start direct mailing campaigns. According to the minutes of a "Hungarian TFP Meeting 14-15 March", MAKC was told to rent a "new apartment" instead of the old one – "3 rooms (meeting, work, bedroom)". The Hungarians were asked to be in weekly contact with "Polish TFP every Monday 11.00" , and attend bimonthly "regular formation meetings with TFP visitors together for Hungarian, Slovakian and Croatian group".
But the founders's representatives weren't happy with what they received and regularly kept asking Szász for detailed, interim financial reports.
As a result, Szász tried to wrangle control of MAKC from the Piotr Skarga Association. In a letter sent in January 2017, he asked the Budapest court to strip the Poles of their rights and hand them over to the Hungarians, as "the founder is acting in bad faith" by asking for such extensive documentation. Szász eventually lost the power struggle. "Péter stepped down and left the foundation, which was managed by the Polish gentlemen" — explained D. Fekete.
We've talked to Szász twice over the phone. At first, he disputed some of our information; for example he stated he never received requests for financial reports from the Poles. During our second talk, he remembered these. According to him, after a few months of receiving relatively higher sums from Krakow for wages, the Poles started to question the amount of expenses. They asked Szász to leave, who didn't comply and eventually left the foundation as his mandate expired in 2018.
Mysterious friends and a political campaign
Szász has since become a friendly talking head in Fidesz-allied media. In 2019, he posed in a profile by the Magyar Nemzet daily as the founder of Hungarian TFP, where he explained that secularization destroys the foundations of humanity's existence. He gave a long interview to news site 888 as the editor-in-chief of Depositum, a Facebook page producing and sharing fundamentalist memes run by "serious staff in the background". When asked about what this meant he said it constituted confidential information.
This year, one of Depositum's videos was deleted by Facebook. The recording was a monologue of Szász, in which he explained that "[anal sex] constitutes a crime on par with premeditated murder". The deletion of the recording was toted as censorship. After this, he was invited to explain Catholic teachings on "sodomy" in Fidesz-friendly Hír TV — even though Szász himself admits that the Hungarian Catholic Church does not support Depositum in any way.
During fall, Szász ran for mayor in the village of Balatonszepezd. His campaign received wide media attention, as he apparently managed to gather commendations of top right-wing media figures, for a supposedly independent campaign in a village with some 300 residents.
His supporters inculded Fidesz founder journalist Bayer Zsolt, former editor-in-chief of Mediaworks Árpád Szakács, Hír TV anchorpeople Kristóf Trombitás and Andrea Földi-Kovács, as well as 888 journalist Tamás Horváth. As the elections drew closer, Horváth interviewed Szász, while Trombitás prepared a friendly report for Christian news site Vasárnap.
"I've asked some acquiantances if they knew people who'd support me, that's all. There's interim elections everywhere, so it's not irregular" — he explained. When asked to provide names, he refused. "Good friends of mine. They have names, but I don't have to tell you".
Szász's campaign included businessmen of Russian and Turkish background, but in the end he received only three votes.
Ties to the government
It's unclear whether Szász's meteoric rise is in any way connected to his background as former local TFP man. The international network of ultra-Catholics, however, has a direct connection that leads near to the Hungarian government. During the foundation of MAKC, founder Skarga association was represented by the law firm Nagy és Trócsányi, originally founded by László Trócsányi, a former minister for justice and a current MEP in Fidesz colors (the law firm disputes that they have any current ties to the politician).
A possible reason for Szász's adventure in Balatonszepezd also leads near the government. In 2019, Kommentár foundation, an ally to Fidesz, started a property development project in the village in the amount of 150 million HUF. The money was provided by the government through the BLA Foundation.
All the while, a monarchist, anti-abortion teacher of history in the town of Tapolca is left to ponder what could have been. D. Fekete says their activities have effectively been put on hold by the coronavirus pandemic. Since the disputes around the organisation, the Poles send less money and exercise more control: the main website Pannoniachristiana.hu belongs to the Piotr Skarga association in Krakow, while Hungarian board members are no longer entitled to renumeration of expenses.
But well-wishers in high places might still lead D. Fekete's plans to salvation. The Hungarian foundation have organised for countrywide showings of the film on Our Lady of Fatima, originally produced by the Polish Piotr Skarga Institute, which now have to wait until COVID-19 passes. The first screening was planned for October 2020, during the annual Polish Cultural Days in Budapest, financed by the Polish government and also supported by the Piotr Skarga Foundation.
Asked about how they managed to get in the programme, D. Fekete alludes to good personal contacts in the Polish community in Hungary. Names? He doesn't remember names.
Written by Márton Sarkadi Nagy. Original Hungarian article also written by Márton Sarkadi Nagy. Cover photo: the Hungarian Foundation for Christian Civilization's logo, Szász on Hír TV, Trombitás's commendation.