Foundation providing care for Hungarian Holocaust survivors secretive about its operations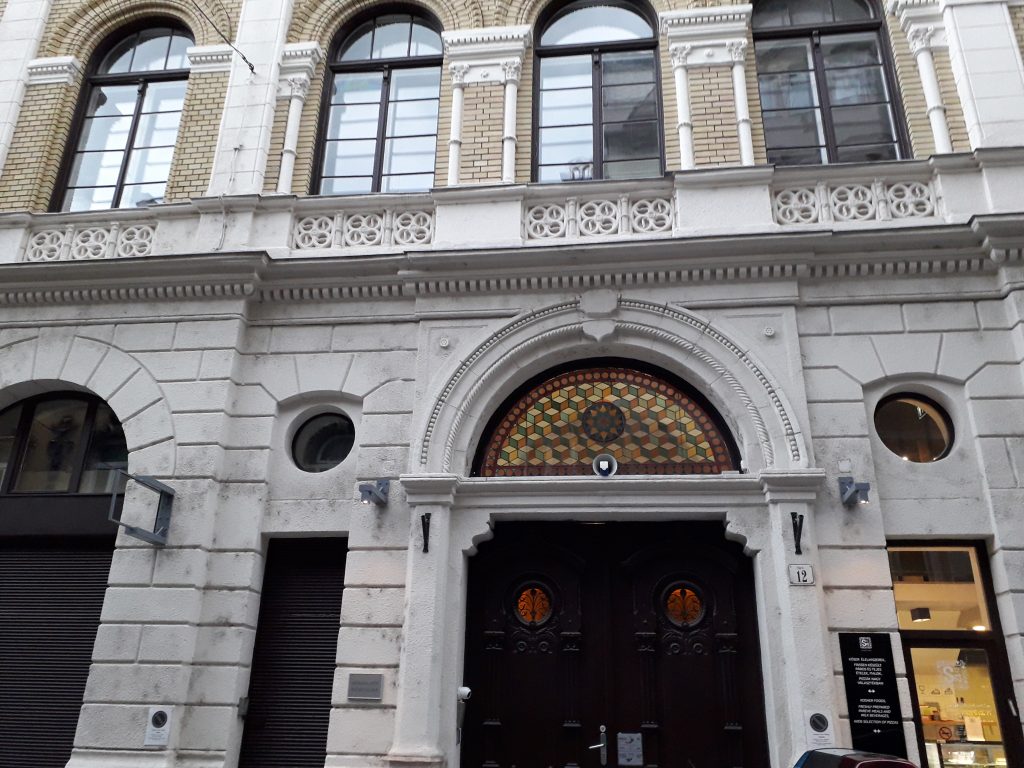 The Hungarian Jewish Social Assistance Foundation (MAZS) is the largest organization in Hungary supporting Holocaust survivors. There are several questions around the work of this organization: their financial reports are not transparent and they are reluctant to respond to freedom of information requests. They outsource their services to one-man-owned and affiliated companies, while the care receivers complain about the poor quality of care.
After the regime changes in 1989, several international and national aid organizations were set up to support Holocaust survivors. The Hungarian Jewish Social Assistance Foundation (Magyarországi Zsidó Szociális Segély Alapítvány, MAZS) was founded in 1991 as a Hungarian subsidiary of the JDC (American Jewish Joint Distribution Committee) to provide elderly and sick Holocaust survivors with social care and to help the Jewish community in Hungary with cultural and social activities.
The main sponsor of MAZS is the Claims Conference, which mainly transfers the resources provided by the German state to the Hungarian foundation. At the same time, the Hungarian state is also a financial supporter of MAZS.
Among the many activities of MAZS's Holocaust Survivors Program, the most prominent is welfare service: in-home care and cleaning.
According to data from 2017, up to 88 percent of the Foundation's annual budget of 5 billion forints (more than 15 million euros at today's exchange rate) is spent on such care.
MAZS financial reports are unclear
According to its website, the Foundation provides regular home care to 5100 elderly people under the Holocaust Survivors Program. On other sites of the same website, they claim to support nearly 4000 socially deprived survivors. In their latest annual report, they claim to provide these services to only 3500 people.
In a freedom of information request, Atlatszo asked MAZS for information about 'InHome' care services. According to the Foundation's response, 1.4 million hours of home care were performed in 2017, but in their 2017 simplified report, 1.7 million hours of home care had been reported.
After our inquiry about the discrepancy, the Foundation acknowledged that the number reported in their simplified annual report was wrong because the number of home care hours included the number of nursing services as well, and that should not have been the case.
Compared to other European countries, the number of Holocaust survivors living in Hungary is exceptionally high, therefore the Foundation carries out in-home care and cleaning with the help of contracted partner companies.
The company network behind MAZS's services is connected to Ferenc Falus
Dr. Ferenc Falus is a medical doctor, national Chief Medical Officer between 2007 and 2010, and mayoral candidate of the opposition in 2014 in Budapest. Falus played a crucial role from the very beginning in developing the network of home care companies currently working for MAZS.
In 1990, Falus became the CEO and later the owner of a large home care company, Harris Healthcare Ltd. Still being the owner of Harris, Falus soon became chairman of the board of directors of the MAZS Foundation, and he held this position for nearly ten years, including the time when he was the national Chief Medical Officer.
The Foundation's response to Atlatszo's freedom of information request (here and here) revealed that among other companies, the Hungarian Jewish Social Assistance Foundation carries out the home care services with the help of Harris Healthcare Ltd. and its affiliates. This violates the rules on conflicts of interest for public benefit organizations.
In 1995 Ferenc Falus founded MOHE, the Hungarian Home Care and Hospice Association, and he became its first president – 14 companies owned by nine board members of MOHE carry out most of MAZS's hospice care and home care services, and even some of their cleaning services.
The information provided by MAZS revealed that despite a budget of several billions of forints a year, there was no open public tender or competition for home care services providers for Holocaust survivors. The selection of partner companies was based on 'compliance.'
Contradictions with Hungarian Central Statistical Office (KSH) statistics
According to the rules set by its donor, MAZS has to constantly monitor the companies providing home care. Thus Atlatszo examined the data they reported about care hours provided, the number of people who receive care and the number of caregivers working.
According to the statistics of the Hungarian Central Statistical Office (KSH) on social benefits, in 2017, 237 people were provided with social assistance by domestic enterprises in the entire country. According to data by MAZS Foundation, in 2017, their partner companies helped more than 1,200 Holocaust survivors on behalf of the Foundation. This is five times more than the official KSH data for the country as a whole, for the total population.
It is also evident from the same KSH data that on behalf of companies a total of 50 caregivers provided services, while the MAZS Foundation reported more than 800 caregivers in 2017. The proportions are similar in previous years.
Many caregivers, few employees
Atlatszo compared the number of caregivers and nurses in the Holocaust Survivors Program to the number of employees in the database of Hungarian companies. Our findings show that most companies providing care for Holocaust survivors worked with many more caregivers than the number of employees reported to the business court. Monthly data for MAZS showed a total of 600 caregivers, of which 400 were not reported as company employees.
The Foundation stated that they did not know the reason for ​​the difference between the number of employees reported and the number of caregivers they published.
A possible explanation for this situation could be that companies carry out their contracted tasks through subcontracted private companies or independent care providers (practically the latter means one-person companies).
However, according to the above-mentioned KSH statistics, private companies did only a tiny fraction of the care work reported, and independent caregivers did not provide home help at all in 2017, 2016 and 2015.
In 2018, an official procedure was initiated against LEGION NEXUS Kft., a contractor of MAZS, for illegally employing a person. As a result of the procedure, the fine imposed on the company was entered into the database of the National Tax and Customs Administration of Hungary (NAV). Last year, a total of 11 enforcement actions were initiated by the tax authority against MAZS partner companies.
MAZS wants 4 million HUF in return for its data
Many of MAZS's contractors do not have a website. The only way to get any information about them is to look at their filings in public databases and their job postings.
We can assume that they only provide services to MAZS, as they virtually do not exist to those who do not know them. MAZS says that they did not know whether these companies were exclusively providing services to them or not.
The Claims Conference, which provides the annual budget of $ 5 billion HUF for the Holocaust Survivors Program, requires MAZS to closely monitor its contractors and thus MAZS is responsible for any irregularities committed by its contractors.
Thus Atlatszo filed a freedom of information request, asking MAZS how it monitors and supervises its contractors. This request was rejected by the Foundation on the grounds that they did not consider it to be in the public interest.
Atlatszo filed another freedom of information request, this time about MAZS's contractors and the number of home care hours provided by them. This time, MAZS requested over four million HUF (more than 12,000 euros at today's exchange rate) in return for the data.
This is rather surprising, as MAZS's website states that 'our operations have been based on a strong commitment to transparency and accountability from the outset, whether the audit is internal or external, whether it is carried out by a domestic or international body.'
Both caregivers and care receivers complain
Atlatszo asked Holocaust survivors and caregivers about how the MAZS services are performed in practice.
Holocaust survivors said that home care provider companies are often unreliable, such as not providing pre-agreed care on certain days.
Weekends are especially problematic because, as a nurse claimed, companies do not provide extra pay for weekend work hours.
It also often happens that the care receiver lets the caregiver finish his/her job before the end of the working day. In this case, the required and completed care hours are different; however, it is always the number of requested hours is recorded. The care receivers are elderly people, often visually impaired, whose signature proves that the caregivers have fully completed their tasks. Obviously, paying for not performed care hours means fewer hours and less care for other Holocaust survivors, as the Foundation's financial resources are finite.
According to information from Holocaust survivors, the home care provider companies – MAZS and its contractors – do not measure their clients' satisfaction.
Claims Conference is silent
Atlatszo also contacted MAZS's main supporting organization, the Claims Conference. Until 2015, they annually published a Worldbook, a guide to their programs worldwide, detailing their activities in a comprehensive manner, country by country. Their Worldbooks and the annual financial reports were published on their website.
The Worldbook provides descriptions of individual programs and services, as well as how much money each country provides to survivors. The Worldbook and the annual accounts reveal the exact amount of annual financial support given to each service.
These numbers are of particular interest to Atlatszo, because they question the accuracy of the data of the Hungarian organizations that use Claims' support. For this reason, in 2018, Atlatszo requested Claims to publish their yet unpublished 2016 and 2017 Worldbooks.
They replied that the reports of those years were still under review, but they were still planning to publish the Worldbooks. As of today, May 2019, these documents have not yet been published on their website.
Moreover, after Atlatszo's inquiry, all official financial reports posted on the Claims Conference website since 2013 have been removed, with only one exception.
Atlatszo also inquired about how the Claims Conference monitors whether MAZS complies with the Claims rules for using the subsidies. The Claims Conference did not give us a substantive answer and asked us to send our questions to MAZS directly.
As for international criticism of the Claims Conference, Brooke Goldstein, a renowned US lawyer and human rights advocate, strongly criticized the Claims Conference for its management and operation, in this article in 2018. Already in 2013, a scandal was caused by a senior administrator at Claims Conference who – together with several of his colleagues – embezzled $60 million of support intended for Holocaust survivors.
Written by Ádám Uzonyi
English version by Zsuzsanna Liptákné Horváth. You can read the original, Hungarian-language story here.
Cover image: MAZSIHISZ headquarters, where the MAZS office is located (photographed by the author).
Company information was provided by Opten Kft. and Céginfó.