Central bank chief's son owns a collection of Porsche 911 Targas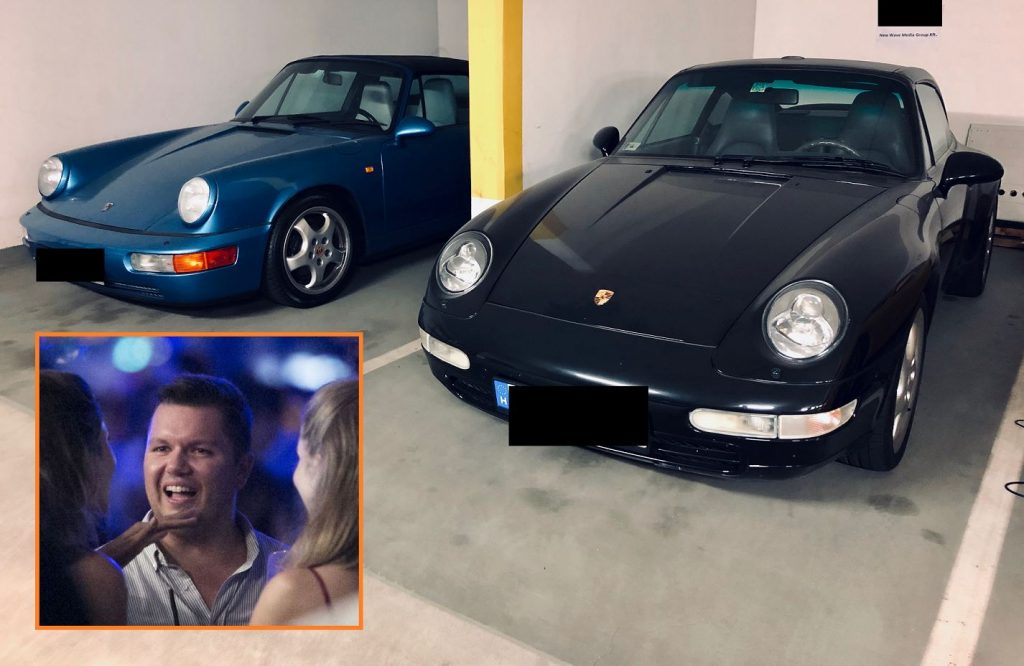 The son of Hungary's central bank chief owns a collection of Porsche 911 Targa cars. The four cars are estimated to be worth 60-70 million Hungarian forints (approximately 187,000-218,000 euros at today's exchange rate). Ádám Matolcsy, the youngest son of György Matolcsy, is a businessman who has made his wealth by winning valuable public tenders.  
A reader of Atlatszo noticed three Porsche 911 Targa cars a few months ago in a parking lot near the residential block where Ádám Matolcsy, the son of the central bank chief reportedly lives.
According to the signs above the cars, the parking spots were rented by New Wave Média Group Kft., which is owned by Ádám Matolcsy. This suggested that he might be the owner of the vehicles.
The three cars were moved to another garage a few weeks later, and here we noticed another, a fourth Porche 911 Targa. The company that rents the parking spots (New Wave Kft.) suggested a connection to Ádám Matolcsy again.
The four cars are estimated to be worth 60-70 million HUF (187,000-218,000 euros at today's exchange rate).
We reached out to Ádám Matolcsy who confirmed that he owns the four cars. He said that he bought four cars of the same type so that when he decides to sell them, he would get a better price for the collection than the individual cars.
Public tenders helped the rise of young Matolcsy
The young businessman's success has been helped by taxpayer funds. He bought one of his companies, furniture producer Balaton Bútor Kft., using a loan from NHB Bank. The loan was ultimately provided by the central bank of Hungary in the framework of a program aimed at supporting Hungarian small enterprises.
NHB Bank is owned by the central bank chief's cousin, Tamás Szemerey. Young Matolcsy' companies had accounts at NHB Bank, but they opened accounts at another bank just a day before it was revealed that NHB Bank was in trouble and the central bank curtailed the payments it can make to its customers. NHB Bank eventually went bankrupt.
The furniture company soon after won lucrative public tenders. Balaton Bútor Kft. supplied furniture to the new campus of the University of Physical Education and to the National Judiciary Authority. It won 500 million HUF from EU funds for a 'smart office' project and it also won EU funds (92 million HUF) for 'capacity building.'
Adam Matolcsy used to be the owner of New Wave Media Kft., the company that published news portal origo.hu. The respected and popular website was turned into pro-government propaganda during the ownership of Matolcsy. The portal, along with almost 500 other media outlets, has been owned by the Central European Press and Media Foundation since the end of last year.
New Wave Media Kft. was also the publisher of news portal vs.hu. The portal, no longer in operation, was financially supported by the foundations of the central bank. That is, the bank led by the father was giving money to the portal owned by the son.
When the press asked György Matolcsy how it is possible that his entire family including his cousin, his sons, his former and current wife are all successful in business and are made wealthy by projects funded by taxpayer money, he replied: 'nobody should be deprived of the opportunity to help Hungary rise' and that solely by being his family member, nobody will be provided with business opportunities or EU funds.
Ádám Matolcsy previously reportedly said that 'winning public tenders is not a gift' because you need to fulfill strict requirements.'
Written by Kornél Brassai
English version by Anita Kőműves. You can read the original, Hungarian language story here.