Tobacco Barons in Hungary: loophole allows businessmen to reap the profits of close to a hundred tobacco shops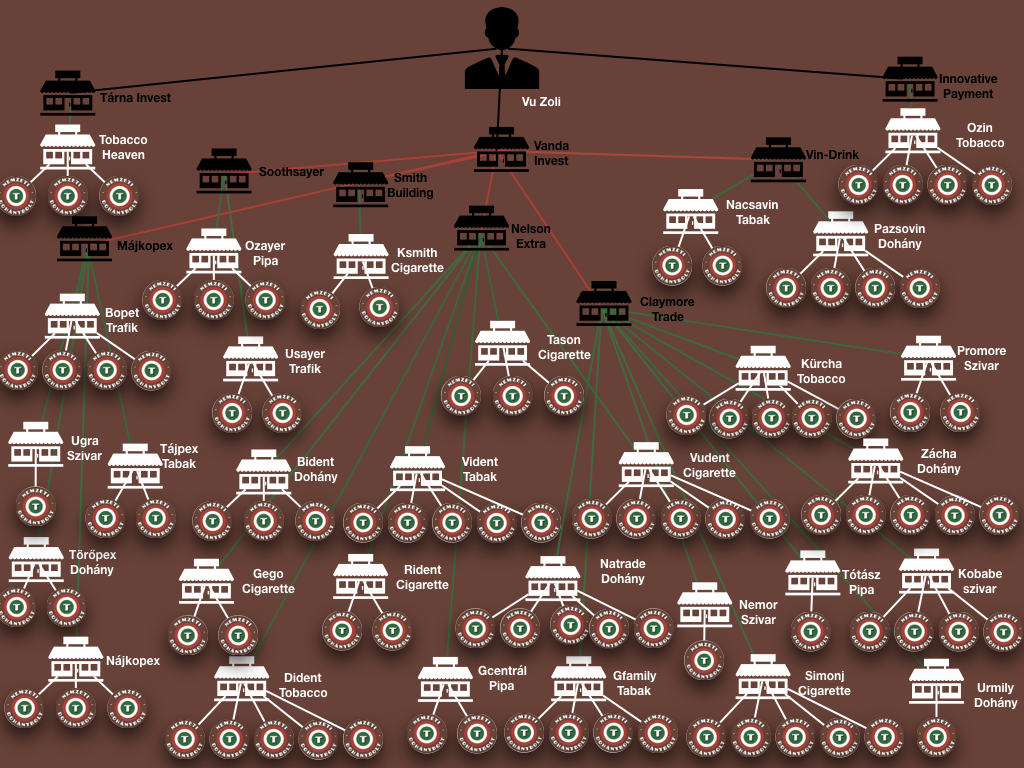 The Orban government passed a law in 2012 about tobacco sales: only people licensed by the state are allowed to sell cigarettes and tobacco products. According to the law one person cannot own more than five tobacco shops, but the reality is different. A loophole allows businessmen with government connections to be involved in as many tobaccos shops as they want – as limited partners, allowing them to pocket the profits.  This story is a first in a series that examines the concentration of tobacco shops in the hands of a small elite.
Ibolya has worked in small shops all her live. She started out as an employee, serving customers but she was dreaming of owning and running her own shop one day. Her dream came true more than two decades ago, at the age of 40 when she bought her own little store. It was the usual small mom-and-pop store that sold practically everything from meat to alcohol. "If you wanted an expensive brand-name cognac, I gave it to you. If you needed a Christmas gift for your child, you could buy it in my store as well" she told us.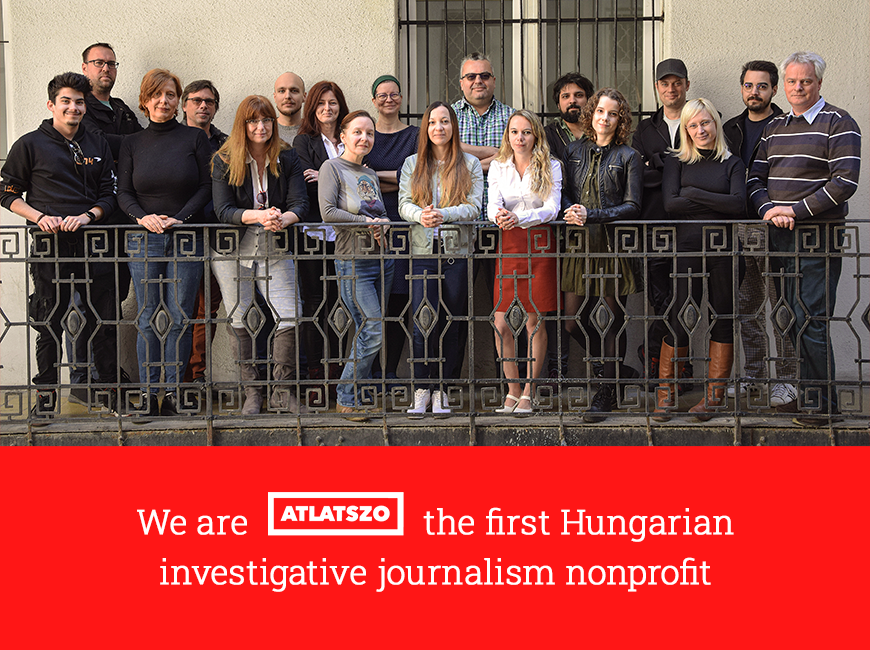 It was a hard life: she started at 5 a.m. and if there were a lot of customers, she stayed in the store until 8 in the evening. "I made a living by being open late. I was open until 11 p.m. on Sunday nights as well so if my customers needed cigarettes or cooking oil suddenly, I was there for them. We weren't making a lot of money but we managed" she says.
Everything changed in 2012. That was the year when the Hungarian government decided to create the National Tobacco Shops.
This meant that only people who were licensed by the state were allowed to sell cigarettes and tobacco products. Many small store owners lost their right to sell cigarettes, and this happened to Ibolya as well. And many of these stores made a profit from cigarettes: there was a higher profit on those, and many people who dropped in to buy tobacco bought other products as well – because it was convenient.
"My regular customers did not come to the store anymore" Ibolya recalls. "I tried everything from frying burgers to home delivery, but nothing worked," she says, with tears in her eyes. Ibolya struggled for three years after losing the right to sell cigarettes, then closed her shop.
The Big Tobacco Shop Robbery
The (re)distribution of tobacco licenses that happened in 2013 was scandalous. Long-time tobacco shop owners did not get a license to sell tobacco and lost their livelihoods. On the other hand, people who did get licences were usually connected to the ruling Fidesz party.
Former tobacco shop owners organized protests. The press uncovered the license winners' ties to the government. I myself ran a blog that collected stories of new tobacco shop owners. A voice recording surfaced in the media that proved that friends of the Orban government were favored during the process of awarding tobacco licenses.
But nothing happened. Nobody was prosecuted and the result of the licensing process were final. The protests died down.
Since then it became clear that owning tobacco shops was one of the most profitable businesses in Hungary, so I decided to see that now, almost five years after the first licenses were awarded, who is making money from the state-awarded tobacco licenses. Because of the high number of tobacco shops, I decided to look at smaller areas, and I started with district 1 of Budapest – the central district that includes the Buda Castle and a busy train station. It has a population of 25 thousand people who are served by nine state-licensed tobacco shops.
This is the first story in a series that will look at tobacco shop owners in Budapest districts. We got the list of tobacco shops from the web page of the Hungarian tax authority and used the Opten business registry to find their owners and financial data.
From this data it became clear that the nine shops are controlled by two business groups. Four of them are connected to Vietnamese businessman Zoli Vu, who owns the mall called Sárkány Center and the Vimpex wholesale business.
The five other stores are connected to the leadership of grocery store chain CBA.
The tobacco shops owned by 'Zoli Vu'
Zoli Vu is called Vu Quy Duong but goes by the Hungarian name Zoli. According to a 2013 profile by news portal origo.hu, he is an enigmatic figure who prefers to stay out of the limelight. Before that feature story you could only read about him in the Hungarian Golf magazine.
Vu arrived in Hungary in 1985 to attend university. After he graduated he started his own business: opened Vimpex and Sárkány Center. He is considered the head of the Vietnamese community in Hungary: he is wealthy, he employs a lot of Vietnamese in Hungary, he gives money to charity and he is considered a 'young an positive' man.
He is a member of the Highland Golf Club. A former Fidesz MP, Zsolt Bohács is also a member of this club, and Bohács was a member of the Parliament at the time when the tobacco licenses were awarded. Vu and Bohács most probably have known each other for years in the club. Other than this, there is no proof of any political connections of Vu.
hVu himself has not been awarded any tobacco licenses. In District 1 he is connected to four tobacco shops that are owned and ran by two limited partnerships whose general partners were the people awarded the license. Vu, through companies he owns, is a limited partner in both businesses. The structure looks like the following: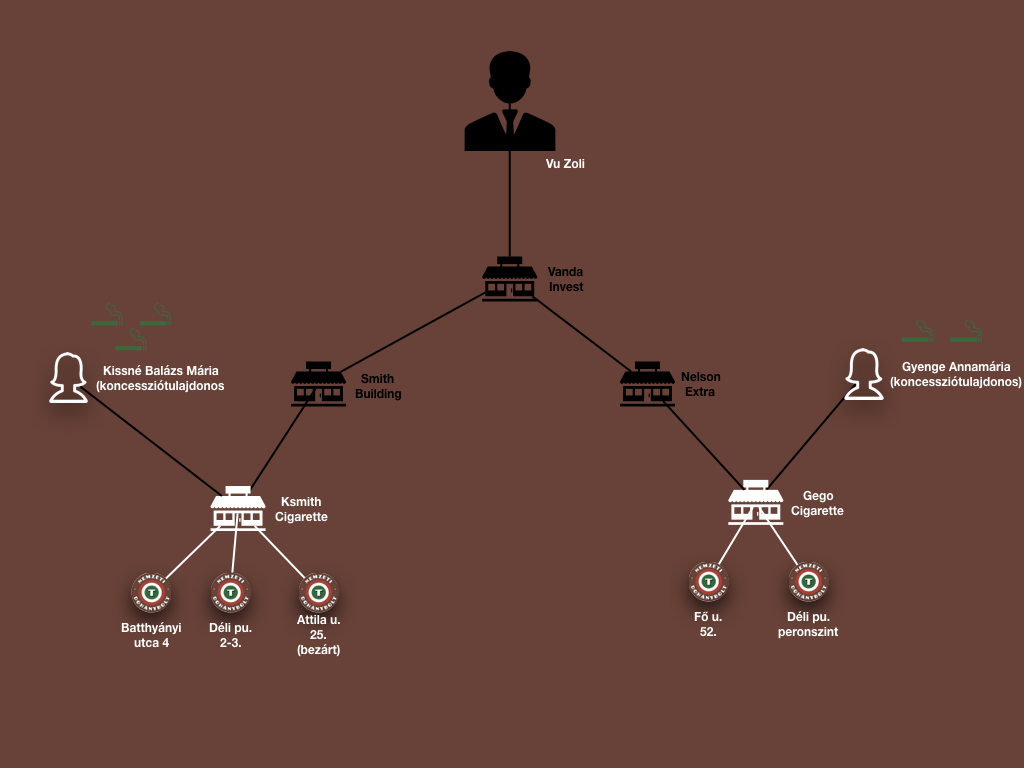 Vu is only a limited partner in these companies, but when we visited the tobacco shops, the assistants in two of them confiremd that Zoli Vu was the one controlling the business.
'I am a reporter and would like to talk to the boss here' I said in one of the tobacco shops. 'Actually, you don't need the boss, you need to talk to Vimpex if you want the real boss. We are a limited partnership but we belong to Vimpex so maybe you should start there. You know, it's the person who owns Sárkány Center as well, called Zoli' the shop assistant said.
'Does he often come here?' I asked.
'Never. I only saw him once when he traveled to Vietnam with King Viktor. He is a smart man, but sometimes it is easy to be smart. The moon shines on you when you stay close to the moon!' he said.
I had a very similar conversation in another tobacco shop as well.
The four tobacco shops connected to Zoli Vu had an income of 3.4 billion Hungarian forints and made a profit of 40 million forints since 2013.
However, if you look outside District 1 of Budapest, you will find 88 more tobacco shops connected to Zoli Vu, scattered across the country. We could hardly fit all nito one chart, but here it is: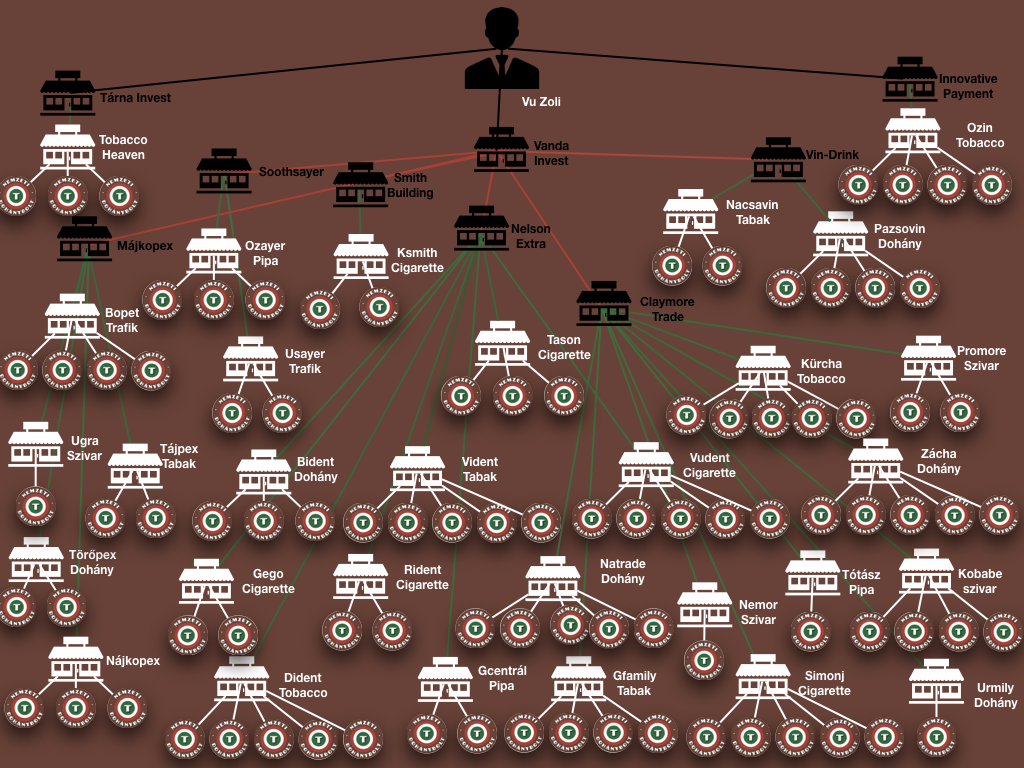 One tobacco shop does not make you a lot of money, but if you have close to a hundred, it becomes a good business. The tobacco shops connected to Zoli Vu had an income of 51 billion forints since 2013 and their total profit was 413 million forints.
We created a spreadsheet with all the tobacco shops connected to Zoli Vu, you can see it here. Zoli Vu ended up with so many tobacco shops because both he and his wife were awarded the maximum number of tobacco shop licenses: 10. In the other tobacco shops, they are involved through companies they own, as limited partners.
Leaders of the government's favorite grocery chain also went into the tobacco business
László Baldauf, József Krupp, László Breier and Zsolt Gyelán are all member of the board for grocery chain CBA. But this is not the only thing connecting them: they are all connected to the five tobacco shops in District 1 that are not connected to the Vietnamese businessman. None of them have tobacco licenses in the district but they are all involved in them as limited partners.  It is also telling that all of these tobaccos shops are situated next to CBA grocery stores.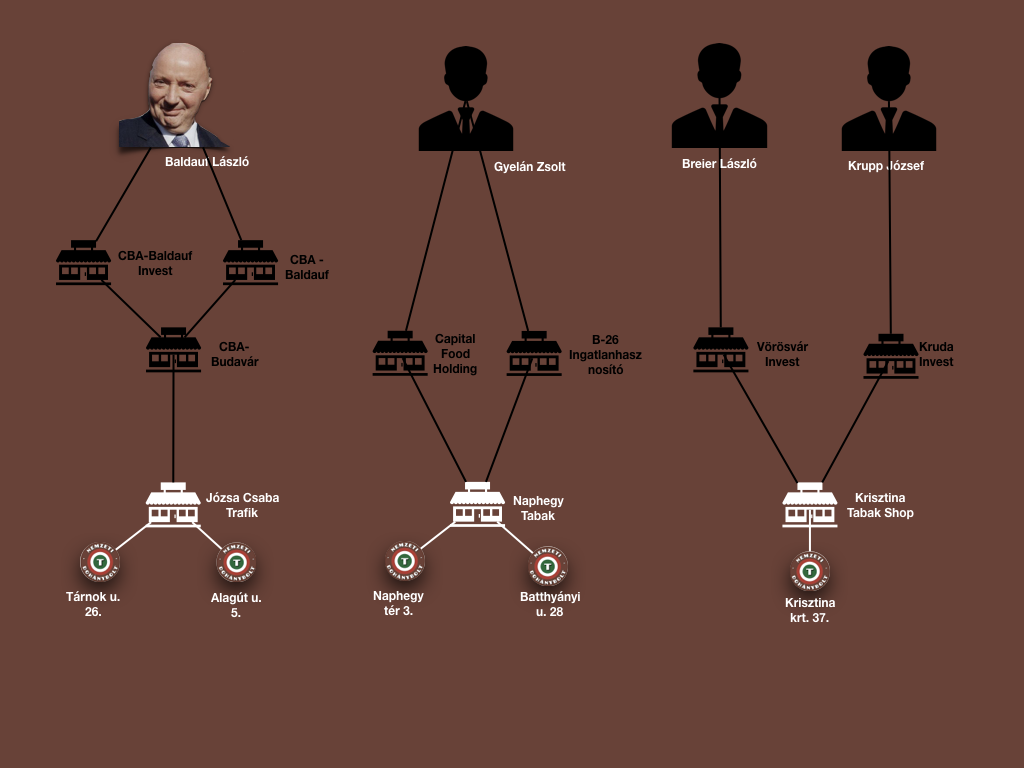 László Baldauf is a founder and former chairman of CBA. In 2008 he was estimated to be worth 4 billion Hungarian forints which placed him among the richest Hungarians. He is a fan of the governing Fidesz party, he recently told pro-government daily paper Magyar Idők that the Hungarian economy is going into the right direction and that we need to trust Orban with leading the country again.
Neither László Baldauf nor Zsuzsanna Baldauf (they share and address and last name according to official registries) won any tobacco licenses but they are connected to 13 tobacco shops as limited partners. These tobacco shops had an income of 6.3 billion forints and made a profit of 176 million forints since they were opened.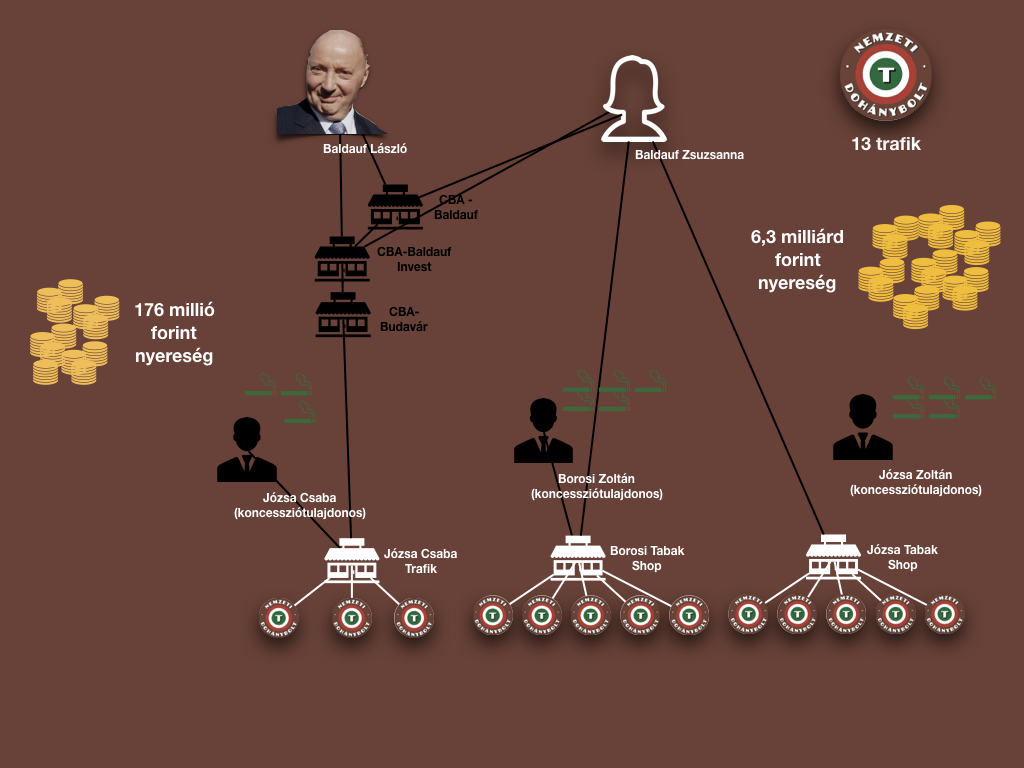 József Krupp and László Breier are also founders of CBA, and they are still owners and managers of CBA Kft. They are connected to one tobacco shop, the one near the train station in District 1. But that's only a small part of their tobacco business: they can be connected to 29 tobacco shops across the country. They are involved as limited partners. The tobacco shops connected to Krupp and Breier had an income of 15.7 billion forints and made a profit of 488 million forints since they were opened.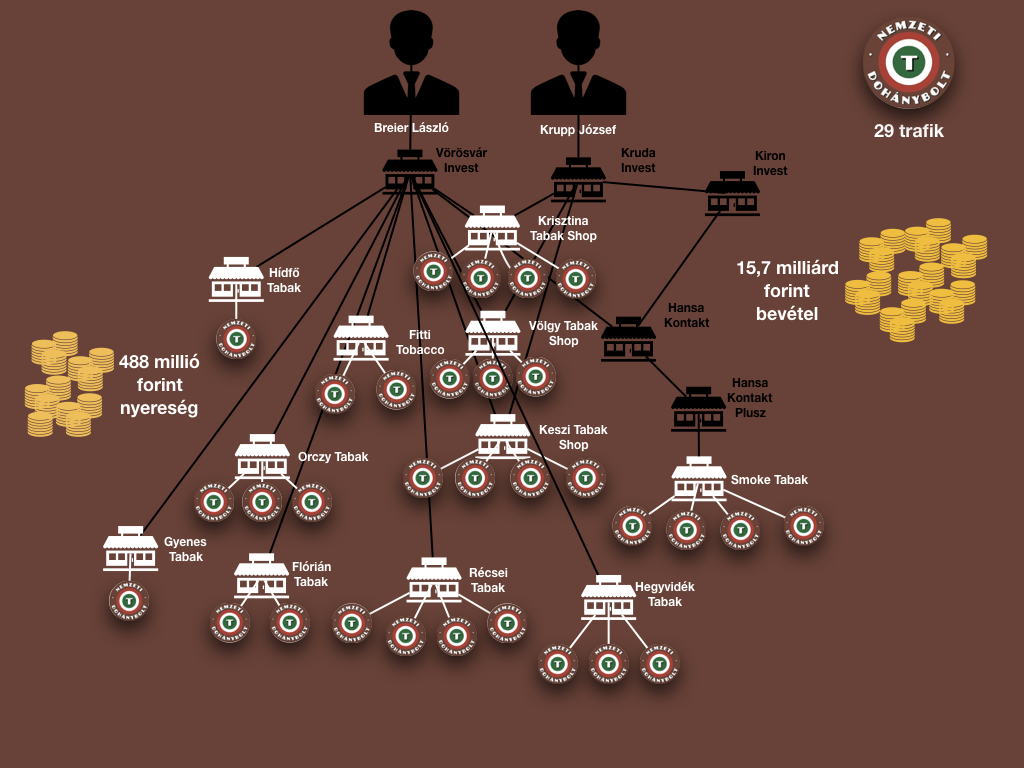 Zsolt Gyelán's companies are limited partners in two tobacco shops in District 1, but he is connected to 15 tobacco shops across the country. These tobacco shops had an income of 4.3 billion forints and made a profit of 70.8 million forints since 2013.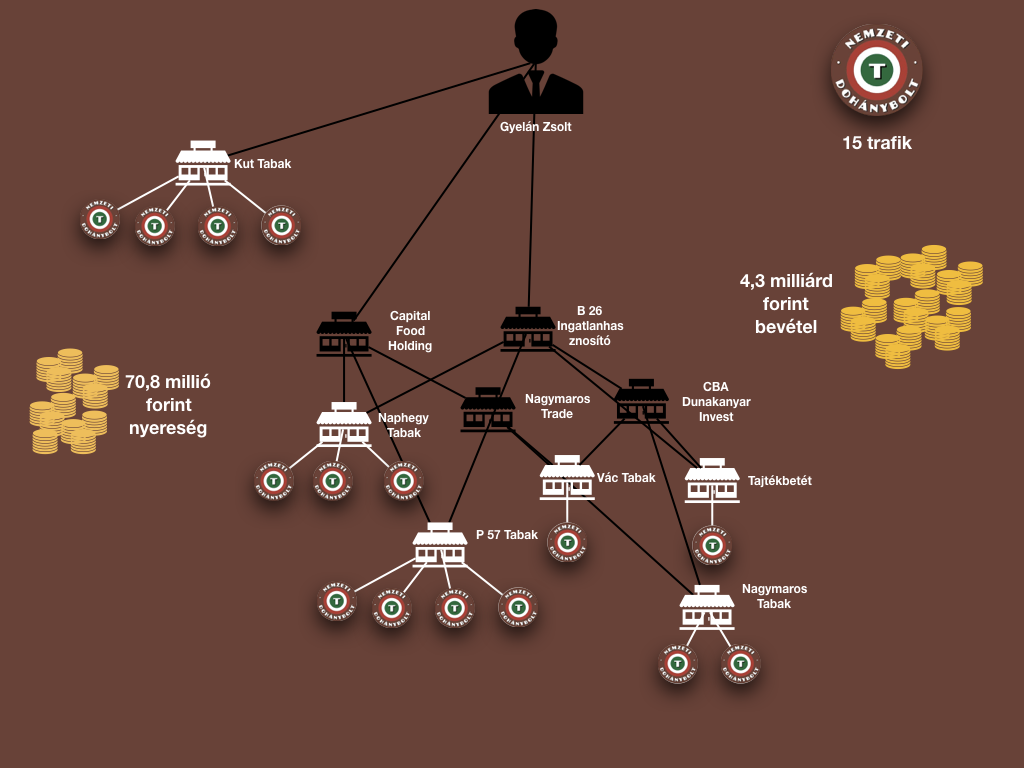 In theory, one person cannot own more than five tobacco shops
But how can one person own so many tobacco shops when the law says that one person can only own licenses for five tobacco shops? The answer is actually easy: the law does not say anything about limited partners in the companies that own the shops. So, the person who owns licenses can take anyone as a limited partner into his or her limited partnership, even if that limited partner has no tobacco license.
It is even possible to strike a deal that gives 99% of the profit to the limited partner and only 1% to the person who owns the license. So, a person without a tobacco shop license can actually make money on the tobacco shop.
We reached out to Zoli Vu and to the CBA board members mentioned in this story, asking them to comment. They have not responded to our questions.
You can read the original, Hungarian language story here.
[sharedcontent slug="hirdetes-english"]