Target or ally? Hungary faces the elections battle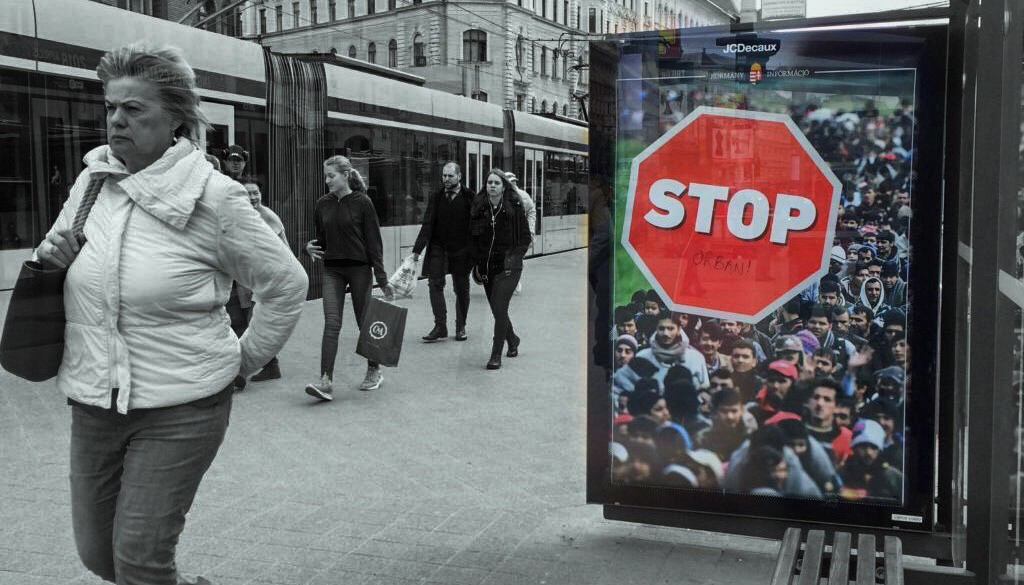 Elections are approaching fast in Hungary, but this is an EU country that does not need to be afraid of Russian election meddling, experts say. Yes, pro-Russian internet trolls are at work and there are about a hundred fake news sites operating in Hungarian, but they are not very influential, and they do not even need to be. The reason for this is that the Hungarian government has a friendly relationship with Russia and its taxpayer-funded media empire is happily pushing out the Kremlin's messages.
Young men are standing in line, about ten in a row, waiting. Their faces are dark and their hair is black. They look tired. The photo was taken in Slovenia in 2015, during the peak of the European migration crisis. The men are asylum seekers who have just crossed the border from Croatia and are waiting to be taken to a refugee camp.
The photo has been used to illustrate the migration crisis several times, but it got infamous when British far-right party UKIP used it in its pro-Brexit campaign. The use of the photo by Nigel Farage's party was widely criticised, but the picture has been popular with anti-migration sites ever since.
Now, in the heated stretch-run of an election campaign, a closely cropped version of this photo can be seen on billboards all around Budapest, with a big red STOP sign on it.
Tiny, almost invisible letters on the top say that it is 'Government Information', which only means that the Hungarian taxpayers are financing this latest fear-mongering campaign.
The independent media outlets and NGOs were very quick to condemn these billboards as racist. The ad campaign clearly has only one message: anyone with a darker colour of skin needs to be stopped.
The ad is the latest tool in an election campaign, in which the governing party Fidesz is only talking about one issue – migration. Besides trying to position itself as a savior in front of voters, the Orban government is using the issue of migration to wage a war against Brussels, George Soros, the opposition, and NGOs.
While the anti-immigration pitch serves domestic political purposes very well, it also fits perfectly with the Kremlin's political agenda.
Read the rest of Anita Komuves's story on Vsquare.org

Vsquare.org is an independent, cross-border journalism initiative dedicated to improving the quality of investigative reporting and independent press in the Visegrad region. VSquare was established in spring 2017 by renowned reporters representing various journalism organisations in the region, including Atlatszo in Hungary, Reporters' Foundation in Poland and the Czech Center for Investigative Journalism.
[sharedcontent slug="hirdetes-english"]